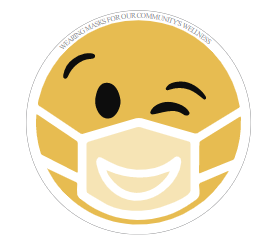 By CBJ News Staff
news@corridorbusiness.com
At 1 p.m. today, David C. Krupp, an emergency room doctor in Iowa City, and Robbie Schwenker, a community pharmacist, will converge a team of University of Iowa Pharmacy and Medical students on the Pedestrian Mall in downtown Iowa City to deploy 300 free 'Mask of Wellness' packets to area restaurants.
The packets will introduce 'Mask of Wellness,' a free initiative to provide education and tools for businesses to operate in a safe manner amidst the COVID-19 pandemic. 'Mask of Wellness' is a safety method and free self-certification program for a COVID-conscious business. The packets contain a letter of introduction as well as flyers, door clings, and information that the establishments can post at their physical locations as well as digitally on websites and social media.
Businesses can sign up and self-certify at www.maskofwellness.com, pledging that they will take three actions to maintain the safety of employees and patrons of their establishments:
• Masks – Worn by every employee in all areas of the work environment
• Hygiene – Hand and surface hygiene practiced by all employees in conjunction with physical distancing when possible
• Health – Employees attesting to no primary COVID-19 symptoms on a daily basis
The 'Mask of Wellness' self-certification is provided at no cost to promote a COVID-conscious business. From the website, businesses will be able to download additional graphics, content and materials to promote the safety steps their business is taking as a COVID-conscious business, in turn attracting customers and providing comfort and confidence to patrons. CBJ