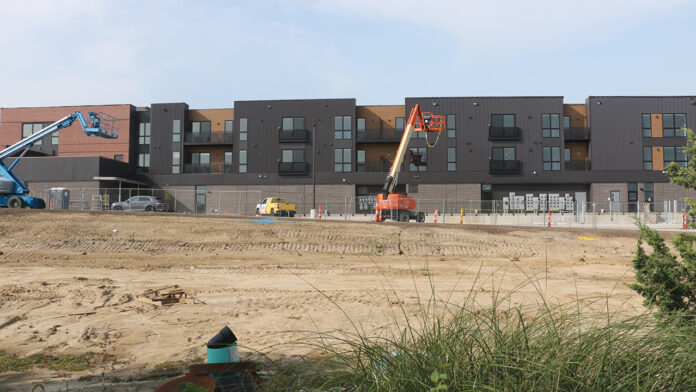 A grand opening celebration and open house for Broad and Main on 7th in Marion, part of the Broad and Main neighborhood, has been set for Thursday, Nov. 10 from 5 to 7 p.m. at 1107 Seventh Ave.
The event will feature a tour of several residential units, along with new commercial storefronts.
Broad and Main on 7th is the first of two new buildings that will make up the Broad and Main neighborhood. The location is historically significant in that it was the original location of the train depot at "the corner of Broad and Meridian streets" in the late 1800s. The name "Broad and Main" pays homage to this history, and train station motifs can be found throughout the neighborhood.
Broad and Main on 7th is a $13 million mixed-use property made up of six first-floor retail storefronts, three first-floor food and beverage storefronts, a second-floor office and 35 residential rental units.
Businesses occupying the retail and office space include Staged Dwellings, Purple Wagon, Amelia Jane, Planet Smoothie, and MEDCO.
"Broad and Main on 7th brings a new opportunity for existing and new businesses to grow in Uptown Marion," said Mark Kittrell, CEO/developer of Eagle View Partners. "Micro retail storefronts are designed for folks who have a great idea for a business to open a brick-and-mortar storefront with low overhead and risk."
The property's two anchor commercial spaces are designed for food and beverage users. The largest of these spaces features a sidewalk café for dining outside and has the option for a beer hall or large outdoor patio overlooking the future Uptown Marion public plaza.
"We believe the combination of food, beverage and community will bring a lot of energy and excitement to the area, especially in combination with the surrounding Uptown merchants and future public plaza," said Kayla Toale, vice president of properties for Eagle View Partners.
The property's residential units are comprised of studio, one-bedroom/one-bathroom, luxury one-bedroom/one-bathroom, and two-bedroom/two-bathroom floor plans. The units are outfitted with high-end finishes, including floor-to-ceiling windows and balconies to maximize views of Uptown and connect residents with the activity below. Residents also enjoy use of community amenities including a bike storage room, package concierge system, lobby with coffee service, and a ride share waiting area.
Leasing continues for both the commercial and residential units.
"We are proud to announce that we have only two remaining commercial bays available, our residential units are 80% leased and demand continues," Ms. Toale said. "We take this as a good sign that this type of development is a good next step for growth in Marion."
Shive-Hattery Architecture served as the architect for the project, DCI Group served as the general contractor and construction managers, and Jeanne Matthews and Brian Rosteck with Skogman Realty are serving as the commercial brokers.
The Broad and Main on 7th redevelopment was made possible through a development agreement with the City of Marion and a partnership with the Marion Economic Development Corp. (MEDCO), Marion Chamber of Commerce and Uptown Marion.
More information about Broad and Main on 7th and future phases of development can be found at www.broadandmainmarion.com. The second phase of the development, Broad and Main on 6th , is underway and expected to open in 2024.
Cedar Falls-based Eagle View Partners develops, manages, and invests in real estate properties in Midwest communities. Areas of expertise include real estate development, property manager, hospitality management and asset management.