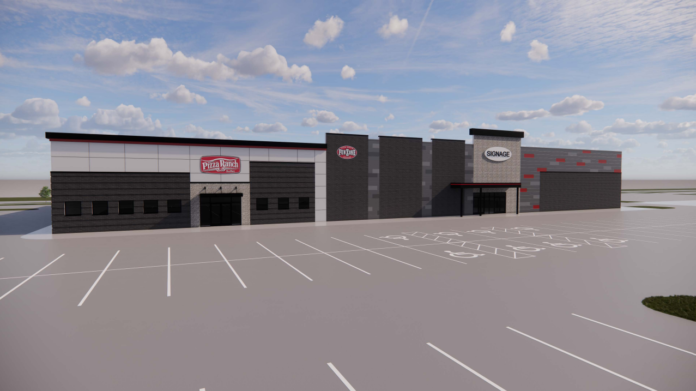 Lion Development Group is in the initial stages of developing an entertainment center featuring bowling, a commercial building with office spaces and a coffee shop, and moving its Pizza Ranch restaurant to a different location in North Liberty.
Brandon Pratt, owner of Lion Development Group and co-owner of Tin Roost, is the main figure leading the projects and is behind Field Day Brewing Company, a 20,910 square-foot micro-brewery, restaurant and entertainment facility at 925 Liberty Way with an expected summer 2023 launch date.
He is also moving forward with plans to build Penn Street Place apartments near Tin Roost, as well as constructing single-family homes and multi-unit residences east of Whirlpool and north of West Penn Street.
All developments are under the Solomon's Landing umbrella.
Pizza Ranch and entertainment center hybrid building
A family entertainment center with 20 to 22 bowling lanes called Bowldogs will be connected to a new Pizza Ranch location is in the works in North Liberty at 1395 Hayes Lane. 
In development with a "local individual" and consultants out of Florida, Mr. Pratt told the CBJ the entertainment center with a bowling alley will flow directly into an arcade space and the Pizza Ranch restaurant. 
The 22,000-square-foot entertainment center will have an adult-only mezzanine area with pool tables, dartboards and "possibly even a private bar." It could also include another undisclosed activity, he said.
Next to the entertainment center will be a 3,500-square-foot arcade and redemption counter shared with the bowling alley.
Attached to the entertainment center would be a prototype, 6,500-square-foot Pizza Ranch, similar to other locations. They will relocate and move out of their leased location at 395 Beaver Kreek Center. Mr. Pratt owns several Pizza Ranch locations in the Corridor and has been the Eastern Iowa Coop President of Pizza Ranch since 2014.
Construction will begin in the spring and could be completed as soon as next fall.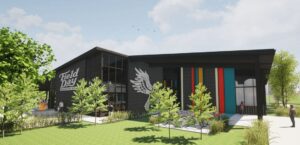 Site plans still need to go through the official planning and zoning and city council approval process.
Commercial spaces and a new coffee shop
Next to the family entertainment center at 1450 Hayes Lane will be a commercial building with an undisclosed coffee shop, two tenants occupying office space and the new headquarters for Lion Development Group.
An additional 2,500 square feet of vacant space will be available to lease.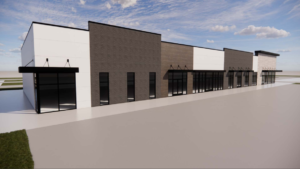 Penn Street Place apartments
The four-story, 52-unit apartment building next to Tin Roost at 755 Community Drive is slated for a February 2023 open date.
The building, featuring 34 two-bedroom, two-bathroom units and 18 one-bedroom, one-bathroom units, had a groundbreaking ceremony last November.
"We've already got a list of around 30 people [interested] so we're hoping to start showings in the next couple of weeks," Mr. Pratt said.
Attention will then turn toward a 4,500-square-foot commercial building that will share a parking lot with Tin Roost.
"We are working with some national tenants for our site there off of Penn Street next to Solomon's Landing, and I'm hoping we can go public with who that is pretty soon," he said. "We have one more vacant lot and some commercial buildings for lease. Around 25,000 square feet of commercial space is not yet spoken for by tenants."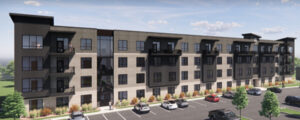 Single-family lots
In April, North Liberty City Council approved a plan from Solomon Holdings to build 110 single-family lots and more than 350 multi-unit residences spread across eight buildings.
The project will reshape downtown North Liberty with housing geared toward older individuals and a newer style of multifamily housing options, Mr. Pratt told the CBJ in January.
"All single-family lots are under contract from Silverthorne Homebuilders, a large general contractor and builder out of the Quad Cities" he said. "We're optimistic we're going to have foundations in the ground this winter, which is exciting because we don't have that product available here in North Liberty."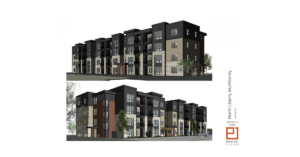 Single-family houses are expected to cost around $350,000. The first phase of construction will be 22 lots and market demand will dictate how quickly future homes are built, he said in an email.
Vertical construction on the on the multi-family residences will begin next spring.
A $3.3 million performance bond for site utilities including paving, mass grading and detention related to Solomon's Landing passed city council Oct. 25.