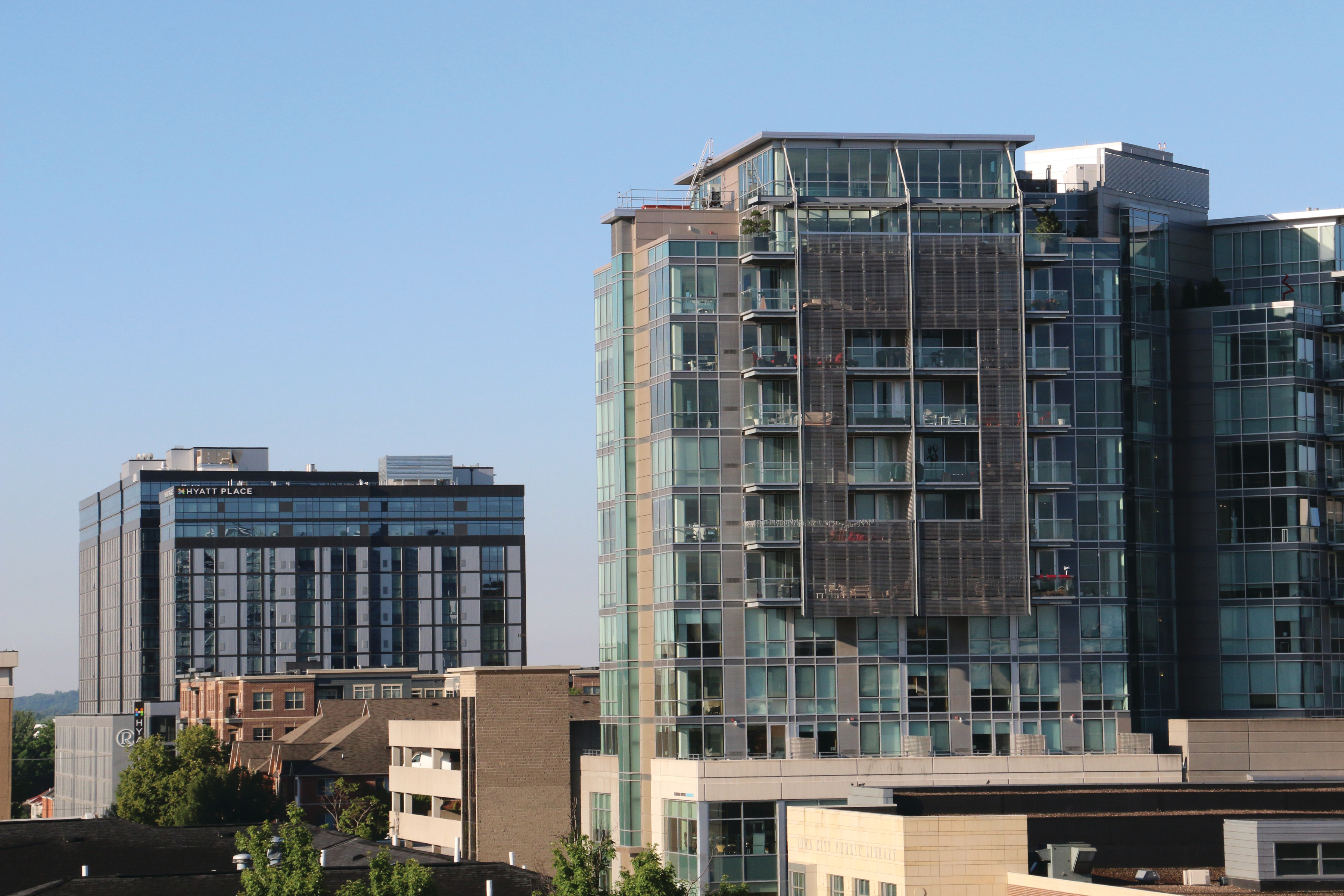 The Plaza Towers, one of Iowa City's earliest high-rises, with the Hyatt Place Iowa City shown in the distance. PHOTO ADAM MOORE
By Katharine Carlon
katharine@corridorbusiness.com
Iowa City is literally moving on up, with several high-rise buildings already transforming the skyline and the potential for more to come.
It's an urban reinvention aimed at boosting the vitality of the downtown area, making the best of existing infrastructure, and potentially impacting the high rents and low vacancies that have plagued the city's core for years.
"From a city perspective, you want the central area of your town to be a focal point and these projects bring more residents, more businesses and more activity into the center of town," said city Economic Development Coordinator Wendy Ford. "And for developers, it's just a more efficient way to develop."
For years, the 11-story Ecumenical Towers, built in 1981, and the 10-story Graduate Hotel, which began life as a Holiday Inn in 1984, were the downtown area's tallest non-university buildings. Developer Marc Moen changed that in 2005 with the opening of the 14-story Plaza Towers, and again in 2014 with the completion of Park@201 on Washington Street, another 14-story building that includes apartments, condos and commercial space.
But the city has seen a high-rise building boom in recent years, with developers adding four new buildings of 12 stories or more to downtown since 2017. Ms. Ford attributed that to pent-up demand following the Great Recession and the flood of 2008, as well as the 2012 Downtown and Riverfront Crossings Master Plan. That document prioritized strategic, sustainable mixed-use infill development in the downtown area, while preserving Iowa City's historical integrity.
The 15-story Chauncey, being developed by the Moen Group and set to open this August at the corner of Gilbert and College streets, is one of the most visible and striking examples of the vertical growth downtown. When completed, it will include offices, a boutique luxury hotel, apartments, condominiums and commercial space, including a bowling alley and the new home of FilmScene.
"In the larger buildings, we include Class A office space, which brings businesses downtown," Mr. Moen said. "The buildings also bring commercial uses, which adds to the vibrancy of downtown, attracts people to live downtown and adds to the diversity of downtown. It's crucial to have people living, working and playing downtown to make all the components work."
Nearby, the 15-story Rise at Riverfront Crossings, with more than 300 apartments aimed at the student market, and the 14-story Hyatt Place hotel both opened late last year, while the Hilton Garden Inn, featuring the Vue Rooftop bar atop its 12-story structure, debuted in the fall of 2017.
A recent rezoning of the Pentacrest Gardens apartment site at 12 E. Court St. could lead to construction of a four-building complex with structures up to 15 stories in height, yielding as many as 1,000 apartments with room for 2,000 students.
And more may be on the way. Ms. Ford identified three additional downtown sites potentially ripe for high density, high-rise development, although no projects are formally in the works at this point. Those include a corner lot at Burlington and Clinton streets next to Starbucks, a nearby parcel currently being used by Hodge Construction as a staging area for the seven-story Hieronymus Square project, and the U.S. Bank parking lot at the corner of Linn and Washington streets.
The latter site "is in the very center of town, which makes it appealing in a number of ways," Ms. Ford said. "It has a lot of foot traffic, which is appealing for realty. If a developer wants to do a hotel, that's a prime location with the Englert right across the street. There have been a few developers who have come to us to say, 'If we can work with [U.S. Bank], we can make something happen.' But the stars have to align, and so far, they haven't."
The city's rapid growth may make that a reality sooner rather than later. The Iowa City metro is the state's second-fastest growing after Des Moines, with an estimated 151,260 residents in Johnson County, according to the latest U.S. Census estimates – a gain of 15.6 percent since 2010. About half of those residents live in Iowa City proper, which was also home to 33,000 students as of last fall.
Coupled with the fact that Iowa City's downtown area is "landlocked," and that amenities and infrastructure are already present, large-scale high-rise projects are becoming more attractive to developers.
"There's no pat answer and each project comes with its own reason for going taller," Ms. Ford said. "But the idea is when you can 'densify' a property – you have more floors, more units, more going on, you'll be more likely to be able to pay for that building. Because land costs are higher in the center of town, you've got to be able to densify and get more out of building."
Iowa City's high-rise boom has not been without its critics. Construction of the Chauncey, for instance, was considerably delayed when the Iowa Coalition Against the Shadow fought to rezone the land the tower now looms over, leading to a lengthy legal battle ultimately decided by the Iowa Supreme Court.
The rezoning of the Pentacrest Gardens project was held up for months as the Iowa City Council debated whether the potentially 15-story building conformed with the city's 2012 master plan.
Ginalie Swaim, board president of the Friends of Historic Preservation, which has occasionally sparred with city officials and developers – as it did in 2015 in an unsuccessful battle to save three 19th-century cottages on South Dubuque Street – said she believed the city has generally been thoughtful and balanced in its approach to high-rises.
"What's important as the city grows, and Iowa City certainly is, is to preserve the historic heart of downtown," Ms. Swaim said. "This is where the center of the community has been for decades and decades, and we need to maintain its appeal, its human scale."
The downtown master plan calls for most taller buildings to be situated south of Burlington Street, she said, "and that seems like a solution for how to allow growth and new development while preserving our historic downtown. People come from other places and say, 'Wow this is so charming.' There's room for development, but it should be done tastefully, as part of hanging on to what we've got."
Rent/vacancy impacts
City officials hope so much new space on the market, in both high-rise and other recent residential developments, will put downward pressure on rents.
Although an inclusionary zoning ordinance requires all new developments in the Riverfront Crossings district to set aside 10 percent of their units as affordable or pay a penalty, Ms. Ford said most of the movement would likely come from landlords with older units having to get more competitive.
"When you have greater supply, it should have an impact on demand," she said. "We'd like to think [rents] stabilize or come down."
A 2017 housing survey from Cook Appraisal showed average rents in city's "Pentacrest mile," which includes the downtown area, ranged from $734 for an efficiency up to $2,077 for a four-bedroom, placing them among the highest rental rates in the state. Rochelle Dietiker, managing partner for Cook Appraisal, said her firm plans to update the biennial survey in the fall, but agreed it would stand to reason three straight years of dramatic increases in new housing units could have an impact.
Ms. Dietiker said 1,080 new units were set to come online in 2019, up from 1,100 in 2018 and 830 in 2017.
"The third year in a row of growth at that magnitude is definitely substantial," she said, adding that until a new survey is conducted, it's hard to predict the future. "But one might expect there to be some possible softening of rents. I think with that volume of units coming online, it's going to be interesting to see how things shake out."   CBJ