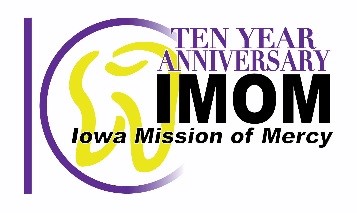 The Iowa Dental Foundation, based in Johnston, is bringing a free dental clinic, the Iowa Mission of Mercy, back to Cedar Rapids on Sept. 29-30.
This is the 10th anniversary of Iowa MOM which has treated almost 13,000 patients from Iowa and beyond and provided almost $8.5 million in free dental care since 2008. The Iowa MOM was held in Cedar Rapids in 2010 when more than 1,500 people were treated during the two-day event.
The Iowa Mission of Mercy is a large scale, two-day free dental clinic in which more than 1,000 dental professionals and other volunteers donate their time to provide dental care to individuals who cannot afford oral health care. A full-service dental clinic will be set up at the U.S. Cellular Center offering cleanings, fillings, extractions, some root canals and "flippers," or removable partials, for missing teeth. Patients will be treated on a first come, first-served basis.
Sara Stuefen, who has a dental practice in Vinton, is chairing the 2017 Iowa Mission of Mercy and a local committee, which has been meeting since February to plan the logistics of the event.
"The Iowa Mission of Mercy fills a vital need in the community. Restoring a person's smile improves their health, well-being, and confidence," Dr. Stuefen stated in a press release. "I am so proud to be a part of this organization and to make a positive impact on patients' lives."
A large part of putting on a clinic of this magnitude is the support of the local community.  The budget for Iowa MOM is $300,000, with about half being in-kind support.
Volunteers are a key part of the Iowa Mission of Mercy. More than 1,000 volunteers are typically needed to fill a wide variety of roles. In addition to the dental professionals, medical and pharmacy professionals are needed, as well as general volunteers.
For more information about the Iowa Mission of Mercy, go to www.iowamom.org.