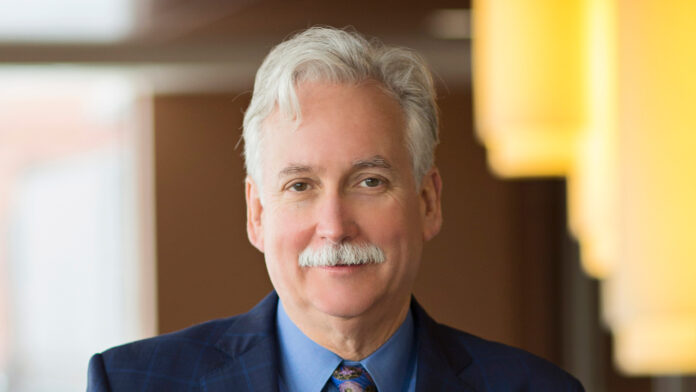 The Cedar Rapids Metro Economic Alliance (CRMEA) announced Timothy Charles, former president and CEO of Mercy Medical Center, as the recipient of the 2022 Howard Hall Excellence in Business Award on Jan. 6.
The Howard Hall Excellence in Business Award is named after the late industrialist and philanthropist Howard Hall, who was dedicated to the development of the region and frequently worked behind the scenes to attract new businesses and jobs.
It is considered the most prestigious honor bestowed by the Economic Alliance and is given to a business leader or couple who exemplifies values of Mr. Hall.
CRMEA Executive Director Doug Neumann said Mr. Charles embodies the values of Howard Hall through his leadership throughout his career and by the way he has "elevated community discussions."
"He has been a tremendous asset to the MedQuarter and really to the entire community," Mr. Neumann said in a statement. "His commitment with his wife Janice to stay here [in Cedar Rapids] in retirement and continue to drive thoughtful community conversations about health care, aging and development is impressive."
Mr. Charles retired from Mercy Medical Center Dec. 31 after spending 19 years with the organization and 15 years as president and CEO.
Signature projects during his time included the Hall-Perrine Cancer Center and the under-construction Plumb Heart Center, as well as development of HallMar Village, an advanced medically integrated community for seniors including those living with dementia.
Construction of the 72,000-square-foot Plumb Heart Center is on target for the anticipated June 2023 facility opening, according to a CBJ report from August.
He also led Mercy through significant challenges including the flood of 2008, the pandemic, and the derecho.
Timothy Quinn replaced Mr. Charles as new president and CEO, effective Jan. 1.
Mr. Charles will receive the award during the CRMEA's annual meeting Jan. 24. at the DoubleTree by Hilton Hotel Cedar Rapids Convention Complex in downtown Cedar Rapids.
Charles and his wife Janice plan to remain in Cedar Rapids and stay active in the community, according to a release.
Chris and Suzy DeWolf, co-owners of the Lil' Drug Store Products, were the 2021 recipients of the Howard Hall Excellence in Business Awards.