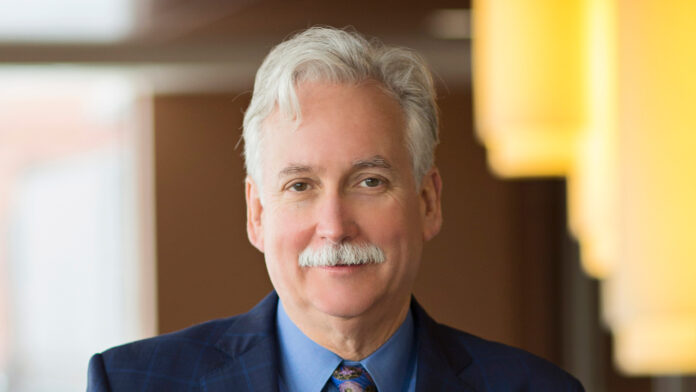 After 19 years with Mercy Medical Center in Cedar Rapids, Timothy Charles, president and CEO, has announced his planned retirement, effective Dec. 31, 2022. Mr. Charles joined Mercy in 2003 as executive vice president and COO and was later appointed president and CEO in July 2007 by the board of trustees.
"Mercy is fortunate to have had Tim Charles as its CEO for the past 16 years," Al Ruffalo, chair of the Mercycare Service Corporation Board of Trustees, said in a release. "Tim has led Mercy through some very challenging times, and because of his steadfast leadership, Mercy is poised for some exciting endeavors in the near future for our community."
Mr. Charles' career with Mercy is defined by a deliberate focus on sustaining its independent status, despite the industry's rush to consolidation. The past two decades of achievement represent a number of hallmarks of his leadership, including growth and evolution across multiple service lines; achieving national recognition for quality; and tripling Mercy's asset value – all driven by an accomplished team and guided by the spirit of the Sisters of Mercy.
Examples of Mercy's many achievements during the last nearly two decades include:
Addressing the unprecedented needs and demand of the COVID-19 pandemic

Breaking ground on and development of the Jewel & Jim Plumb Heart Center

Establishing the Chris & Suzy DeWolf Family Innovation Center on Aging & Dementia and designing and constructing HallMar Village

Establishing Iowa's first freestanding Emergency Department, as well as the opening of Mercy's outpatient surgery center, in Hiawatha

Becoming the first hospital in Iowa to create an anti-human trafficking position

Receiving Certificate of Need approval for and initiation of open heart surgical services

Opening the Family Caregivers Center of Mercy, serving caregivers of those with dementia and chronic illnesses

Co-founding the MedQuarter

Guiding the enterprise-wide installation of Epic, the gold-standard, state-of-the-art electronic health record

Overseeing the expansion of Mercy's geographic footprint with multiple primary care, specialty care, and urgent care clinics in Mount Vernon, North Liberty, Tama, Marion, Monticello, Center Point and Cedar Rapids

Co-founding the University of Iowa Health Alliance

Opening the Employee Health Center in concert with MercyCare Business Health Solutions

Opening the Sister Mary Lawrence Community Center

Developing the Hall-Perrine Cancer Center

Directing multiple additions to Mercy's main campus, including medical and support office buildings, as well as staff resources, such as Uncommon Grounds and the Baggot Street Bistro

Becoming the first in Cedar Rapids to initiate robotic surgery with the addition of the da Vinci robotic system

Rising above the flood of June 13, 2008, and re-initiating services in just 16 days

Constructing and opening the Dennis & Donna Oldorf Hospice House of Mercy

Opening Mercy Health Plaza with dialysis, diabetes and rehabilitative services

Converting the hospital to all private patient rooms
Originally planned for last year, Mr. Charles delayed his retirement to maintain focus and stability in the organization during the challenges of the COVID-19 pandemic. Through extensive succession planning during the last several years, Mr. Charles and Mercy's Board of Trustees have been preparing for his retirement. As they move toward the final stages of the planning and search process, it is expected that a successor will be named in the spring.
"Leading Mercy has been the most significant professional privilege of my 46-year career in health care," Mr. Charles said. "The long list of accomplishments at Mercy are the result of a dedicated staff, devoted provider colleagues, philanthropic community stakeholders and our superb board of trustees. Mercy is well-positioned today and for the foreseeable future, serving our community as it has the past 122 years. I am very optimistic for the future and have complete confidence in Mercy's success in delivering The Mercy Touch for decades to come."
He added, "On a personal note, my wife, Janice, and I are grateful for the extraordinary relationships we have developed with the Mercy family and the Sisters of Mercy. We will carry those with us as we remain in Cedar Rapids, the city we have come to love. We are looking forward to our next adventure."