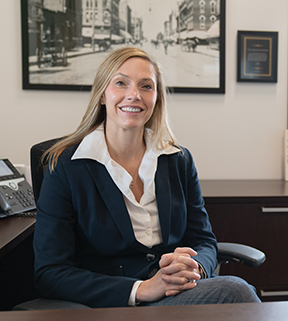 Mortgage Loan Officer  |  GreenState Credit Union
AGE: 38
Best advice you ever received?
"The price of doing the same old thing is far higher than the price of change." – Bill Clinton
What would most people be surprised to learn about you?
I can't watch more than 15 minutes of TV in one sitting due to my attention span.
If you had $1 million to give, what causes would you support?
I would split it. I love how many friends I have met through Junior League, but also how much a group of strong women can do to help our community and each other. I am also passionate about the March of Dimes. I had a premature daughter and, due to the research March of Dimes did, she survived, even though she was premature and weighed 3 pounds, 1 ounce.
What are your passions outside of the workplace?
I really love to press the threshold of what my body is able to do by getting faster/stronger, but also doing it for long periods of time. I also have a real sense of adventure and love to travel with my family. We travel to places that are very adventurous. I would love to climb Kilimanjaro with my kids someday.
What do you want to accomplish by the time you are 50?
I would love to own a debt-free company with more than 75 employees while continuing my position as the top mortgage lender in Iowa.