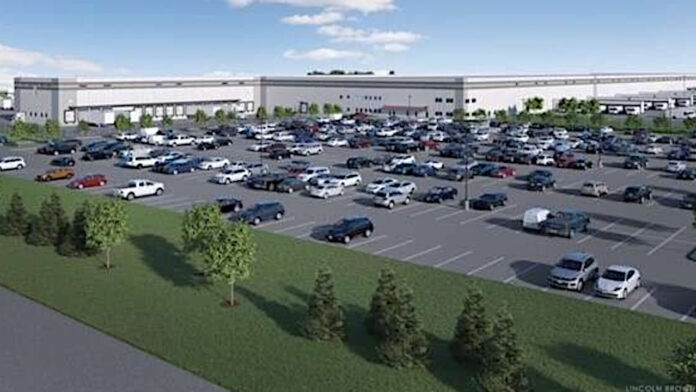 The Cedar Rapids City Council on Tuesday unanimously approved a term sheet with FedEx Ground Package System and developer Scannell Properties to bring a $108.6 million warehouse and distribution center – and more than 480 jobs – to southwest Cedar Rapids.
"You guys continued to work hard throughout some real challenges this year in the pandemic and the derecho and I'm just blown away," council member Ann Poe told city staff before voting to approve a preliminary deal that will see the hulking 480,000-square-foot facility break ground later this summer. "This is quite a facility and certainly, $20 million in payroll that goes back into our community? I'm excited about that … And I would like to thank FedEx Ground for putting your confidence in our wonderful city of Cedar Rapids."
Under the terms of the deal, FedEx Ground will make $64.6 million in property improvements, including land acquisition, new construction and site improvements, and $44.8 million in machinery and equipment upgrades, at 1035 Commerce Park Drive SW, creating at least 481 new jobs in the process. The company estimates 75 positions will be full time and 359 will be part time.
In exchange, the city will offer several incentives, including a 10-year, 50% reimbursement of the increased tax value of the property as well as off-site improvements to accommodate the heavier traffic the project would generate. That includes traffic signalization at Sixth Street SW and Commerce Park Drive SW and converting Walford Road SW to an urbanized road.
The city would also assist FedEx in applying the state's Revitalization Iowa's Sound Economy (RISE) grant through the Iowa Department of Transportation. The grants are intended to promote economic development in Iowa through the establishment, construction and improvement of roads and streets.
City officials estimated the FedEx project, sited on an 80-acre tract, will generate $16.3 million in taxes over a 10-year period, of which $6.1 million would be rebated to the company.
FedEx has seen a spike in ground shipments over the course of the pandemic as consumers pivoted to e-commerce – a "trend expected to continue in the near term," Forbes reported late last month. For the nine-month period ending in February, total revenue at FedEx grew 18% to $16.4 billion, spurred by a 37% hike in ground shipments revenue.
"The purpose of this project is to expand [Fed Ex's] ground service network and it provides direct support to its hub facility, which is located in St. Paul (Minnesota)," Economic Development Analyst Caleb Mason told the council. "This also expands their local footprint. They have a presence here already, but all the jobs would be new to the state."
Council member Scott Overland called FedEx's massive Cedar Rapids expansion "a new chapter of growth" in the city's commercial and logistics history and predicted it would not be the last.
"As time goes on, I expect further logistics-type businesses to be attracted to Cedar Rapids and our location, with our high-quality airport as well as our rail and highway system," he said. "And the ability for Cedar Rapids and our economic development team to get FedEx here using our standard economic package, I think, is a testament to the kind of results that our economic team is able to get for us."
"Here's another huge investment in our community by a well-known company," echoed Mayor Brad Hart, adding it will be incumbent on the city to continue building its workforce.  "We have to keep growing our workforce … we all have to keep moving that forward so we can have employees for all of our existing businesses, and these new ones come into town. But this is an exciting project."
According to FedEx's term sheet with the city, construction will commence by Aug. 1 and wrap up by Sept. 20, 2022.