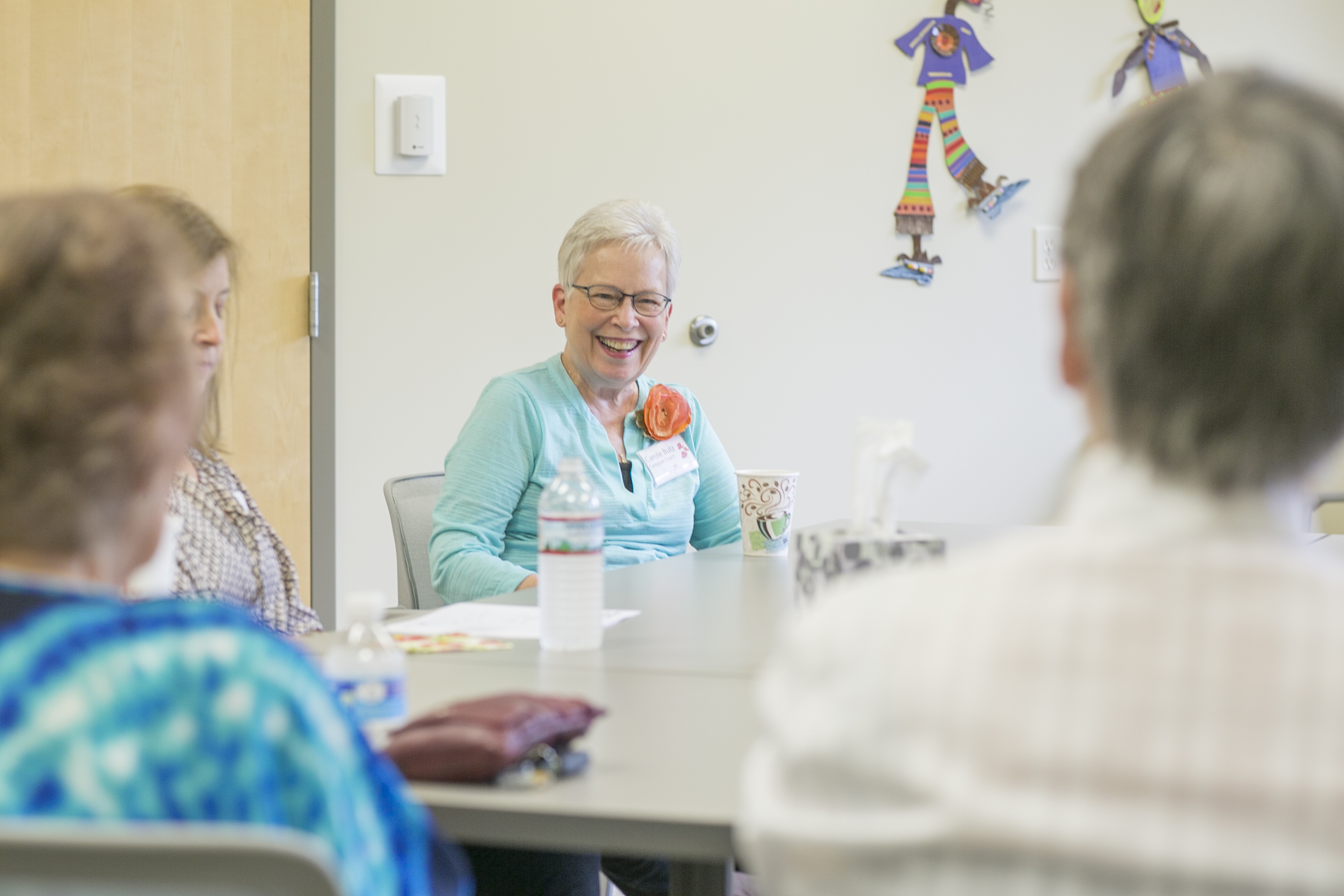 Carole Butz leads a support group at the Family Caregivers Center in Cedar Rapids.                       PHOTO / SHUVA RAHIM
By Cindy Hadish
Carole Butz and her husband, Mick, marked 50 years of marriage in June, but it was difficult to celebrate their milestone.
Mr. Butz was diagnosed with Alzheimer's disease in 2008 and while he still recognizes her, "I'm not sure he knows I'm his wife," said Ms. Butz, who retired from her job at Coe College to become her husband's caregiver.
Having insight into such challenges is one of many reasons Ms. Butz creates a special connection to other caregivers as she serves multiple volunteer roles at the Family Caregivers Center of Mercy.
The center, at 901 Eighth Ave. SE, opened in December 2015 as a resource for family caregivers of adults, regardless of their hospital or physician affiliation.
"It's a community resource," said Kathy Good, director of the center. "We don't care where you're receiving your medical care."
Chronic conditions such as cancer, diabetes, heart disease and Parkinson's disease are among the reasons that lead a spouse, son, daughter or other family member to becoming a caregiver. In Linn County alone, 3,200 residents have Alzheimer's disease; a number expected to triple by 2050.
With that in mind, and after hearing about a caregivers center in New York, Tim Charles, president and CEO of Mercy Medical Center, set the wheels in motion for the Family Caregivers Center of Mercy.
"He was concerned about the numbers," Ms. Good said. "He thinks the health care community was not ready to deal with that tsunami."
Ms. Good was a caregiver herself after her late husband, David Good, a Sixth Judicial District Court judge, was diagnosed with early onset Alzheimer's at the age of 56. He lived at Mercy's Hallmar Care Center for nearly four years before his death in 2015.
She recalls his sense of humor, love of kayaking and other outdoor adventures and his extensive bow tie collection as Ms. Good keeps his memory alive, at the same time she strives to make it easier for other caregivers to cope with adversity.
Even with her knowledge of services available in the community as a social worker, "I often felt alone and overwhelmed," Ms. Good said of the time after her husband's diagnosis. "That's common."
Mr. Charles approached Ms. Good about using her expertise to lead the center.
"He asked if I was interested, and I said, 'absolutely,'" she said.
More than $2.6 million was raised to endow the Family Caregivers Center of Mercy before it  launched. The center employs just one staff member, office coordinator Mary Rink; others, including Ms. Good and Ms. Butz, are volunteers.
The Mercy Foundation continues to raise funds to support the center and its many services.
Those include helping caregivers navigate the medical, financial and human service systems with the help of "caregiver coaches," such as Ms. Butz, in order to help the caregivers find the assistance they need and determine their eligibility.
The center also helps care for the physical, mental and emotional needs of caregivers through services such as music and art therapy, chair yoga and massage, all of which are offered for free.
A resource library at the center offers books about chronic conditions, care giving, grief and loss, as well as a quiet spot to read, while educational sessions offer advice on topics such as financial planning and VA benefits.
As of earlier this summer, nearly 500 caregivers had been served at the center. Most of the caregivers are women, with about one-fifth men, and generally are age 45 and older and caring for a spouse.
The center offers connections to hourly, overnight and in-home companion respite care, with financial assistance on an as-needed basis for those who qualify.
Support groups, including a Male Caregiver Coffee and "The Mindful Caregiver" book study and support group led by Ms. Butz, are among other ways the center helps caregivers find answers and solace.
"We have wisdom for one another," Ms. Butz said. "I don't think there's an emotion or any kind of feeling that I haven't experienced on this journey, so I'm able to tap into that. I hope I can give them the gift of understanding."