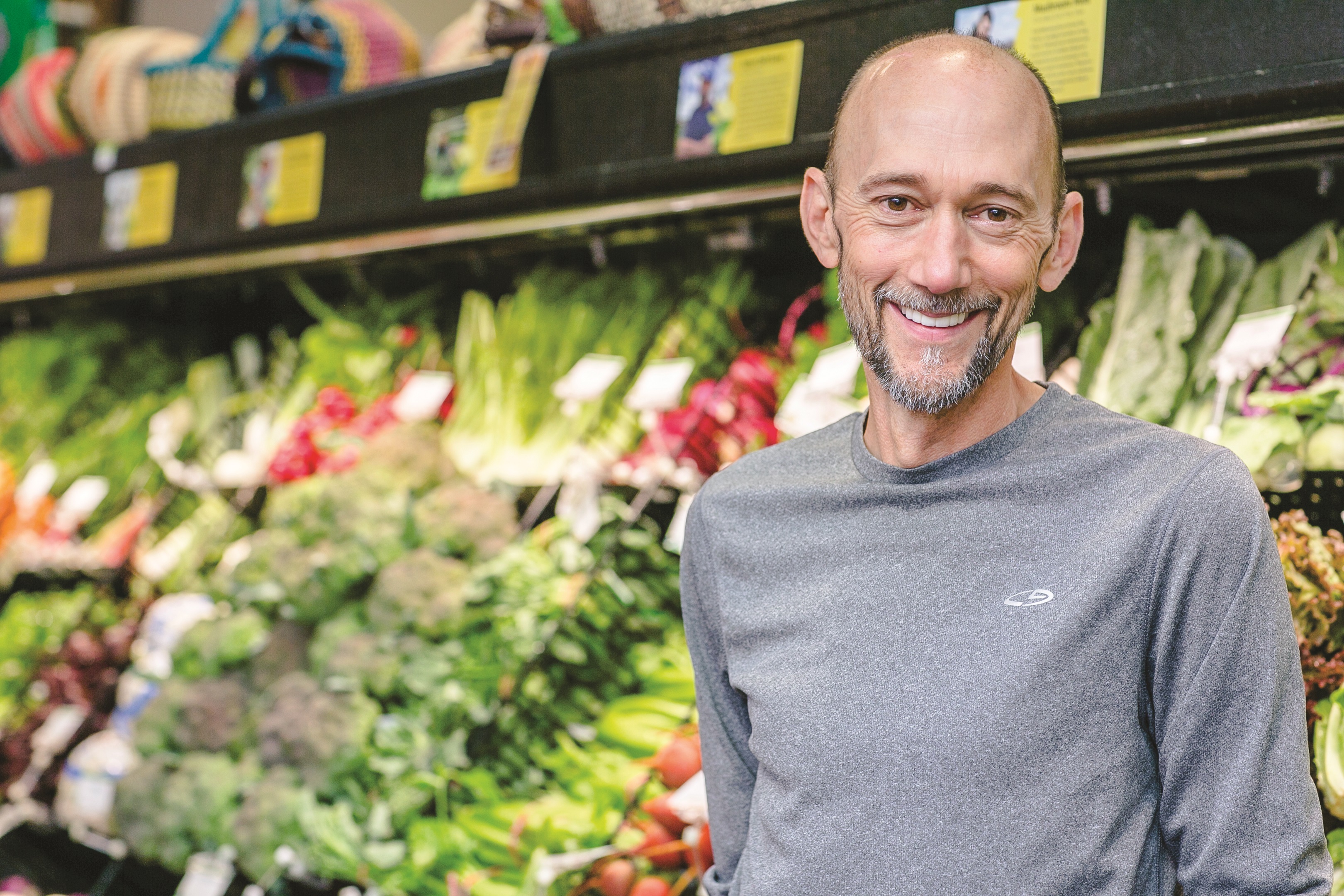 Paul Cross has embarked on his own cancer treatment course. PHOTO / SHUVA RAHIM
By Cindy Hadish
In the month before his diagnosis, Mr. Cross had become increasingly bothered by the hoarseness of his voice, but was not prepared for the treatment options he was given.
Doctors told him he could undergo 12 weeks of chemotherapy and radiation, or have his voice box removed.
"That's the options: poison, burn or cut," said Mr. Cross, 48, a systems support technician at the Cedar Rapids Public Library.
He felt rushed to make a decision, but told the doctor he wanted time to do research and discuss alternatives with his family.
"(The doctor) looked confused and said, 'Well, what else are you going to do? We do the same treatments as the Mayo Clinic,'" Mr. Cross said. "To me, it sounded like he didn't want me to take my insurance money somewhere else."
That was one of several red flags he said he noticed, starting Mr. Cross on a journey to take his care into his own hands.
Complementary approach
He has since chartered his own treatment course that includes organic foods, supplements and other natural remedies.  >
No definitive figures are available on how many cancer patients choose complementary and alternative medicine over conventional cancer treatment, but health experts say numbers are on the rise, spurred, in part, by the Internet.
A study published last year in JAMA Oncology followed 685 women with breast cancer. Those who were using dietary supplements and other forms of complementary and alternative medicine were less likely to initiate chemotherapy as prescribed, with 11 percent choosing not to undergo the standard treatment.
Separately, the U.S. Food and Drug Administration and the Federal Trade Commission have issued a warning for patients to be aware of fraudulent cancer treatments.
"Cancer treatment frauds aren't new, but in recent years it has become easier for the people who market them to reach the public using the Internet," the warning notes. "Some fraudulent cancer treatments are harmful by themselves, and others can be indirectly harmful because people may delay seeking medical care while they try them, or because the fraudulent product interferes with the effectiveness of proven cancer treatments."
Revolving door
Mr. Cross contends, however, that the health care industry pushes treatments that can cause harm, describing the process as a revolving door.
"Patient comes in, doctor comes in, next doctor, then the next doctor and then it starts all over with a new patient coming in the door," he said. "Nothing is individualized and they have no knowledge of nutrition."
Mr. Cross said an oncology nutritionist suggested he eat ice cream, shakes full of sugar and "all kinds of things I wouldn't eat normally."
Instead, he has devised his own diet, starting with large organic salads with spinach, kale, tomatoes and peppers topped with olive oil, black pepper and turmeric – the main spice in curry – as well as raw vegetable shakes and scrambled eggs with spinach, turmeric and avocado, along with herbal teas and 10 supplements, twice daily.
He also eats organic grass-fed beef and other sources of protein and food high in "good" fats, while avoiding processed carbohydrates.
The supplements, organic vegetable powders he uses in smoothies and other natural remedies, can be expensive, and are not covered by insurance.
No convincing evidence
Mr. Cross is also an advocate for medical marijuana, believing that the right course of treatment could cure his cancer. While Iowa has legalized the use of cannabis oil, it is still difficult to obtain. Also, taking a dose high enough to be effective would make it difficult to work, Mr. Cross said.
The National Institutes of Health's National Center for Complementary and Integrative Health notes that some complementary health approaches may help to manage symptoms of cancer and side effects of treatment, but so far, there is no convincing evidence that any complementary health approach is effective in curing cancer or causing it to go into remission.
"Some complementary approaches can interfere with standard cancer treatments or have special risks for people who've been diagnosed with cancer," the center notes, adding that cancer patients should discuss any complementary approaches with their health care providers.
Mr. Cross said the doctors he saw were not interested in the supplements he was taking. He has dropped almost 30 pounds since his diagnosis, bringing his weight down to 130, but said his health is possibly the best it's ever been, citing, for example, the blood pressure medicine he no longer needs.
"Really, it's mostly my voice," he said, sounding raspy, but understandable. "That's hard for me because I love talking to people. Customer service – that's what I do."
Mr. Cross is unsure what might prompt him to return to a doctor in the future and doesn't know what caused the cancer, which is more common in teachers, singers and others who consistently use their voice at a loud volume. He had been a smoker, but quit about a decade ago.
His son was married earlier this summer, something Mr. Cross was grateful to see, and notices his younger son following his example with a healthier diet.
"I want to cure this more than anything for them," he said, adding that keeping a positive attitude is "huge…It helps with healing."