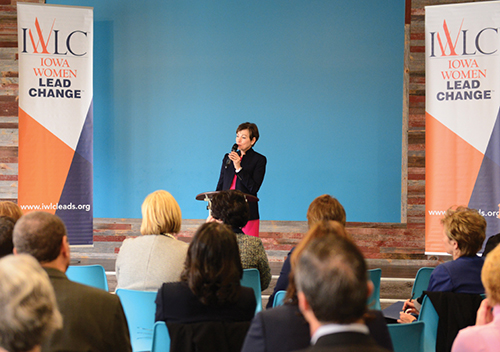 Iowa Lt. Gov. Kim Reynolds speaks at the EPIC launch, held March 31 at the Geonetric building in southeast Cedar Rapids. The initiative aims to improve metrics around women in the workplace.
By Angela Holmes
angela@corridorbusiness.com
CEDAR RAPIDS—A new public-private partnership launched by Iowa Women Lead Change (IWLC) is challenging organizations to make progress in developing female leaders in the workplace.
The EPIC Corporate Challenge – short for "Economic Potential for Iowa Companies and Communities" – asks companies and organizations to set voluntary, measurable goals in at least one of the following metrics: retention of female workers, percentage of female employees in leadership roles, percentage of women in the top 10 percent of executive positions, percentage of women on corporate boards and pay equity.
It has been endorsed by Gov. Terry Branstad and Lt. Gov. Kim Reynolds, the Iowa Economic Development Authority and Iowa Workforce Development (IWD). Delta Dental of Iowa, Rockwell Collins and Hy-Vee are presenting sponsors.
"It's privately-led and publicly endorsed," said IWLC CEO Diane Ramsey. "The state is here as the endorsers – in some respects, the cheerleaders."
Ms. Reynolds, Ms. Ramsey, IWD Director Beth Townsend and Delta Dental Vice President, Public Affairs Suzanne Heckenlaible spoke with the CBJ on March 31 before EPIC's Eastern Iowa launch event, held at Geonetric, 415 12th Ave. SE in Cedar Rapids.
"When you bring business and industry into an initiative like this, we want to be able to demonstrate through data that we are moving the needle," Ms. Reynolds said. "We've gone from conversation to action."
Iowa is only the second state in the nation to embark on a statewide effort to improve gender equality in the workplace. In December 2014, Massachusetts rolled out a workplace challenge – a model the IWLC is closely following. The Nexus Executive Women's Alliance in Des Moines came up with the name EPIC and launched a pilot program in the city last fall.
"We decided to collaborate, which is what our organization is all about," Ms. Ramsey said. "The plan was we would go statewide after we had the pilot to see how it worked out."
The program couldn't have launched at a better time, Ms. Townsend said, as Iowa continues to report low unemployment numbers, and companies struggle to find and retain qualified workers.
"It used to be we would go out and hire people to work 8-5 Monday through Friday, and now business and industry are taking a step back and trying to figure out better ways to attract and keep talent," she said. "Because not only is that necessary to employ and sustain women's careers but also our younger generation. They aren't really built on the traditional, 8-5 Monday-Friday kind of schedule."
Delta Dental is becoming more proactive in promoting women in leadership roles, Ms Heckenlaible noted. It has a higher female leadership percentage than the average Iowa company, with three of its nine board members and half of its leadership being women. The company has also started a formal mentorship program that focuses developing the next generation of women leaders within the company.
"We believe that investment in women leaders within our company is vital," she said. "This is an important cultural issue for us as we continue to build leadership at all levels."
IWLC is now developing a "Women on the Rise" assessment tool to gauge companies' progress on their goals, Ms. Ramsey said. A company that commits to the EPIC challenge will take the assessment and then track its progress by reporting data to IWD. The data will be reported at an aggregate level, so that organizations can compare themselves to others in the state.
Companies that commit to the challenge will have access to a series of events, during which best practices will be shared and experts will address such topics as unconscious bias, gender intelligence and shared leadership. Drake University in Des Moines, a partnering organization with EPIC, will host many of the educational events.
A meeting will be held in January 2017 to share the results of the research. Companies that successfully complete the program will then be certified as Women on the Rise organizations.
Such a designation can only help with the tight labor market in Iowa, Ms. Ramsey said.
"We believe for Iowa companies that this can be a recruiting tool, because they are all looking for ways to differentiate themselves," she said.
Companies represented in the Corridor that have already signed up for the challenge include Alliant Energy, Bankers Trust, the city of Cedar Rapids, Hy-Vee, IWLC, Pearson, Rockwell Collins and Van Meter Inc. Nineteen companies in all have signed up so far;t he goal is recruit 100 companies statewide.