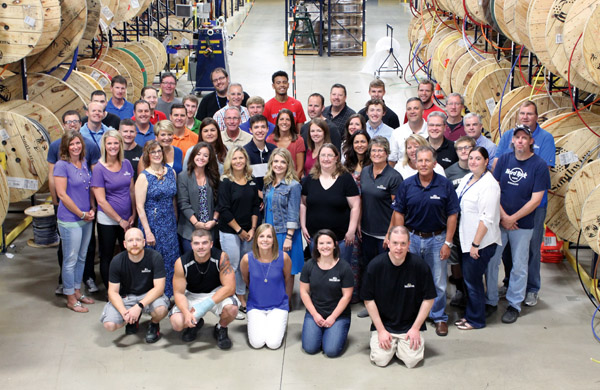 Distributor takes takes top honors in CBJ's 2016 Coolest Places to Work by empowering employee-owners
Van Meter
Cedar Rapids
www.vanmeterinc.com
Third time on Coolest Places to Work list
No. 1 Large Company
By Dave DeWitte
dave@corridorbusiness.com
Van Meter Inc. is a 100 percent ESOP company, which makes each employee an owner, and Van Meter a special place to work.
Yet being an ESOP company isn't the only thing that makes the growing distributor of electrical and automation supplies the Corridor's coolest. Employees and leaders say it's a culture of employee empowerment paired with the ESOP (employee stock ownership plan) that has been a potent recipe for growth – one that keeps employees feeling like they truly own the company and its results.
"Driving growth through our people" is how CEO Lura McBride describes it. "Let's really hire the best, get them in the right roles and give them the skills and knowledge they need to succeed as an organization."
Employees-owners are empowered to make their own judgments about what adds value for their clients, and provide it. An example Ms. McBride enjoys retelling is of a Van Meter delivery driver who personally decided to pack a cooler full of bottled water to give away to his clients when he delivered to job sites during the hot summer months. One client was crazy about a particular soft drink, so he threw one in the cooler for him every time he went to his site.
"That driver didn't have to ask anybody to go get a Mountain Dew and give it to that guy," Ms. McBride said. "He was empowered to make that decision."
Employee empowerment extends into the company's benefits program, which includes TOTAL. It's an acronym for "time off to appreciate life," and allows employees to decide for themselves when they need time off, how much time they need, and how to do it without reducing customer service.
Jason Grimm, a Van Meter account manager, said it made a difference recently when he had to move up a vacation week he was taking for a friend's wedding because the friend's mother had been diagnosed with a terminal illness. Mr. Grimm was already planning some other time off, particularly for a MBA class trip to China, and thinks his vacation schedule might have been tight at other companies.
"If I were counting the days I had [for vacation], this might be an issue," Mr. Grimm recalled.
Ms. McBride said Van Meter employees-owners are trusted not to abuse the policy.
"It's all about caring for people inside and outside of work," she said. "When you're good at home, you're good at work, and when you're good at work, you're good at home."
Based in Cedar Rapids, Van Meter has more than 450 employees at 14 locations, including in Cedar Rapids and Iowa City.
Employee-owners said their company has a strong wellness program, provides fruit in the break room and often provides lunch. The employee ownership formula has kept employee turnover to a minimum, and many employees regard their co-workers as a second family.
Staff members pitch in together for volunteer projects in the community, such as collecting 701 jars of peanut butter and 155 jars of jelly for a Feeding America's Food Banks program to supply children from low-income homes with nutrition for the summer months. A group of women in Cedar Rapids convene to make their families home-cooked meals they can keep in the freezer. Others are on a ball team, while still others practice their golf swings or shoot basketball at the Cedar Rapids distribution site on their breaks.
The average length of service is over 10 years, Ms. McBride said, however many have been in the company much longer.
"It's hard to get on board here," said Joe Wallace, a veteran Van Meter system administrator. "It's like you're making the Olympic team, and you're expected by your teammates to perform."
Kathy Etscheidt, accounts payable coordinator, has been with Van Meter 57 years, and said it's always been a good place to work, even before becoming 100 percent employee-owned in 2005.
"I'm having too much fun to quit," she said.
Financial transparency motivates employee owners to drive the bottom line, by providing them with continuous feedback on how the company is doing. Members of the company's ESOP Committee report back to their departments monthly, and share feedback from the departments with the committee and management.
"They know the top line we're trying to make each year, and how much the bottom line is," Ms. McBride said. "If we're behind and we need to catch up, everybody knows why we're giving it a good push. When we're beating plan and we give a little bonus, they know what that means."
Ms. McBride said the company's chief challenge is to not lose its focus on what has made the company successful – finding innovative ways to deliver greater value for customers.
"The reason we get out of bed every day to come to work is create lasting value for those we serve," Ms. McBride said.
In addition to winning the overall category in the CBJ's annual Coolest Places to Work competition, Van Meter also won the Large Companies category for employers with 100 or more employees.
In order to qualify for the Coolest Places to Work awards, a company had to nominate itself or be nominated. Skywalk Group, a Cedar Rapids-based professional services firm, then sent questionnaires to the staff and management of each nominee. Those companies with a survey participation rate of at least 60 percent were then given scores based on an analysis of the questionnaires and ranked into three size categories: Small (20 or fewer employees), Medium (21-99 employees), and Large.
More than 325 business leaders and employees attended the Coolest Places to Work awards reception, held June 16 at the DoubleTree by Hilton in downtown Cedar Rapids.