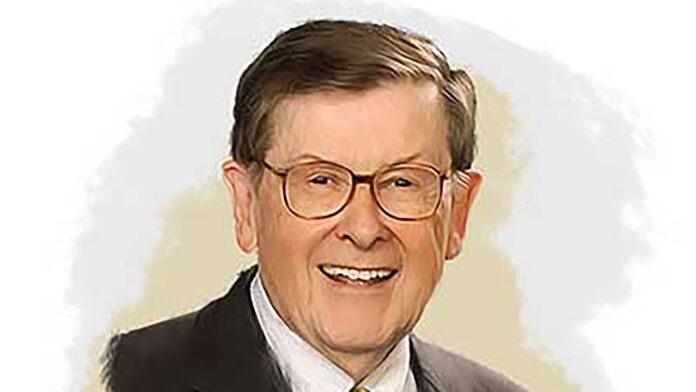 Former University of Iowa President Willard "Sandy" Boyd passed away in December at the age of 95.
Words like "giant" and "legend" are bandied about in the media nowadays, rendering them almost meaningless. But "giant" and "legend" might be the most appropriate words to describe Mr. Boyd– one of the University of Iowa's most iconic leaders from the last century.
His academic and nonprofit leadership is the stuff of legend, as well as his engagement with the business community and business leaders.
"He will always remain one of the major figures in University of Iowa history," said UI President Barbara Wilson in an online UI article. "His impact and influence are deeply embedded in the character and excellence of this institution to this day. He represented who and what we are as an institution with integrity, grace, compassion, humor, and humanity, and he changed the university — and our society — for the better in profound and lasting ways."
Most notably, Mr. Boyd served as the UI's 15th president starting in 1969. Mr. Boyd served for 12 years as president and helped grow the UI from 8,400 students to 25,100 during his tenure.
Numerous structures including the UI's Hospital & Clinics Boyd Tower and the Boyd Law Building, which houses the university's College of Law, were named after Mr. Boyd. 
Prior to becoming UI President, Mr. Boyd established the UI Foundation, which is now the billion dollar-plus fundraising arm of the university, now called the UI Center for Advancement.
After retiring from the UI presidency, Mr. Boyd became the president of the Chicago Field Museum of Natural History from 1981-1996.
Who else but a legend could have proposed and accomplished the audacious rerouting of Lake Shore Drive in downtown Chicago in 1991 to create a unified museum campus for the Field Museum, the planetarium and the aquarium?
Mr. Boyd returned to Iowa City as a law professor in 1996 and focused much of his efforts on teaching and improving nonprofit organizations across Iowa while adhering to his principle that "former presidents should never be heard and seldom seen."
He founded the Larned A. Waterman Iowa Nonprofit Resource Center, a University of Iowa interdisciplinary collaboration, in 2000. The center has established a record of training students in nonprofit law, offering workshops and training to nonprofit workers statewide, providing critical information on nonprofit issues, and developing publications and guidelines for Iowa's nonprofit organizations. 
The Iowa Principles and Practices for Charitable Nonprofit Excellence was developed as part of the Governor's Nonprofit Task Force in 2005.
Mr. Boyd's commitment to public service spanned nearly nine decades, including more than 65 years of service to the University of Iowa and the state of Iowa. 
Giant. Legend.