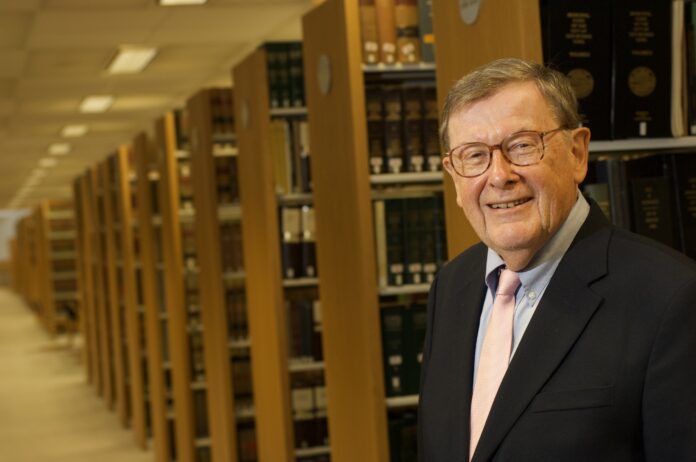 University of Iowa President Emeritus Willard "Sandy" Boyd died Tuesday, Dec. 13, 2022, in Iowa City. He was 95. The cause remains unspecified.
Current UI President Barbara Wilson said Mr. Boyd was beloved by the entire university community in an email statement sent to students and faculty Tuesday afternoon.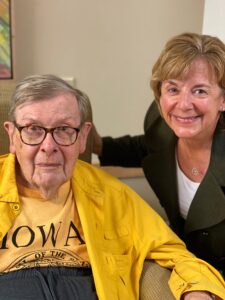 "… He will always remain one of the major figures in University of Iowa history," she said, in the email. "His impact and influence are deeply embedded in the character and excellence of this institution to this day. He represented who and what we are as an institution with integrity, grace, compassion, humor, and humanity, and he changed the university—and our society—for the better in profound and lasting ways."
Mr. Boyd was born in Saint Paul, Minnesota in 1927 and earned his Bachelor of Science in Law and Bachelor of Laws degrees from the University of Minnesota. He went on to earn his Doctor of Juridical Sciences degree from the University of Michigan in 1952.
In 1954 he joined the Hawkeye family as a faculty member of the UI College of Law following a few years of practicing law. After a decade, he became the college's associate dean and became the university administration's vice president of academic affairs. During that time, Mr. Boyd also established the UI Foundation, which is now the UI Center for Advancement.
The foundation was formed in 1956 and raises funds for the university.
Mr. Boyd served as the UI's 15th president starting in 1969, taking over for Howard Bowen. He served for 12 years, including the last six years of the Vietnam War. Mr. Boyd saw years of protest at the university, including in the wake of the Kent State shooting in 1970.
After the shooting and death of four students on the Ohio campus, students put four pretend bodies on Mr. Boyd's front lawn.
During those tumultuous years, students boycott classes and several demonstrations were held on the Pentacrest. No serious injuries or deaths occurred under Mr. Boyd's leadership during the protests, unlike at other institutions.
"In large part, this was because Sandy maintained a high degree of presidential visibility at all times," N. William Hines, dean emeritus of the College of Law, said in an obituary released by the university. "He kept in close contact with law enforcement officers, he regularly made himself available to hear the grievances of disgruntled students, and he recruited a group of trusted faculty volunteers to walk the campus to help keep the peace during the peak of the disorders."
The Old Armory Temporary was burned down in 1970 and classes continued, even after Boyd allowed students to leave campus with the grades they had earned in classes without finishing the semester.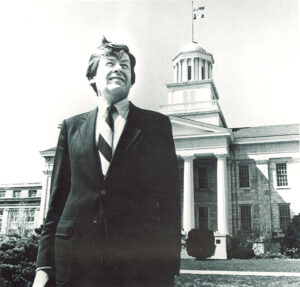 Mr. Boyd saw the university's enrollment triple from 8,400 students when he began as president to 25,100 when he left office, according to Iowa NOW. Several buildings that still stand on the UI's campus were planned or opened under Mr. Boyd's leadership including Carver Hawkeye Arena.
The Boyd Tower, located on the west campus, stands in memorial of Boyd's hard work to improve the University of Iowa's Hospitals and Clinics in 1971. The tower was built and named in 1981.
After a few years in Chicago directing the Field Museum of Natural History, Mr. Boyd came back to Iowa City as a law professor in 1996.
The Boyd Law Building, which houses the university's College of Law, opened in 1986. Boyd taught in the facility when he returned to the UI's faculty.
Following Mary Sue Coleman, the 18th UI president, stepping down from her position in 2002, Mr. Boyd stepped in as interim president until David Jan Skorton was selected by the state Board of Regents in 2003.
In his later years, Mr. Boyd authored a memoir entitled "A Life on the Middle West's Never-Ending Frontier." It was published in 2019.
Ms. Wilson said in her statement that Mr. Boyd reminded campus of UI President Walter Jessup's idea that education is Iowa's never-ending frontier.
He lived at Oaknoll retirement and assisted-living facility in Iowa City during his later years.
Mr. Boyd, however, was known for saying people, not structures, made a great university. The saying was originally championed by Jessup.
In 2015, the UI interviewed Mr. Boyd. He said he was an enthusiastic member of the university's community.
"We're always moving forward," he said. "… There's always something new ahead [at Iowa]. It's what's ahead that counts. And so, it's important that we always be future-oriented."
Mr. Boyd is survived by his wife, Susan Kuehn Boyd; their three children, Elizabeth "Betsy" Boyd of Iowa City, Willard Lee "Bill" Boyd III of Des Moines, and Thomas Boyd of St. Paul; and seven grandchildren.