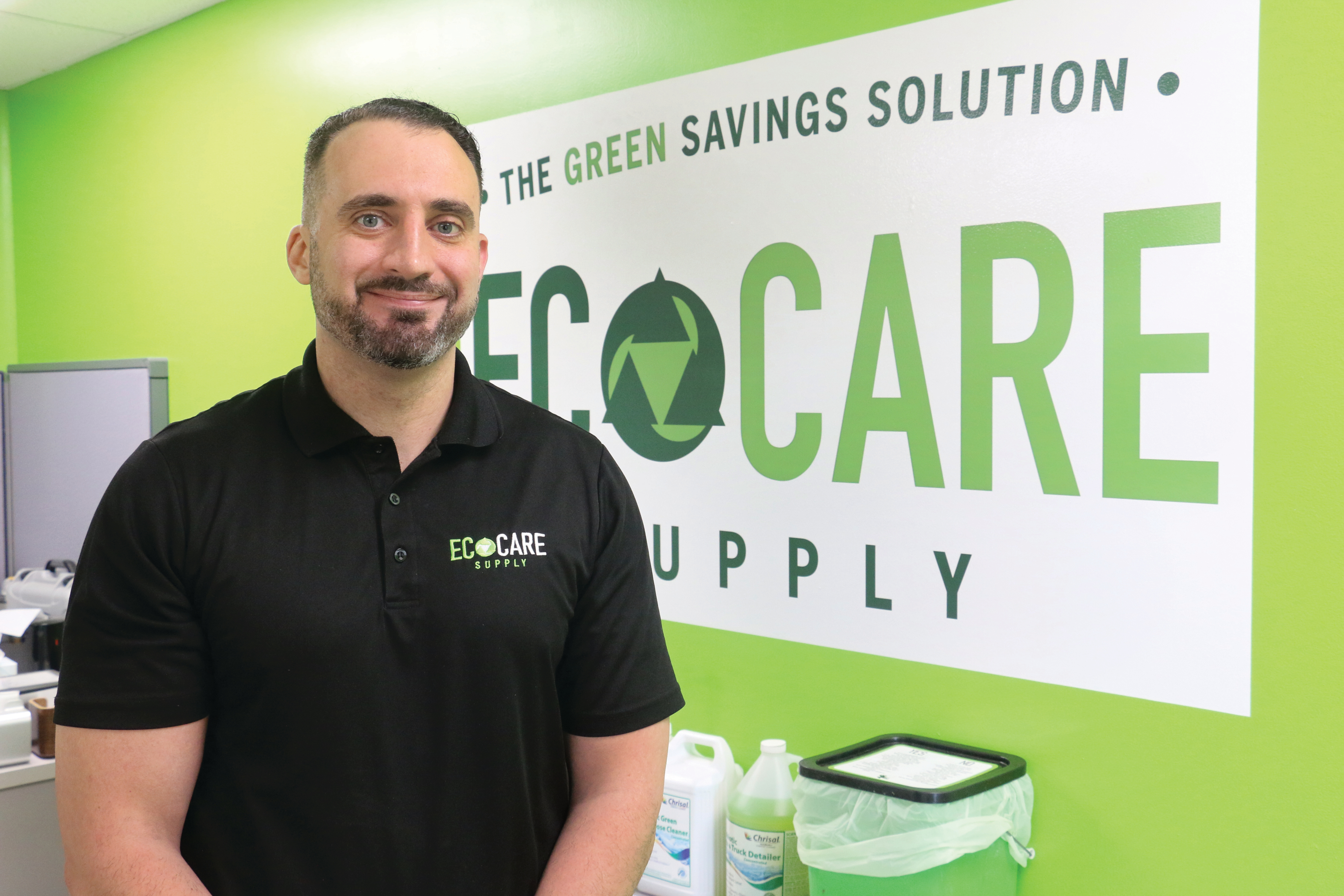 Kaveh Mostafavi, who started Ecocare Supply four and a half years ago, was named the CBJ's 2019 TLC Associates Entrepreneur of the Year. With about 450 accounts and 15 full- and part-time employees, Ecocare now has offices in Coralville, Cedar Rapids and Des Moines. PHOTO ADAM MOORE 
By Dave DeWitte
dave@corridorbusiness.com
It started out four and a half years ago with a small idea – helping businesses find products that would reduce paper and plastic waste – by an immigrant who was looking to make a difference.
Owning a restaurant with his brother in Arizona, attorney Kaveh Mostafavi had noticed how many extra napkins and products were being thrown unused into the trash. He moved back to Iowa and started Ecocare Supply, a wholesale company offering thousands of "eco-friendly" products, such as dispensers that release only one napkin per pull, biodegradable cups and plates, and cleaning supplies for offices.
Sales doubled during the first two years of operations, and grew even faster in 2017, topping $1 million for the first time. In March 2018, Ecocare Supply made its first acquisition, buying a small Iowa City composting company called Compost Ninja. That allowed Ecocare to promise customers that their waste would be converted back into soil-enriching compost used by farmers and gardeners.
With about 450 accounts and 15 full- and part-time employees, Ecocare now has three offices in Coralville, Cedar Rapids and Des Moines. However, Mr. Mostafavi, 38, isn't stopping there. He's working on a more efficient cradle-to-grave model for recyclable products that he can replicate in other markets, with the Quad Cities expected to be next.
Going into the business "sparked in me an unrelenting motivation to further the idea, to advance the purpose and have a significant impact on reducing the impact we're having on the environment," said the CBJ's 2019 TLC Associates Entrepreneur of the Year.
Entrepreneurship has given Mr. Mostafavi a deeper sense of purpose and more self-discipline, he said, conceding that work is "pretty much a 24/7 thing at this point." That's not to say it's a burden, however.
"It's just the niche I built as an entrepreneur," he added. "I wake up every day excited about it."
Ecocare Supply is a second career for Mr. Mostafavi, who attended the Drake University College of Law and began practicing in Arizona after passing the bar exam. He quit his first job as a bankruptcy lawyer in Phoenix after the firm's owner was arrested for murder, and started his own general law practice. Later, he started Arizona's first Panchero's restaurant franchise with his brother, Dr. Homan Mostafavi, but sold it within a few years.
While those early years were focused on gaining financial security, Mr. Mostafavi says his motivations are now far broader. He wants to help more businesses reduce their environmental impact and create even more jobs, including some that will provide employment for Iowans with physical or intellectual disabilities.
After its torrid pace of growth over the first three years, the business settled down in 2018, but still expanded at a double-digit pace as the Ecocare Supply integrated composting into its operations.
The next step for Ecocare may represent an even bigger shakeup of its business model.
The Iowa General Assembly this year legalized the cultivation of industrial hemp, which could provide a superior raw material for Ecocare's products.
Many of those products are now made in China from polylactic acid – much of which is actually made from corn grown in Iowa. The finished products, such as plates, cups, straws and cutlery, are then shipped back to the United States, adding to their carbon footprint and reducing the environmental benefit of using them.
Mr. Mostafavi sees a future in "converting industrial hemp into bioplastic and starting to manufacture our products in Iowa." He said the state makes a good central distribution point for most of the country, and that his friends who farm near his former hometown of Keota have already promised to grow him whatever he needs.
"I think there's a huge opportunity with hemp," he said.
Mr. Mostafavi's thoughts about shortening his supply chain and utilizing hemp were reinforced last year during a visit to the Corridor by one of America's most admired entrepreneurs, Patagonia Inc. founder Yvon Chouinard. Famous for his commitment to sustainability, Mr. Chouinard said he's making a big investment in composting and regenerative agriculture, and discussed the differences every individual can make through their business and lifestyle choices on a day-to-day basis.
The Mostafavi family immigrated to the United States after the Islamic Revolution in Iran when Mr. Mostafavi was only three, part of the flight of the country's professional and intellectual class that followed the takeover of the country's leadership by clerics. The family first moved to California, but relocated to Iowa after his father came across a job advertisement matching his specialty as a veterinarian.
The boys were frequently admonished by their father to study and work hard in order to take advantages of the many opportunities their new country had to offer.
"We are immigrants," Mr. Mostafavi said. "Nobody's going to hand us anything, nor do we want them to hand us anything." Rather than recalling discrimination in small town Iowa, he recalls the many close and lasting friendships his family made with the people in and around Keota. He calls Iowa a place where, "if you show your face and work hard, you have a definite chance of improving your lot in life."
With Ecocare's story spreading, Mr. Mostafavi said he's now getting calls out of the blue from organizations interested in reducing their environmental impact, and asking what Ecocare can do to assist them.
"I'm truly blessed," Mr. Mostafavi said. "It's a beautiful thing how we're watching this grow."