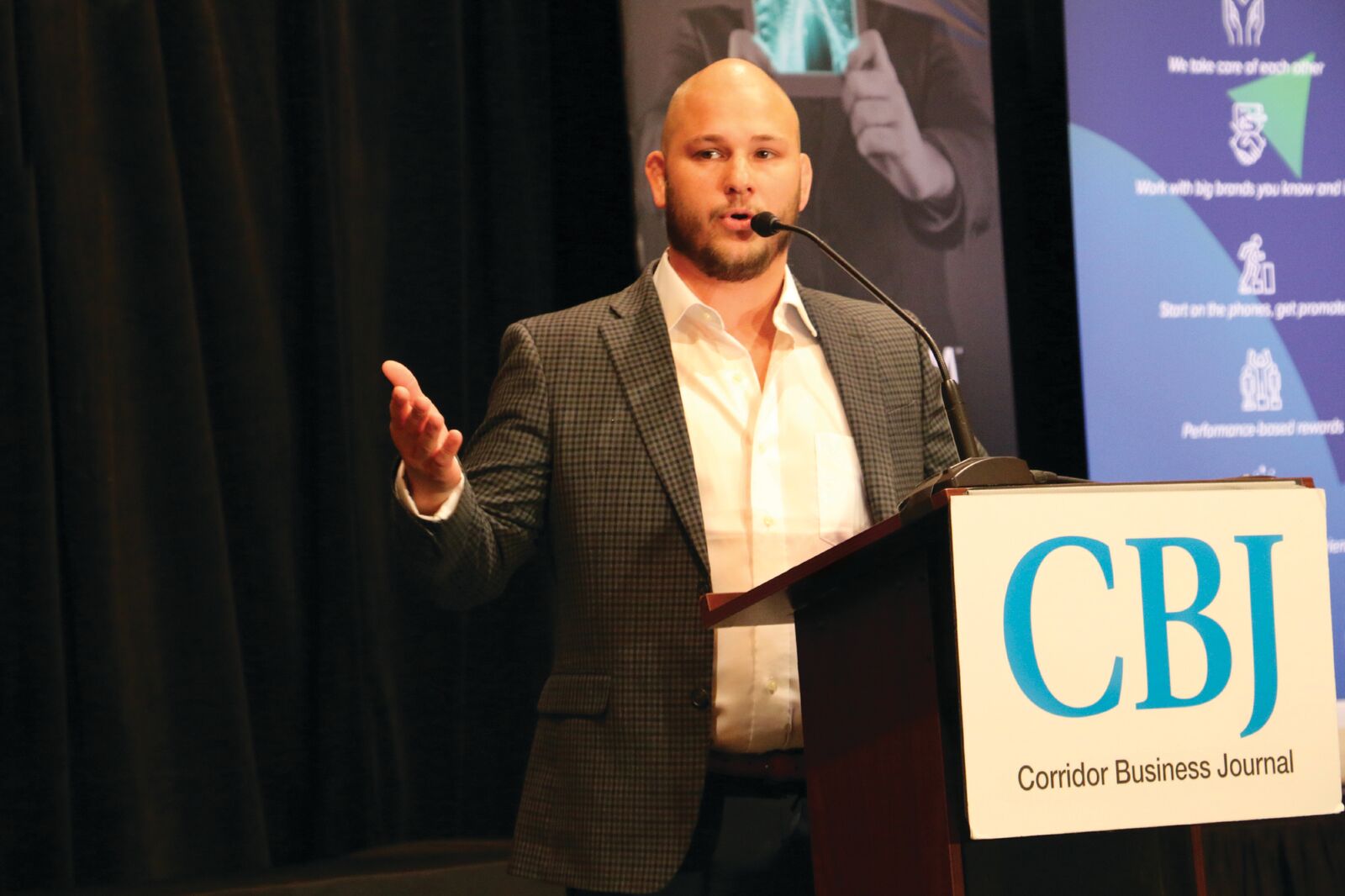 BLX Expedited Carriers CEO Brice Lukasko speaks about how his company became the 2019 Fastest Growing Company during the CBJ's event June 5 at the DoubleTree in Cedar Rapids. PHOTO ANGELA HOLMES
By Katharine Carlon
katharine@corridorbusiness.com
Whether it's delivering parts and components in time for a SpaceX rocket launch or rushing stage stairs to the Super Bowl at the last minute, BLX Expedited Carriers have made a name for themselves by understanding their customers' extreme need for speed.
BLX is not widely known in the Corridor – yet. But the company, whose slogan is "We Do Expedited. Better. Faster. Everywhere" is hoping to disrupt the industry and gain a national reputation as the go-to expedited logistics company when it has to be there fast.
The winner of this year's CBJ Fastest Growing Company posted record-busting 1263.7 percent growth to become the fastest growing company in the award's history. It has more than doubled revenue each year since its founding in 2014 and grew nearly 600 percent between 2017 and 2018.
In that time, it has gone from a one-man operation to 35 employees, including 10 contractors, spread among offices in Cedar Rapids, Dallas and Chicago. And from a single office, it has steadily taken over most of the fourth floor of the historic Higley building downtown.
"BLX is not the employer for the average employee," said CEO Brice Lukasko in accepting the award at a ceremony June 5 at the DoubleTree by Hilton Cedar Rapids Convention Complex in downtown Cedar Rapids. "We expect perfection and are never satisfied. We don't make excuses, we always find solutions. And we push each other individually and as a team day in and day out. I am truly thankful to be part of this culture we created together."
The BLX difference is apparent immediately with the company focused on locking down business before competitors even answer the first email.
"We have a million competitors, we're in a very saturated market," said Mr. Lukasko, who worked at now-defunct AV Transport and Cedar Rapids-based CRST's Dallas office before launching BLX to exploit the flaws he saw in the industry. "Your average broker will get a request and they answer the email, in 30 minutes or an hour, you know, they're not really what we consider the hustling mentality."
BLX's policy is to acknowledge requests within two minutes and bring a logistics solution to the table within 10-12 minutes.
"We're winning shipments before [competitors] even acknowledge them," he said.
Mr. Lukasko, who works out of BLX's Dallas office with about four other employees, launched BLX – named for his initials with an X for expedited – with a handful of former CRST clients. He brought on Josh Polansky, a high school friend, as president and full partner a year later to help manage the company's explosive growth and put its business structure in place.
Like the vast majority of BLX's crew, Mr. Polansky had no previous experience in logistics and had originally planned to attend law school. But lack of experience means a lack of habits learned on the job at other companies, he said.
"One of our slogans is '99 percent might as well be zero,'" Mr. Polansky explained.  "We're pretty much expecting perfection in terms of customer service and operations – and extreme kind of speed. We are so different from any other logistics company, that if we get someone experienced, they are usually more corrupted, and we can't really get them to do things our way."
Mr. Polansky said BLX prioritizes hiring adaptable problem solvers and "hustlers" who can be trained to meet stringent standards of performance and execution.
"We don't want people who will take their sweet time acknowledging the customer's request, who do the bare minimum and see what they can get, and say, 'You know, sorry, I don't have anything for you,' if nothing comes back to them," he said.  "We'll find an option, even if it's an alternate situation."
BLX's can-do mentality has won it loyalty, exclusive agreements and a reputation for getting the job done, no matter how big or small. The company has worked with NASA, as well as Elon Musk's SpaceX. Other jobs have involved ferrying stage equipment to an Ariana Grande concert, working with professional sports organizations like the NFL and the WWE, and, in one memorable instance, delivering an Emmy award.
On the less flashy side, BLX also moves essential auto and OEM parts – for instance overnighting parts from a plant in Alabama to a North Dakota oil field. For BLX clients, price is no object – speed and reliability are what count.
"A lot of the things that we're shipping literally have consequences," Mr. Lukasko said. "There are huge consequences for not coming through on our portion."
"Sometimes it's like bolts or fittings," he added. "You'll have a manufacturing facility down and every hour they're down, they're losing $500,000. And we're working on getting that one specific part manufactured in one location to that factory in order to get them back up and running."
Mr. Lukasko, 26, and Mr. Polansky, 25, harbor no illusions that working under such pressure is easy for its young team, which has an average age of about 25. The job is stressful, far from glamorous and can require long hours, and BLX aims to pay its employees handsomely. The pay structure has enabled the company to ramp up quickly, retain its workforce and promote a feeling of investment in its growth and good health.
"I would say one of the main secrets to our success, and what differentiates us, is that pretty much everybody out there is or has the capacity to earn over six figures based on performance and execution and your clients' loyalty. And most of them are or are close to getting that," Mr. Polansky said. "We saw that $100,000 mark as something that people would really strive for … one thing we like to say is 'interests align.' So, we like to align our employees' interests with the company's interests."
The image of the logistics and transportation industry has long been "old school, blue collar and just kind of unattractive and dirty," Mr. Lukasko said, aiming to buck that trend.
In addition to industry-busting paychecks, BLX offers a 401(k) with match, four weeks annual leave and health, dental, vision, life and disability benefits. To help employees better maintain a healthy life balance, the company recently added a three-person after-hours team to relieve the pressure, hired a full-time HR specialist and brought in a third-party leadership training firm to coach leadership and operational rhythm, and identify and handle on-the-job stressors.
"One thing we're also very proud of is we're getting into this old-school industry and kind of disrupting it and saying, 'Young people can do this, you can make six figures and it doesn't have to be a job you hate,'" Mr. Lukasko said. "We're hoping that we continue to scale it and really disrupt the market and shake things up."
Beyond cornering the "hot shot" expedited sector of the market, BLX hopes to invest in technology, including autonomous self-driving trucks, and diversify its offerings in the industry.
"Our business model is universal – whether it's transportation, whether it's real estate, whether it's marketing, recruiting, you name it," Mr. Polansky said. "Our process is universal to any of these industries to where, essentially, all we need to do is branch out to another sector of logistics and apply."
For now, though, the mission is staying the course and sticking with the formula that has helped it grow at a record-shattering pace. The previous high-water mark for the CBJ's Fastest Growing award was hit by TLC Associates with 919 percent in 2010.
"We know how to do it, we're really good at it, and it's just a matter of continuing to do what we do and continuing to take over market share," Mr. Lukasko said, crediting his young team with BLX's success. "They sacrifice, they work so damn hard, and they're always checking emails – night, early morning and all day. They have a tough job and they've gotten us where we are. That's ultimately our key to success."