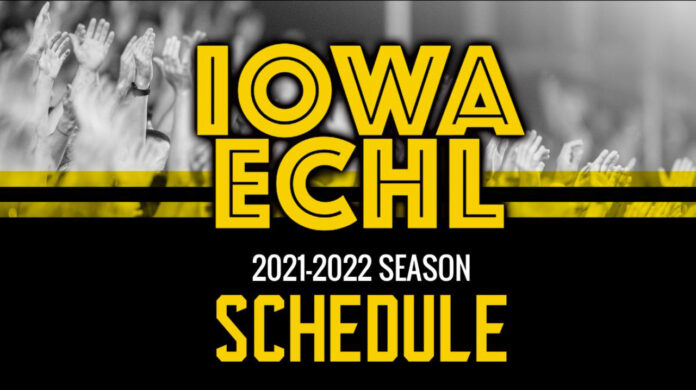 The yet-to-be-officially named Iowa ECHL hockey club has announced its schedule for the club's inaugural 2021-22 season and set May 20 as the date it will unveil its team name and logo.
The club, based at Coralville's Xtream Arena, will play a total of 72 games, including 36 at home and 36 on the road, facing 12 opponents and visiting nine different cities in its inaugural season.
The season will kick off at home Oct. 22 against the ECHL affiliate of the Calgary Flames, the Kansas City Mavericks.
"We are excited to have a schedule in place as we continue to build to our home opener on October 22 against one of our closest rivals, the Kansas City Mavericks," Team President Brian McKenna said in a release. "Fans will see a number of exciting opponents that will help to provide an entertaining experience at Xtream Arena. We are also looking forward to announcing our team name and logo in the very near future."
In a conversation with the CBJ, the team's Director of Communications David Fine said the unveiling will occur next week at a ceremony at Xtream Arena open to "founding fans, partners and VIPs." The unveiling will coincide with team merchandise going on sale to the public.
"I can tell you it is a good name," Mr. Fine said. "I think it will connect with people."
Mr. Fine said the May 20 event would be "arguably, the biggest day in team history."
The Iowa club is set to face each of its 12 rivals at least seven times during the upcoming season. In addition to the Mavericks, home matchups include the Cincinnati Cyclones, Indy Fuel, Kalamazoo Wings, Toledo Walleye, Fort Wayne Komets, Wheeling Nailers, Rapid City Rush and Allen Americans.
The home schedule features 23 weekend dates, including 12 contests on Fridays, another nine on Saturdays, and two Sunday matinees. All home games are scheduled for 7 p.m., with the exception of two Sunday games, which will begin at 3 p.m. The schedule also features 13 weekday games.
See the entire 2021-2022 ECHL league schedule here.