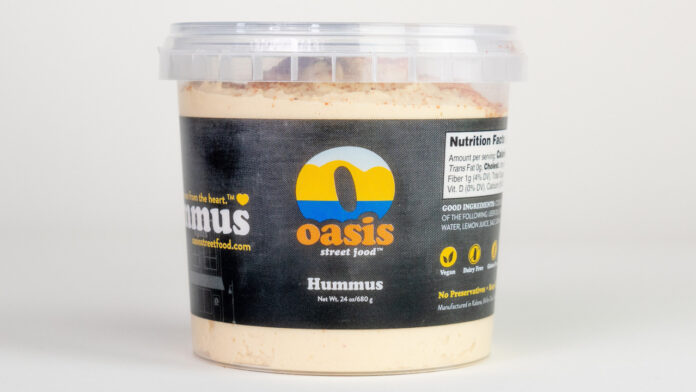 Oasis Street Food debuted on the shelves at Costco in Coralville on May 12, representing the brand's first step in building a partnership with the national wholesaler.
The Coralville Costco is selling the hummus in a 24-ounce, the largest container Oasis Street Food has on the market.
"Costco sets a high bar in its vetting process for products it welcomes into its family," said Oasis Street Food Co-founder Naftaly Stramer in a news release. "It's an honor to get the invitation."
Adding Oasis Street Food hummus to its mix is part of Costco's growing efforts to feature local products tailored to local tastes.
"The fact our hummus is produced here in small batches with no preservatives and high quality ingredients is one of the reasons we think it's a great fit for Costco," said Oasis Street Food Co-Founder Ofer Sivan.
The 24-ounce containers were specially made for Costco and are designed for families, special events, and for anyone who eats it for lunch or as a snack everyday.
"You would be surprised how many of our fans tell us they go through two containers a week," Mr. Stramer said. "We definitely think there is a market for the larger hummus offering."
The Iowa City-based company announced in March its hummus would also be more widely available in Hy-Vees spanning seven Midwestern states as well as at other Iowa-based locations.
"It's exciting to see our hummus on shelves at co-ops, health grocers, independent stores, Hy-Vee, and now in our first Costco store," Mr. Sivan said. "We couldn't have imagined this more than 15 years ago when we started making hummus in our Oasis Falafel restaurant kitchen in Iowa City."
Mr. Stramer said as people look to eat healthier foods, and as the desire for local, vegan, vegetarian, preservative-free, gluten-free, dairy-free, and high-protein superfoods grows, their hummus fits the bill.
"Our customers are really driving the demand," he said. "It seems to be the right product at the right time, and we're grateful for that."