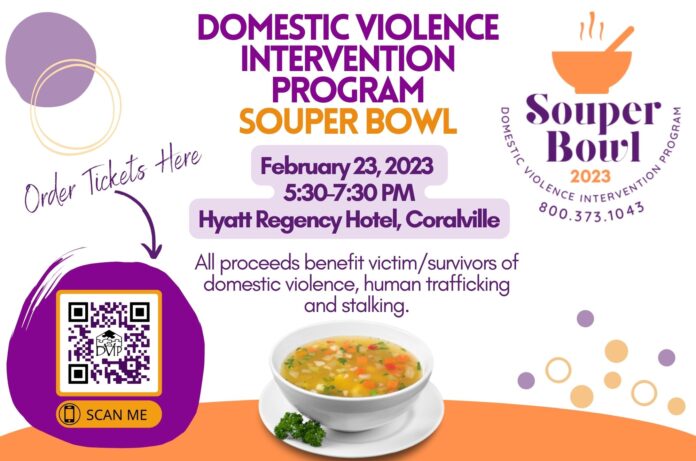 The Domestic Violence Intervention Program (DVIP)'s 26th Annual Souper Bowl Fundraiser will be held on Feb. 23rd at the Hyatt Regency Hotel and Conference Center from 5:30-7:30 p.m. 
Tickets can be purchased at the door or in advance. Free parking will be available in the South Parking Lot near the Convention Center. "Soupporters" will be able to choose from more than 30 soups donated by local restaurants. 
There are four different ticket options available. 
$75 VIP In-Person (Early access to soups, bowls, priority seating, commemorative gift, and homemade confetti cookies. Must be purchased in advance)

$30 General Admission (Bowl and unlimited soup, tickets can be purchased in advance or at the door)

$30 Gift of Soup (purchase soup for staff, clients, or someone you want to share the soup-port with) 

$15 General In-Person volunteer/student/sliding scale (unlimited soup)

Free: Kids 12 and Under (unlimited soup)
32 restaurants are participating in the event from Corallville, Iowa City and North Liberty. The full list of restaurants can be found here. DVIP will not be offering a delivery option like they did in 2022. 
For over 40 years, DVIP has partnered with our community to support victim-survivors and provide safety solutions. 
As DVIP and other victim service programs face funding cuts, Director of Community Engagement Alta Medea said in a new release that "This event is vital because it provides financial support to ensure our advocates are there when victim-survivors need them. In addition, the Souper Bowl demonstrates that we, as a community, support and believe victim-survivors. This event shows them that they are not alone."
DVIP Executive Director Kristie Fortmann-Doser created the "Souper Bowl" to challenge the myth that more violence occurs against women around the NFL Super Bowl.  
Violence against women, men, and children happens every day. 1 in 4 women, 1 in 7 men, and 1 in 15 children will be affected by intimate partner abuse in their lifetime. Individuals who need help should call our hotline at 1-800-373-1043.