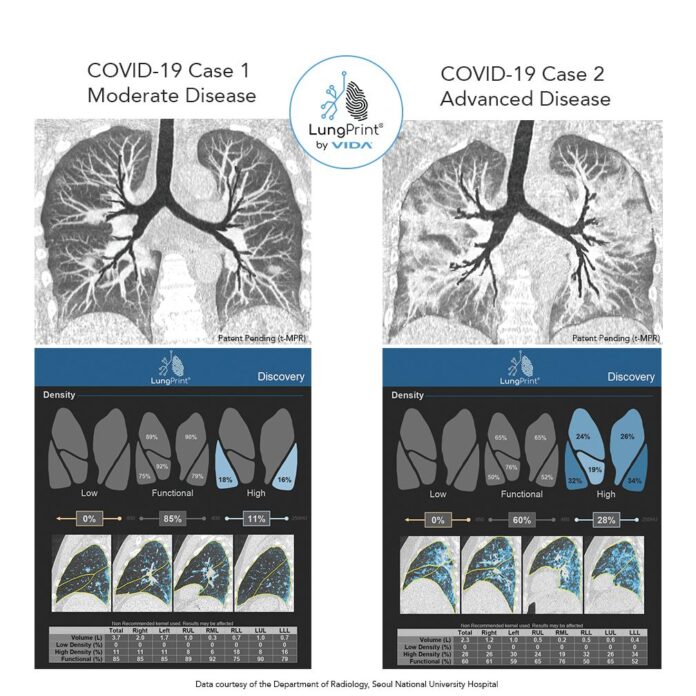 Lung computerized tomography (CT) scans are unlikely to play a major role in detection of COVID-19 infection, according to Susan Wood, CEO of VIDA Diagnostics, but its AI-driven imaging analysis could play a role in helping monitor patients over time. CREDIT VIDA DIAGNOSTICS
By Katharine Carlon
katharine@corridorbusiness.com

A Coralville biotech firm is emerging as a leader in lung imaging analysis powered by artificial intelligence, raising $13 million in two rounds of Series C financing over the past five weeks just as the COVID-19 pandemic focuses the attention of the world on respiratory illness.
VIDA Diagnostics Inc. announced April 15 it has picked up an additional $2 million from OSF Ventures, the corporate investment arm of OSF HealthCare of Peoria, Illinois, in the second close of its Series C finance round. That comes on top of $11 million raised in mid-March in an investment round led by First Analysis Corporation, with equity participation from Blue Heron Capital of Richmond, Virginia, and UnityPoint Health Ventures, the new venture capital arm of UnityPoint Health.
Existing VIDA investors including Next Level Ventures, Chartline Capital Partners, Rural Vitality Fund, Rittenhouse Ventures, Iowa First Capital Fund and The Angels' Forum also participated in the March round.
"I think a change of dynamics led to this," said VIDA CEO Susan Wood, who worked for years to raise money to fuel development and commercialization of the 17-year-old company's innovative solutions to patient care for traditional respiratory diseases – and now, emergent COVID-19 conditions.
"One is the surge of AI clinical solutions in particular," she said, adding that VIDA's decade-in-the-making database of disease-specific pulmonary imaging scans and associated metadata positioned it well for "the age of AI."
"The other big dynamic in the market is channel partners in the radiology marketplace have opened up – we've signed a lot of high-profile channel partners to distribute to within the IT healthcare market, and, in doing so, conquered one of our biggest challenges."
VIDA's flagship LungPrint uses AI-driven analysis to evaluate patients with or at risk of lung diseases, including emphysema, asthma, interstitial lung disease and lung cancer. Using a chest CT scan as well as functional and other patient data, LungPrint provides care teams with detailed, highly personalized information for early detection and optimal treatment planning that is currently difficult to generate, despite the fact that lung disease impacts more than 500 million people globally.
The volume and complexity of data contribute to radiologist task overload and burnout, while chest CT scans can be tedious to interpret. That's where LungPrint comes in, Ms. Wood said, improving radiology efficiency and cost-effectiveness via automation, visualizations and quality evaluations.
"We have a lot of information available for health care providers but no way to integrate that into daily workflow," she said. "Information overload has been an issue in health care for a long time and managing that is a key focus … one area that AI can used most is in allowing physicians to use more of their precious time to interact with their patients doing what they went to med school to do."
Ms. Wood said VIDA's maturity and the depth of its experience puts it in an excellent position going forward, poising it to be the region's next med tech star. It has doubled its revenue year over year, quadrupled its bookings and is now in a prime growth position thanks to its two high-profile partnerships with UnityPoint and OSF.
Ms. Wood credited UnityPoint Health Venture's initial $1 million investment in the company in the summer of 2019 as a major turning point, helping it secure non-dilutive funds from the Iowa Economic Development Authority and raising its profile in the health care community.
"It broadened our profile for healthcare investments, was a great catalyst and was instrumental in bringing in a second partnership," she said. "We're well-funded now, and we have support from provider networks that give us a high profile. We're a real company."   CBJ