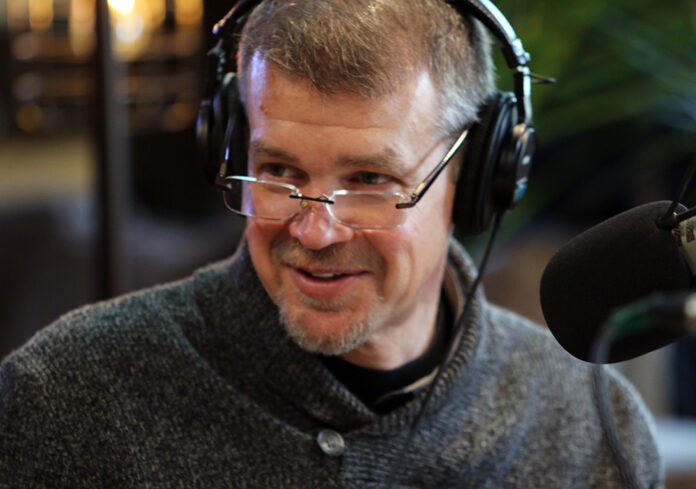 Jeff Disterhoft talks leadership and privilege with Diversity Straight Up hosts Sarika Bhakta and Anthony Arrington during a recent recording session at CBJ Studios. PHOTO ADAM MOORE
In the latest episode of the CBJ podcast, "Diversity Straight Up," hosts Sarika Bhakta and Anthony Arrington talk with Jeff Disterhoft, president and CEO of GreenState Credit Union, about his role in driving diversity at one of Iowa's largest financial institutions, understanding privilege and bringing your whole self to the workplace.
"People are more inclined to give 100% to the work if they feel like they are 100% at work," Mr. Disterhoft says. "I want people to feel comfortable at work and I want to embrace those different ideas."
Listen below or subscribe to the show at SoundCloud, iTunes, Spotify, Google Podcasts and Stitcher. Diversity Straight Up is presented by Collins Aerospace, the city of Cedar Rapids and Alliant Energy.
About Jeff Disterhoft:
Jeff Disterhoft has served as CEO of GreenState Credit Union, formerly known as University of Iowa Community Credit Union, since October 1999. Mr. Disterhoft's work experience includes tenure at KPMG Peat Marwick as well as McGladrey & Pullen as a CPA specializing in financial institution's audit work spanning from September 1990 until hired by UICCU in May 1995 for the role of vice-president of finance. In 1997, he was promoted to senior vice-president of finance & administration.
Since filling the CEO role 20 years ago, the credit union has averaged 19 percent per year in growth, growing from just under $200 million in assets to almost $6 billion today. GreenState Credit Union is proud to serve over 200,000 members with 19 office locations. Jeff and his wife Missy make their home in North Liberty and have two adult children.
About the hosts:
Sarika Bhakta is president of Nikeya Diversity Consulting and a Certified Diversity Executive with more than 20 years of experience in leadership, management, talent attraction/retention and resource acquisition/development. Born in Gujarat, India and raised in the Midwest, Sarika empowers leaders to identify their authentic self to be successful change agents in today's global economy.
Anthony Arrington is co-founder and managing partner with Top RANK Professional & Executive Search and Consulting, a search firm focused on helping companies acquire professional and executive-level talent, with a special emphasis on diverse and inclusive leadership. He has more than 20 years of experience in management, strategic planning, leadership and staff development in both the for-profit and nonprofit sectors.