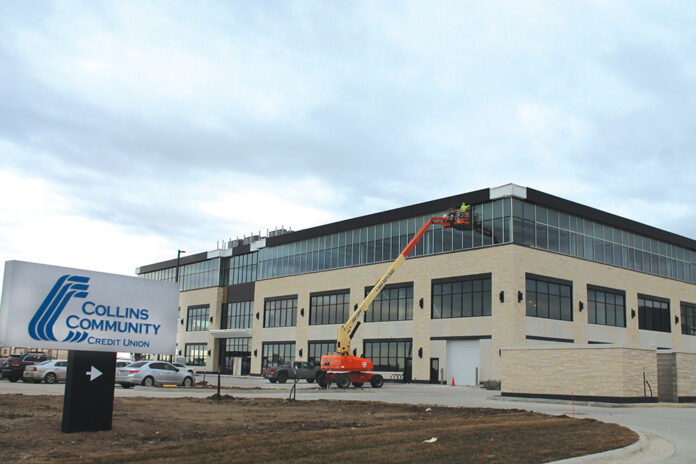 A crew works on the new building that will house Collins Community Credit Union headquarters at 1005 Blairs Ferry Road NE, Cedar Rapids, when it opens later this year.  PHOTO DAVE DEWITTE 
By Dave DeWitte
dave@corridorbusiness.com

Collins Community Credit Union (CCCU) has launched Collins Insurance, a new credit union service organization that will offer its members – and eventually other credit unions – direct access to independent insurance options from multiple carriers.
The new organization is the product of a partnership with Coverage Direct, a West Des Moines-based independent insurance agency. Coverage Direct offers a variety of coverage options, including term life, flood, landlord/rental, auto, business, and even ATV and watercraft insurance through multiple carriers.
Coverage Direct places a strong emphasis on using digital technologies to improve the customer experience, while still interacting with customers on voice and other platforms. It will also offer affinity discounts for CCCU members.
"We offer a wide mix of carrier options – not only national carriers but also a good mix of regional and super-regional carriers," said Zach Mefferd, who co-founded Coverage Direct with Ryan Swalve more than three years ago. "We also focus very much on the speed of providing these options."
Fast service has become of particular importance to millennial customers, who are accustomed to doing business at the speed of e-commerce, Mr. Mefferd said. Coverage Direct helps to accelerate the buying process with a "streamlined technology stack," Mr. Mefferd said. They include a personalized video quote that enables clients to watch an explanation of the coverage that's recommended for them at the time or place of their choosing.
CCCU members already had access to several kinds of insurance through TruStage, an insurance program offered through CUNA Mutual, and will continue to be offered TruStage products. Collins Insurance will simply provide access to more kinds of insurance products through more companies, and allow members to customize their coverage, explained Mai-Linh Hoang, vice president of marketing for CCCU.
Collins Insurance was set up as a legal entity separate from the credit union, Ms. Hoang said. Credit Union Service Organizations, or CUSOs, are typically funded by credit unions to provide specialized non-lending products or services that would benefit their members.
"Our goal is to develop this to a point where we can go to other credit unions and enable them to offer this kind of insurance to their members through Collins Insurance," Ms. Hoang said.
CUSOs often are created with investments from multiple credit unions, Ms. Hoang added. She said smaller credit unions would be the most likely partners for Collins Insurance, because they would be less likely to have the resources to form their own insurance departments.
A CUSO is "any entity in which a federally insured credit union has an ownership interest or to which a federally insured credit union has extended a loan if the entity is engaged primarily in providing products or services to credit unions or their members," according to the National Credit Union Administration, which added that they may also provide checking and currency services such as selling travelers checks and money orders.
A key feature of Collins Insurance's approach will be to make its offerings understandable and easy to purchase, according to Ms. Hoang.
"Our business model is to really be transparent, and in the end we want to make it simple and personalized," she said.
CCCU is Iowa's fourth-largest credit union, with $1.23 billion in assets and 16 branches. It offers membership to anyone who lives or works in Black Hawk, Dubuque, Linn, Johnson, Polk and surrounding counties.
Mr. Mefferd said Coverage Direct approached CCCU about building an insurance partnership after some initial success in offering homeowners coverage through the credit union's mortgage department. The credit union was interested, but wanted to have a very clear understanding of how Coverage Direct worked and interacted with its customers. It took close to two years before the launch in late 2019.
One thing that helps distinguish Coverage Direct is its tailoring of solutions to the client, according to Mr. Mefferd.
"We really try to get to know the client and then provide options based on that initial intake," he said. "Are they part of a traveling sports team, or are they president of their local school board? Those are things that may create different risks that we should consider providing different options for, because not everybody's risks are the same."
Small business insurance may be the most unexpected offering for an insurance business serving credit union members, however it shouldn't be that uncommon, according to Mr. Mefferd and Mr. Swalve. Credit unions often lend for things like service trucks and vans for plumbing or electrical businesses owned by members or their spouses, and providing them with insurance would be a logical next step.
Coverage Direct has no immediate plans for staff at CCCU locations, Mr. Mefferd said, however that could change as the insurance agency evaluates demand and what works best for credit union members.   CBJ