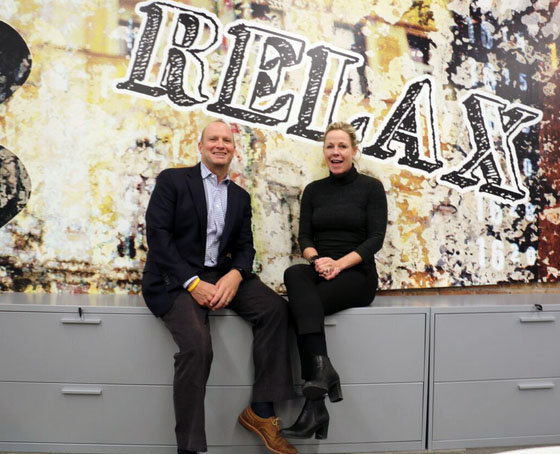 Destinations Unlimited owners Duane Jasper and Anne Hender-Jasper shown on a recent afternoon in their company's downtown Cedar Rapids office. The Corridor travel agency has built on its regional connections and broader corporate travel trends. PHOTO DAVE DEWITTE
By Christine Hawes
news@corridorbusiness.com
What's the best way to stay competitive in the travel business, where online networks, discount carriers and "do it yourself" vacations are constantly threatening to pull your customers away?
Go local – even more local than you were before.
That's been the approach of Travel Leaders/Destinations Unlimited a Cedar Rapids-based travel company that's now also in Iowa City following its purchase of Winebrenner Red Carpet Travel last fall.
With that acquisition, Destinations Unlimited now serves the travel needs of more than 70 companies throughout the Corridor. It recently renewed Winebrenner's travel agreement with the University of Iowa to provide novelty game arrangements and more, and is also reaching out to the Iowa State University community in the same way. And, it has opened a small office in Des Moines, focusing mostly on "romance travel," one of the hottest trends in travel today.
All of these efforts, plus a constant focus on "bringing clarity" to the travel-booking process, have kept Destinations Unlimited afloat in the cutthroat world of travel, even after 34 years in the business.
"We're starting to see movement back toward the travel industry," said Duane Jasper, who acquired the company about three years ago along with his wife, Anne Hender-Jasper, following a 24-year career as president and CEO of RuffaloCODY (now Ruffalo Noel Levitz). "People are using the internet to research different areas and destinations, but then they want to make sure they're staying in the right properties that align with what they or their families want to do."
"You can spend hours on the internet and still come away a bit confused," he added. "So we are, in many cases, bringing not only clarity, but the ability to maintain their budgets, and peace of mind."
Business is going so well for Destinations Unlimited that it has established a new headquarters in downtown Cedar Rapids with room for 25 percent growth in its employee count.
Destinations Unlimited now handles about 20,000 corporate travel bookings each year, accounting for more than half of the company's annual business, Mr. Jasper said.
The company is benefiting in particular from the emerging trend of "incentive travel" among corporations. Employers are seeking creative ways to reward their employees beyond bonuses and gifts, and travel programs are one of the hot new options.
Trade publication Meetings & Conventions recently listed "unique destinations" as one of the top 10 trends in incentive programs for employees.
Companies often find that one good "incentive travel" experience leads to another. Tim Strellner, for example, says his company is now turning to Destinations Unlimited for regional meetings, corporate travel and a recent incentive trip to Cancun, Mexico.
"Our partnership with the team at Destinations Unlimited has allowed us to leverage our staff and checkbook in a very efficient manner," said Mr. Strellner, owner of the Strellner Agency Group in Cedar Rapids. His company's positive experiences with Destinations Unlimited led Mr. Strellner to explore a summer event to reward its sales force.
Vacation travel is also on an upswing, Mr. Jasper said, thanks to other big trends like destination weddings and anniversary trips. He said his firm is seeing increased interest in outdoor and adventure travel, such as national parks, hiking and biking – a trend highlighted by Smarter Travel as one to watch in 2018.
And in a state with two prominent NCAA Division 1 universities, sports-related travel remains a pivotal business stream for the company. Destinations Unlimited has taken on all of the travel arrangements for Hawkeye football teams and fans that Winebrenner used to cover.
That plan is extensive, Mr. Jasper said, including a 200-person cruise – the 32nd annual such event – bowl game travel, and bus or plane trips (plus hotel stays) for all "away" games.
"Our focus, as always, will be on making sure Hawkeye fans are having a great time," he said.