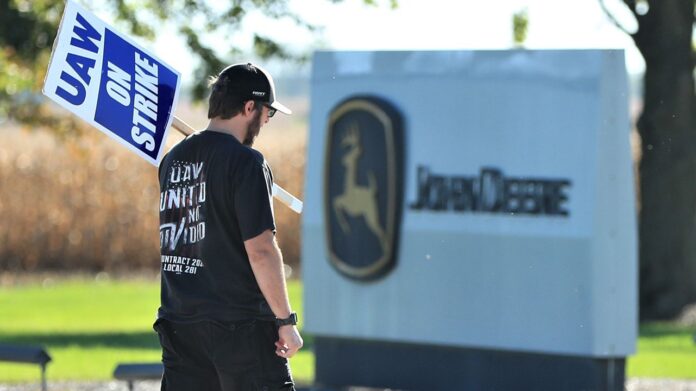 We were disappointed United Auto Workers (UAW) members in Illinois, Iowa and Kansas rejected a new, six-year pact with Deere & Co., with 55% of the union membership voting no.
We're uncertain where things are headed now after Deere's seemingly good faith effort to increase wages and benefits was rejected.
The Quad Cities Regional Business Journal reported that according to a new Highlighter document posted on Oct. 31 on Facebook by Waterloo's UAW Local 838, the latest proposal would have boosted wages by 30% over six years via annual wage hikes and quarterly cost-of-living adjustments, or COLA. Union workers lost COLA benefits in the 2015 contract. The latest pact also included an $8,500 ratification bonus.
Unlike the 2015-2021 contract, the latest pact had promised no insurance co-pay increases for the next six years. In addition, new employees would have been eligible for health-care coverage after 30 days of employment, compared to seven months in the previous contract. The proposal also provided for two weeks of paid parental leave and autism care.
The deal workers rejected also offered two benefit plans: Traditional Plus, a defined-benefit retirement plan that guarantees monthly payments for life, or Choice Plus, a 401(k) option that includes lump sum payments on retirement.
The AFL-CIO labor federation commissioned a poll during the current Deere strike that showed the recent spate of strikes has broad support from voters.
While we question the soundness of that poll, we don't disagree with the premise that workers have public support and some leverage. But when the public starts to understand better the wage and benefit increases offered by Deere and other employers, public support might begin to wane.
We hope the UAW will understand those wages and benefits are quite generous compared to most businesses and accept Deere's reasonable contract offer.
Duane Arnold's next phase
Utilities are focused primarily on renewable energy production facilities, since new coal plants are out of the question and natural gas prices are surprisingly high.
It makes sense, then, that Alliant Energy intends to acquire the first two phases of solar energy production, plus a battery storage component for generated power, from subsidiaries of NextEra Energy Resources near the Duane Arnold Energy Center, formerly Iowa's only nuclear power plant, which is currently under decommissioning.
The name of the new project is Duane Arnold Solar. It will develop and install 200 megawatts of solar generation and a 75-megawatt battery energy storage facility near the shuttered nuclear plant.
Once installation is complete, expected by the end of 2024, Alliant Energy says it will own and operate the solar generation and battery storage projects. Alliant also plans to add another 200 megawatts of solar energy generation in the future.
This is the second-best use for that facility. The best would have been to keep the nuclear power plant operational.