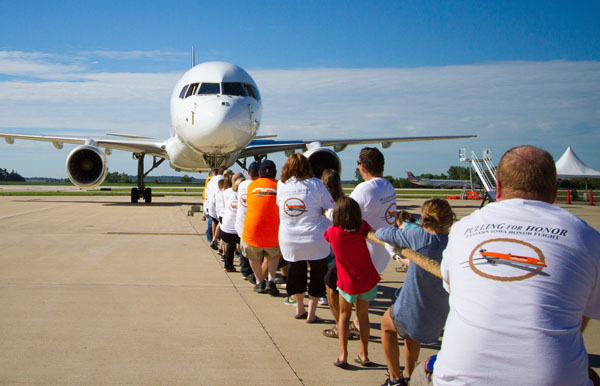 A team pulls a Boeing 757 during the "Pulling for Honor" event, held Aug. 6 at the Eastern Iowa Airport.  PHOTO/LEE MILLER
By Dave DeWitte
dave@corridorbusiness.com
Whether it's a bunch of dogs in the swimming pool, or a team of co-workers pulling a jet down the runway, the Creative Corridor is living up to its name when it comes to fundraising.
Richard Koontz, director of the Larned A. Waterman Iowa Nonprofit Resource Center at the University of Iowa, says unique events help build a social and emotional bond with a nonprofit's members while they fundraise.
"You want to build up a constituency," Mr. Koontz said.
Unique fundraisers help keep supporters interested and coming back, rather than generating a one-time donation or gift, he said, and that's the goal.
Although many groups have a signature fundraising event, Mr. Koontz urges scheduling events throughout the year to keep the money coming in and supporters engaged.
"The message is always 'diversify your fundraising,'" he said. "You are always going to have cash flow issues."
And while many fundraising events are highly creative, Mr. Koontz said there's one that almost everyone seems to use: the golf fundraiser. He marvels at how many charities use it.
"That's the one that's taken off in the last 20 years," he said.
Although every fundraising concept is different, Mr. Koontz said some general guidelines still apply:
Budget and market events realistically to ensure they yield a positive return for the nonprofit. No matter how fun the event, few nonprofits can afford to keep holding events that lose money.
Analyze event liability and take appropriate steps to minimize liability and risk.
Obtain event insurance and/or liability waivers if the risk seems to warrant them.
Hold multiple events throughout the year. It avoids putting your eggs in one basket, and helps spread out your cash flow.
Here's a sampling of a few of the Corridor's local nonprofits, and their unique and creative approaches to fundraising:
Eastern Iowa Honor Flight
Pulling for Honor
http://eihonorflight.org
For those who have wondered how much thrust it takes to propel a Boeing 757 down a runway, an Aug. 6 event at the Eastern Iowa Airport offered a clue. Teams of 25 took turns seeing who could move the FedEx-provided 757 down the tarmac in the least amount of time. Eastern Iowa Honor Flight Vice President Allen Stekl said 16 teams turned out, helping the nonprofit raise $30,000 in revenue to send veterans to Washington, D.C., a trip that includes a flight, ceremony and visits to some of the nation's most cherished memorials and monuments. "They all got to pull the jet 12 feet two times," Mr. Stekl said. "Landstar Transfer won by tenths of a second. The teams were all excited. All the teams said they'd be back again next year." Most of the teams were sponsored by their employers. Some employers paid the $2,500 entry fee, however, members of some teams each kicked in $100 to raise the fee. –Dave DeWitte
Red Shamrock Foundation
Bald is the New Beautiful Head Shaving Event
redshamrock.org
The Red Shamrock Foundation, which aims to raise awareness of the needs of childhood cancer survivors, has been raising money for the past five years by allowing participants to show solidarity with pediatric cancer patients who lose their hair during chemotherapy. The Bald is the New Beautiful head shaving event, which was held Sept. 8 at Buzz Salon in downtown Iowa City, raises thousands of dollars each year for the nonprofit. People volunteer to have their head shaved and collect donations from family and friends. Red Shamrock Executive Director John Hall said participants typically volunteer because they have been affected by cancer in some way, but some just do it for fun. Stylists at Buzz Salon, 110 S. Dubuque St., Iowa City, donate their space and time for the fundraiser. The 2015 event raised $10,000, with one woman raising $5,000 alone. -Angela Holmes
Four Oaks
Cuisine in the Corn
www.fouroaks.org
Iowa has great food and more cornfields than any other state, making Four Oaks' Cuisine in the Corn fundraiser something of a no-brainer. "The initial intent of the event was to be a 'friendraiser,' or an event that introduces new community members to Four Oaks and its work for children and families," said Kristin Roberts, chief advancement officer with the Cedar Rapids-based nonprofit. Attendees receive a hay rack ride deep into the cornfields of Bloomsbury Farm in Atkins, where they find an elegantly set table and delicious meal. "There is no silent auction, no raffle, no ask for a donation, etc., and this keeps it in the theme of its being a friendraiser," Ms. Roberts said. The novelty of the event results in many social media posts, which bring fresh interest from new participants each year, she added. –Dave DeWitte
Salvation Army of Johnson County
Catch the Shield 5K
icsalvationarmy.org
You don't need to be a superhero to run in the upcoming Catch the Shield 5K hosted by the Salvation Army of Johnson County, but you just might become one if you do. The event officially kicks off the fundraising season for the nonprofit, with proceeds going toward the group's $350,000 holiday season fundraising goal. With comic book personalities storming movie theaters and returning to collectors' book shelves, leadership at the Salvation Army of Johnson County saw an opportunity to help their clients under the auspice of superhero service, according to Development Director Patricia Smith. "We often find the advocacy voice for those people can be very quiet, so we kind of connect the idea of the current phenomenon," Ms. Smith said. The group hopes to have 250 people participate in this year's race, set for Oct. 29, "but we would love to blow that out of the water," Ms. Smith said. –Chase Castle
Cedar Valley Habitat for Humanity
Recycle Gala
www.cvhabitat.org
Each April, models don everything from bottle caps to lampshades to raise money for a home build, as well as awareness of Cedar Valley Habitat for Humanity's ReStore retail operation at 350 Sixth Ave. SE, Cedar Rapids. CVHFH teams up with the Cedar Rapids Area Association of Realtors for the Recycle Gala, a fashion show in which models must incorporate something from ReStore in their outfit. Real estate agents have to generate their own models and ideas, while models are also provided by Creation Model and Talent Management of Marion. "It's beyond belief what people come up with," said Patti Kunz, CVHFH's director of development. "People are unbelievably talented when it comes to repurposing stuff." A panel of judges chooses the winner, and a traveling trophy is awarded. This year's event raised $20,000, primarily through sponsorships, ticket sales and a silent auction. –Angela Holmes
K9COLA (Citizens for Off-Leash Areas)
K9Splash!
www.k9cola.org
Why should humans have all the fun at the pool? It's a concept that dog lovers understand, and it brought together pets and people at the Bever Park Pool in Cedar Rapids on Aug. 14 for K9Splash. Pet owners paid $15 per dog for the opportunity to fetch, play and swim in the water. "K9Splash! is truly the weekend that goes to the dogs," said Dave Paris, vice president of K9COLA. "Year after year, we attract over 1,500 people with more than 650 loyal and lovable canine companions who have the time of their lives." Next year will mark the 12th dog swim at Bever Park Pool. Proceeds help K9COLA work with the city to develop, support and maintain the city's off-leash areas. –Dave DeWitte