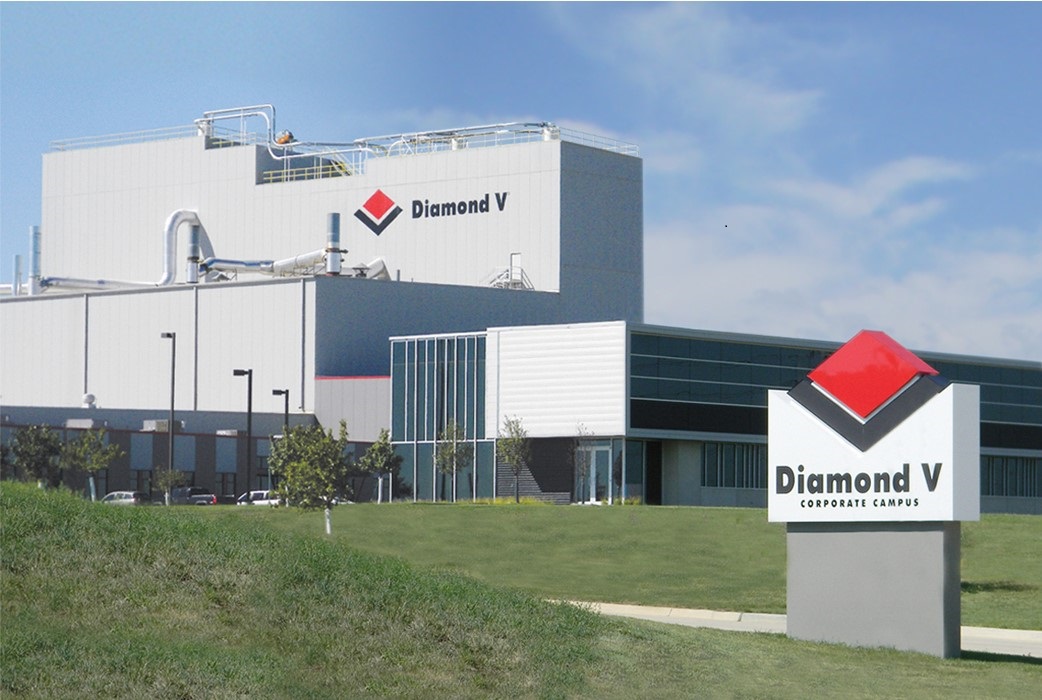 Diamond V's South Plant in Cedar Rapids, opened in 2009.  PHOTO/DIAMOND V
By Dave DeWitte
dave@Corridorbusiness.com
CEDAR RAPIDS—Diamond V CEO Jeff Cannon calls it the "perfect storm" in global demand for the company's nutritional health solutions for the livestock industry.
Diamond V produces proprietary fermentation-based products that provide nutrition and enhance digestive capabilities of livestock at its two Cedar Rapids plants, which will be joined by a third in 2018 if the company receives approvals pending requests for city and state backing.
"There's been a tremendous acceleration in adoption rates for our products, especially in Asia, Latin America and Mexico," Mr. Cannon said. Sales have been growing at rates of around 20 percent for five years, bringing the South Plant the company opened in 2009 close to capacity.
The demand drivers are not only a rising global population and wealth, with more families able afford meat on the table, but a growing body of research findings that Diamond V's nutrition products improve food safety and reduce antibiotic resistance in harmful bacteria.
"We're actually able to reduce the number of foodborne pathogens that are in the animal and get excreted, which helps to improve food safety," Mr. Cannon explained.
The livestock industry has also gained a growing respect for research showing Diamond V's products can stave off antibiotic resistance in harmful bacteria, such as salmonella and E. coli.
"We're prolonging the life of those antibiotics that have been so useful for so many years," said Clayton Gill, a company spokesman.
Mr. Gill said Diamond V's products play well in the trend toward greater use of alternative livestock feedstocks such as distillers dried grains, a byproduct of ethanol production. They both provide nutritional balance and improve the animals' ability to digest different feedstocks, Mr. Gill said.
On Sept. 13, the Cedar Rapids City Council will consider economic development assistance for the roughly $28 million project to build a new 97,800-square-foot plant near Diamond V's South Plant. The project is expected to add 16 new jobs in manufacturing, marketing, accounting, information technology and R&D.
Mr. Cannon said the $28 million would be only the initial phase of Diamond V's investment in the plant. It will start with one production line and eventually grow to eight.
The cost of building and equipping the current South Plant at 2525 60th Ave. SW was about $70 million. The price range of the third plant is expected to approach $60 million when fully equipped with production lines.
The Cedar Rapids Metro Economic Alliance helped prepare an application for state assistance in the form of tax relief for the new facility, which was submitted in August.
"This expansion plan will not only add jobs to our community but showcase their confidence in Cedar Rapids as a place to achieve success," Mayor Ron Corbett said in a press release.
Mr. Cannon said Diamond V elected to expand at its existing location in Cedar Rapids for a long list of reasons.
"We can't find the same quality of raw materials anywhere else in the world," he said. "We have a very proprietary process, not replicated anywhere else in the world. It's important to maintain the confidentiality of that proprietary process."
Iowa and its surrounding states also provide the right skills for the company's needs, ranging from Ph.D. researchers to process and manufacturing specialists. Mr. Cannon said the Midwestern work ethic of its employees has been another competitive advantage.
About 35 percent of the demand for Diamond V's nutritional products comes from outside the United States, a percentage that is growing by about 1 percent annually. The made in the U.S.A. labeling of Diamond V's products matters to those international customers.
"We are the envy of the world in our quality standards," Mr. Cannon said. "Many of our customers are looking to us because our products are made in the U.S.A., and that's what we want to provide."
Diamond V has an R&D center on the Kirkwood Community College campus, and students in the college's veterinary technologist program care for the livestock used in the company's R&D.
The development of the third plant could begin this month and be completed in June 2018, pending financial assistance and regulatory approvals.
The expansion will be completed as Diamond V reaches its 75th anniversary, and is not expected to reduce or shift production away from its longtime North Plant at 436 G Ave. NW.
"We need all of that capacity, and will today and in the future," Mr. Cannon said.