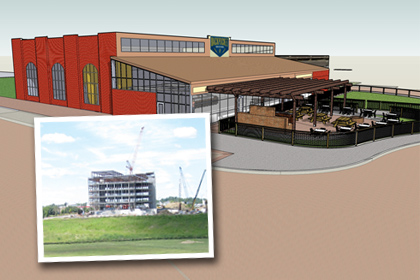 Backpocket Brewing to contract brew with St. Louis' Schlafly
To read a Q&A with Schlafly Beer Co-Founder Dan Kopman and more about Backpocket, click here.
By Gigi Wood
CORALVILLE – Next spring, Iowa's 25th brewery will open.
The brewery will serve its own five beers, as well as a popular microbrew from St. Louis.
Backpocket Brewing, an offshoot of Old Man River Restaurant & Brewery in McGregor, will open its own $5.3 million facility – complete with a beer garden and bocce ball court — next door to the Coralville Marriott in the Iowa River Landing District in Coralville.
To ensure the profitability of the 15,000-square-foot facility, Backpocket Brewing will contract brew with Schlafly Beer of St. Louis, Dan Kopman, co-founder of Schlafly, confirmed in an email.
Earlier this year, Esquire magazine named St. Louis one of the best beer cities in the country, because of the dozens of breweries and brewpubs that operate in the city. The story specifically noted the success and growth of Schlafly as integral to St. Louis' microbrew identity. Many who live in St. Louis identify themselves as either fans of beer-giant and St. Louis-based Anheuser-Busch or fans of Schlafly.
As of Aug. 1, Schlafly began distribution of its 40 beers toIowa. The company aims to serve the freshest beer possible and has strict rules on how far its beers are shipped before served.
Schlafly's contract brewing in Coralville will allow the company to expand its reach further throughout the northernMidwest. It will also allow Backpocket Brewing to begin operations with high-end German equipment. A brew house will be shipped in fromGermanyand a nitrogen generator will be installed.
"We've gone to Schlafly and said we're going to put in the high-end German equipment, we're going to make sure there're no corners cut when it comes to quality," Mr. Simmons said. "And in doing so, that made us attractive to them to sign on with us for the contract brewing. So it's in a sense it's a chicken in the egg. They want to work with us because of the quality focus. We can afford to have the quality focus because of them and the contract brewing."
Once complete, Backpocket Brewing will produce 8,000 barrels of beer annually, making it the largest brewery in the state, Mr. Simmons said. By comparison, Peace Tree Brewing inKnoxvillehas a capacity of 3,720 barrels a year and Millstream Brewery in the Amana Colonies produces nearly 5,000 barrels a year.
Backpocket Brewing will have the capacity to brew 25,000 gallons a year.
Backpocket Brewing's start
Backpocket Brewing is a spinoff of Old Man River Brewing Co. in McGregor. The two businesses, while related but separate companies, serve the same German-style beers: a dark lager, pale ale, Scottish peated lager, Bavarian wheat and blonde lager.
"It's kind of an expansion," Mr. Simmons said. "We currently brew out of Old Man River, it's a brewpub there. In order to grow though, we needed a bigger space. There was no way to really do it in McGregor, so we decided we were going to have to separate them out completely and have one focus on being a restaurant and the other focus on being a production brewery. And that fit with getting new investors, so we separated the structure."
Old Man River Brewing was opened in 2008 by Dave and Marci Strutt. The two grew up in McGregor but spent much of their adult lives inDes Moines.
"They were getting ready to retire and they decided to open this restaurant as their retirement project," he said.
Thirty-year-old Mr. Simmons grew up in Des Moines. He received a microbiology degree from the University o fIowa and a master's degree in the same subject from Washington University in St. Louis when he decided to change professions.
"I finally came to the conclusion that I didn't want to be a professor," he said.
He had enjoyed homebrewing as a hobby and thought it would pair well with his microbiology background for a career in brewing. He ended up interning at Schlafly in St. Louis.
"I worked primarily in their lab, quality control-wise and then went up toMaineand started at the bottom of the totem pole, learning how to make beer," Mr. Simmons said.
When he was visiting family in Des Moines, he had lunch with Mr. Strutt and the two discovered they had a common goal.
"He knew what I was doing from family friends and I had heard what he was doing," Mr. Simmons said. "When we sat down and had this lunch talk, it was pretty clear that we both had this vision that Iowa should and would eventually have a vibrant craft (brew) scene. And we could try to build that ourselves or at least be part of it. My goal was always to build a regional brewery and Dave was from the very beginning very supportive of that."
Mr. Simmons began working for Old Man River Brewing and the two developed beer recipes and began distributing the beer they produced.
"We started out in our little corner of the state and then started spreading out to the other major metro areas," he said. "At this point, we're focusing primarily in Eastern Iowa; we just recently began selling in central Iowa."
But the operation had its constraints.
"It was a way to send out kegs to see how people responded to the beer, but there was no way to ever produce enough beer there to ever make a dent in the market because it was a brewpub, it wasn't designed for that," Mr. Simmons said. "It was a smaller scale and there was no way we could ever bottle. Even in an efficient way, we couldn't do it, so we were limited, yet we had gotten this very nice response from the keg sales we had done."
The town of about 900 along theMississippi River was not ideal for a business expansion.
"The town itself didn't have the square footage of land that we needed," he said. "McGregor is a river town surrounded by bluffs; it doesn't have a lot of space. We decided that if we had to separate it out, then let's put that building where it belongs."
As Backpocket expands its brewing capabilities, Old Man River Brewing will continue to operate in McGregor, where the companies may try out small batches of new beers.
Old Man River was named as a tribute to theMississippi River. The name was dropped from the new company because it was going to be located an hour west of that river.
"We wanted to make sure going forward as we try to make a mark on the state that the branding was all in line with what we wanted to say," Mr. Simmons said. "Backpocket is meant to be your go-to beers, a very comfortable brand image. It's something you keep close, something that's important to you."
Coralville selection
The company began shopping for a location for a new facility and decided on Coralville because of its proximity to the University of Iowa and its position along major highways. Its geographic location allows for easing shipping of beers and access to distributors.
The UI demographic helped, as well.
"It's a very craft-centric crowd," he said. "Everybody always says, 'A lot of people drink in Iowa City,' which of course is true, but we're not marketing to the college students. They don't have any money and ours isn't going to be the cheapest beer on the shelf. The best perhaps, but not the cheapest. But it does have a lot of professors, a growing population as a whole and that younger demographic, 21-35 kind of age group, which is the craft brew demographic."
While Champaign, Ill., has the Blind Pig Co.; Bloomington, Ind., has Upland Brewing Co.; Ann Arbor, Mich., has Grizzly Peak Brewing; Madison, Wis., has Ale Asylum and so on, the Hawkeyes do not have a brewery in town. There is Old Capitol Brew Works & Public House, but in 2009 the brewery operation was moved toDavenportand is now Great River Brewery.
"How many colleges in the Big 10 or anywhere, have no breweries of their own? It's pretty rare. So it was only a matter of time before somebody came to Iowa City," Mr. Simmons said.
The company was hoping to find a historic and vacant warehouse building in Iowa City. Finding none, the search was expanded to Coralville.
"We saw what they were doing out at the Iowa River Landing District and thought it was really cool but thought, 'We're an industrial plant, and it looks like they're not really going industrial,'" Mr. Simmons said. "And their reply was, 'We intended this to be a mixed-use space. There's no way we're going to put a factory there but there's something different about a brewery. People want to take tours of a brewery, they want to see where their beer is made. And it's almost a tourist destination. The city was very interested in that angle."
The tourist destination
When it opens next year, Backpocket will be a microbrew production facility and a beer garden. There will be tours of the brewery and visitors will be able to sample beers in the beer garden. There will be a small menu offered.
"We're going to have this tasting room, beer garden area out front, which will be a draw for people to come visit. It will be very cool," he said. "There will be tours all the time, the beer garden's going to have bocce ball courts where they can come and play yard games and there's going to be a fire pit and a grill outside."
Beers will be sampled in the tap room, which will be fashioned after a German beer hall.
"There will be some long communal tables as well as your standard booths — that sit by strangers and have a beer with them kind of thing," Mr. Simmons said. "I think it will be a great fit for the development."
Backpocket Brewing will have capacity for about 80-100 indoors and about the same number outdoors in the beer garden. Five to 10 people will be hired within its first year of operation.
The company hopes to host several beer-related events throughout the year.