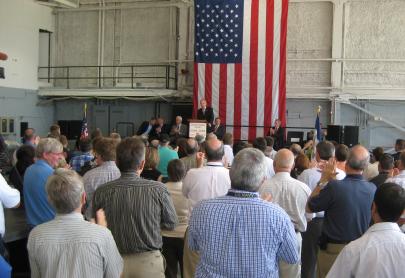 Rockwell Collins, Goodrich among those employing Iowans in the industry
By John Kenyon
CEDAR RAPIDS – About 300 people turned out for a rally at the Eastern Iowa Airport in Cedar Rapids this morning in support of the general aviation industry.
The rally was held at the Rockwell Collins Flight Operations Center at the airport. Clay Jones, Rockwell Collins' chairman, president and CEO, welcomed the crowd and said their enthusiasm transformed the event into a pep rally. Attendees included Rockwell Collins employees as well as others employed in the general aviation industry and other supporters.
He said he assumed most people's thoughts were on the state of the nation's economy. When leaders are discussing ways to create jobs and improve the economy, he said he had a suggestion that they follow the Hippocratic Oath: first do no harm.
"In the current economic environment, it is important that we capitalize on the things that are working," Mr. Jones said. "Fortunately, you don't have to look any further than general aviation to find the perfect example."
Mr. Jones went on to note that general aviation supplies more than $1.2 million jobs across the country and in Iowa contributes $1.4 billion to the economy. The industry has a positive trade balance overall, he added.
Mr. Jones said there were three things that embody the spirit of general aviation: freedom, innovation and entrepreneurialism. And in places like Cedar Rapids, West Des Moines, Wichita, Kan., and elsewhere where general aviation is a key industry, "people just like you embody that spirit of freedom, innovation and entrepreneurialism every day," he told the crowd.
Other speakers included Sen. Chuck Grassley and Iowa congressmen Leonard Boswell, Bruce Braley, Steve King and Tom Latham. Pete Bunce, president and CEO of the General Aviation Manufacturers Association, also spoke. Gesturing to a handful of business class airplanes on the tarmac outside the rally, he said, "These machines make commerce happen."
Also speaking was Daphne Falletti, president of Goodrich Engine Components, which has locations in West Des Moines and Carroll that employ 520. She called general aviation an "indispensible asset that gives access to global markets."
Long-term authorization of the Federal Aviation Administration was discussed by several of the elected officials. A short-term extension of FAA authorization was passed earlier this month, after about 4,000 FAA workers were furloughed for nearly two weeks while Congress debated the short-term extension. Congress will have 10 days to pass a new extension when members return in early September.
Though little mention was made of it from the stage, the rally was in part a response to suggestions from President Barack Obama that corporate jets should be taxed. Mr. Latham said that the industry is vital to the economy and should not be demagogued.
"This kind of talk has got to stop in Washington and around the country," he said.