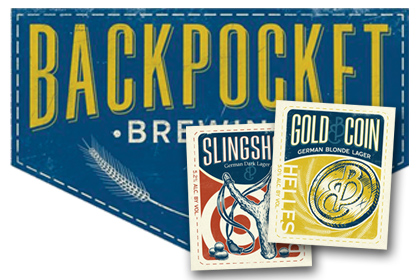 Groundbreaking scheduled; company plans sustainable practices
The Backpocket Brewing project is big, and we have a lot of information to share. In addition to the main story about the project, which can be found here, you can learn more about the groundbreaking, the beer and the company's sustainability efforts.
In addition, Dan Kopman co-founder of Schlafly beer in St. Louis, which is contracting with Backpocket to move into this market, shares some details about that project.
Backpocket Brewing groundbreaking
A groundbreaking ceremony for Backpocket Brewing will take place at 9 a.m. Aug. 31 at the building site, next to the Coralville Marriott. There will be an after-party Aug. 31 at Old Chicago in Coralville, on Sept. 1 at Short's Burger & Shine in Iowa City and on Sept. 2 at Fry Fest in Coralville.
The beer
Backpocket Brewing's beers are German inspired, brewmaster Jacob Simmons said. Some are traditional-style lagers and others are a hybrid of German techniques with other styles. The focus will be lagers over ales.
The beers are made using German purity laws, which insist on using only a few products: water, hops, yeast and barley. No additives or preservatives are used. Local water will be treated to remove the high mineral content. The yeast will be produced during the beer making process, while the hops will come fromGermanyand the barley will come from northern states andCanada.
While many breweries are trending toward producing the strongest-tasting IPAs with high-alcohol content, Backpocket plans to serve beer with high drinkability.
"They're supposed to be full of flavor, not at all like our American light beers and yet have the same drinkability because that is important," he said. "Even some of us who really like those extreme beers from time to time, on an average day, when they're ordering a beer probably want something else that's not going to knock them on their butts after they drink one, like the extreme beers tend to."
So far, Backpocket beers can be found on tap at dozens of bars in the Corridor. The company's web site features a beer finder map to find those locations.
Sustainability
The brewery will use several sustainable processes while producing beer. Each method will save the company money and will increase efficiency.
— By using a pump instead of boiling beer during production, the facility will emit 60 percent less carbon dioxide compared to other breweries.
— A nitrogen generator will purge oxygen from bottles, kegs and anything else beer gets put into. Typically, carbon dioxide is used to purge oxygen during the beer making process.
— The brewery's chiller will use ambient air during winter months to keep beer cold, instead of using electricity to chill it.
— Backpocket plans to recapture its organic waste and compost it. For example, spent grain will be given to local farmers who will use it for cattle feed. Backpocket hopes to later buy the cattle to use for burgers at the beer garden.
Q&A with Schlafly Beer
Schlafly Beer, a St. Louis-based microbrewing company, has signed an agreement with Backpocket Brewery in Coralville. Backpocket, once its brewery is completed next year, will conduct contract brewing of three of Schlafly's beers. The agreement is similar to a contract signed with Blackstone Brewery in Nashville that was signed a few months ago, that will allow Schlafly to be sold in Tennessee.
Schlafly is a cult favorite among microbrew fans. The beer has long been unattainable to Iowans because Schlafly only sells within a 300-mile radius and did not, until recently, have the capacity and supply to sell to Iowa. The company began selling beer in southeast Iowa Aug. 1.
In the following Q&A, Schlafly Co-Founder Dan Kopman answers a few questions about the changes ahead.
Q: Why did Schlafly begin selling beer in Iowa Aug. 1?
DK: It's something we've worked on for a long time. We originally thought we would start selling in Iowa, in just the southeastern portion ofIowa. We're not selling in theDes Moines area or in the northern portion of the state or in the western portion of the state. We've been able to sort out enough supply, which is our big issue for us, the quantity of beer we can make. So we felt comfortable, finally, as we got into this part of the year, starting in the southeastern part of the state. We're starting slowly, with just three of our beers to begin with and then this fall some of our seasonals will start to appear. And by early next year we expect the full range of beers to be available in the southeast portion of the state.
We have no plans to expand into the Des Moines area at this point. I can see it coming down the road, but at this stage, this is what we're comfortable with. It's a capacity issue for us. Years ago, it was part of the plan. Our chosen trade area is 300 miles from St. Louis, excluding Chicago.
We will start with Kolsch, Pale Ale and Dry Hopped American Pale Ale. I think that will be quickly followed with Oktoberfest and our Pumpkin Ale, starting next month.
Q: Talk about your relationship with Backpocket Brewery. I know Backpocket Brewmaster Jacob Simmons had done an internship with Schlafly in the past.
DK: Jake worked with us a number of years ago in our quality team and got along really well. When he moved back to Iowa from Maine he was talking about the potential for building a larger brewery somewhere in Iowa, and he was looking at Iowa City as opposed to McGregor.
He got in touch and really that was just for advice, considering different equipment manufacturers, different sites and dealing with the myriad issues that can come up when building a new brewery and clearly he liked what he we had done and thought that size and scale would fit for him. So, really the conversations early on were brewer-to-brewer, 'What do you think of this? what do you think of that?'
He realized that we were starting to grow beyond our expectations and he knew that we were going to have some capacity issues. So we started talking about the possibility of sharing some of this new capacity, which would minimize some of the risk that he and his partners are taking on with building the brewery and also help us with some of our capacity constraints.
So that's how the conversation started. It's one of those partnerships where we're able to provide some expertise, but not just expertise. The most important thing when you're building a brewery is to learn from others' mistakes and we've made plenty of mistakes so he can benefit from that experience. It would be more, 'Don't do this' sort of advice that we would be offering. That's how it progressed and we got to the conversation about the actual contractual issues and resolved those and I think that allowed them to move forward with some of the financing and that's where we are. We've got a long way to go. Building a brewery always takes longer than you think it will. He's really just getting started. And we're there in a support role for him. He's done a great job to this point and he's got a long road ahead but I think it will be a bright one.
Q: How much Schlafly will he be producing in Coralville?
DK: The initial amount is 5,000 barrels. Then we'll kind of go from there.
Q: Will Backpocket do the bottling?
DK: Yeah, he'll have a bottling line and a keg line. So when we get closer, we'll look at our capacity and where different styles should be made and different packages and we'll make that decision closer to the time. We've talked about certain things and it will depend on his timing and where we are at that moment. There's some flexibility there, but that's by design.
Obviously in due course there's the opportunity to make styles there that we're not even making here in St. Louis so that's a possibility as well. So once we get closer to the opening, I think we'll have member of our own staff on the ground in Iowa City. They'll play a role in how that business starts and how it develops.
Q: Will you be distributing from Iowa City at all?
A: Not initially. With the agreement and with the agreement we have with Blackstone Brewery down in Nashville, we'll be starting brewing this month. That is a similar circumstance. Again, it's a former employee of ours (who) is the head brewer at that brewery.
We're generally very deliberate and methodical brewer. We're not a jump at it (kind of company); we tend to think things through for many, many years before we do things. That's either a strength or a weakness depending on how you look at it. We're fairly strict about that trade area boundary. Obviously if we end up with a wholesaler in a certain part of the state that is within the 300 miles and that wholesaler services the rest of the state, then we're found beyond the 300 miles.
We do sell a small amount of beer in the Washington, D.C., metro area but as you can imagine, there's politics involved in that. That's the only area where that rule is broken. But it's for other reasons and it's a very unique situation there.
Our mission in life is to be a great local brewer and be a respected regional brewer. Size and scale are not core to our mission. We don't have a specific goal in terms of what size we want to be, in a ranking sense. We're in St. Louis, we've got Anheuser-Busch down the street. So when we started in 1991, you would never sort of think, 'OK, I want to be the largest brewer in St. Louis.' So from the get-go size was never a specific goal. I think it was more about brewing some great beer and throwing some great parties and hopefully paying the bills.
The Backpocket Brewing project is big, and we have a lot of information to share. In addition to the main story about the project, which can be found here, you can learn more about the ground breaking, the beer and the company's sustainability efforts.
In addition, Dan Kopman co-founder of Schlafly beer in St. Louis, which is contracting with Backpocket to move into this market, shares some details about that project.