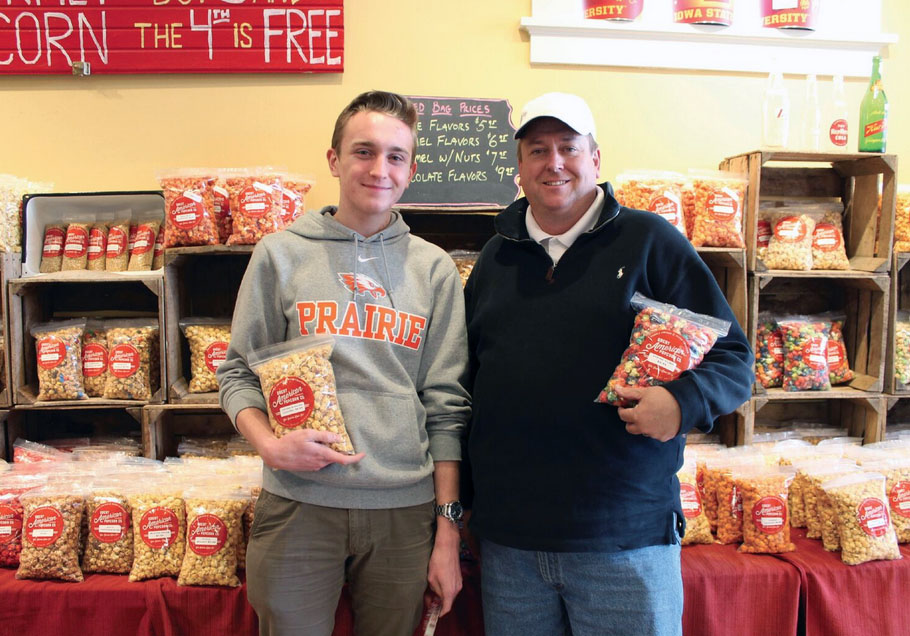 Carter and Bill Rieckhoff pose for a photo with two different varieties of popcorn inside their shop in NewBo. PHOTO DAVE DEWITTE
By Dave DeWitte
dave@corridorbusiness.com
CEDAR RAPIDS— After six years, includ­ing a move to a storefront across the street and a name change from CR Popcorn Co. to Great American Popcorn Co., they are closing in on the $1 million sales mark.
With more than 150 flavors, including original concoctions like Crunchberry, the Rieckhoffs are also preparing for the company's next stage of rapid growth. Un­der a new name, Almost Famous Popcorn, they will launch e-commerce sales in June from a new 3,000-square-foot production and fulfillment center off 16th Ave. SW.
"The facility there gives us capacity to do about 25 times what we can do here, so we have a lot of runway for growth," Mr. Rieckhoff said.
The new facility will have an automat­ed packaging line capable of processing up to 30 bags a minute, compared to a good human packager's capacity of two bags a minute. Rounding out the capabilities will be two commercial poppers with 48- and 60-ounce capacities, and two 20-gallon caramel cookers for adding flavorings, all mounted on wheels for flexibility.
Buying flavored popcorn off the web is already a competitive business, but the Rieckhoffs have learned many lessons from their store in NewBo, which also sells hand-scooped ice cream, fudge made in-house and a wide assortment of gourmet sodas in an old-time candy store atmosphere.
One strategy they will promote is an entirely gluten- and nut-free production room, which will ensure that popcorn lov­ers who have nut allergies or celiac disease can buy with confidence.
"This will be a big selling point on­line, and when we go out to sell in the grocery and convenience store segment," Mr. Rieckhoff said. "Popcorn is a naturally gluten-free snack."
Almost Famous plans to offer free ship­ping, competitive pricing and more flavors than any other popcorn retailer. By popping and packaging popcorn off-site, it will also free up more space for seating and a waf­fle cone maker in the existing store at 1121 Third St. SE, which will remain in operation, but under the Almost Famous name.
Pop-up business
Sixteen-year-old Carter recalled how the family got involved in selling popcorn. With the NewBo City Market opening in Cedar Rapids, his family applied to be a produce vendor as an outlet for the vege­tables his grandparents grew on their Linn County farm. But when his parents real­ized all the time it would take, they wor­ried about how it would affect Carter and his older sister, Sydney.
Bill and his wife, Robyn Rieckhoff, now executive director of the Cedar Rapids Free­dom Festival, decided that setting up busi­nesses for Carter and Sydney to run would be a great way to keep the family together. Researching what sold well at other indoor markets, Bill found popcorn and ice cream were almost always successful.
The popcorn business was overseen by Carter, who lent his initials to the name, while Sydney led the ice cream business in what proved to be some of the best city market locations. CR Popcorn sold flavored popcorn produced at the Great American Popcorn Co. in Galena, Illinois, eliminating the need for a production facility.
While those businesses took off, the Rieckhoffs were finding some serious lim­itations to the produce business because of the relatively short growing season. They eventually decided to concentrate on popcorn and ice cream, finding potential that extended beyond the market's four-day-per-week operating schedule.
In 2014, they moved across the street into a high-ceilinged historic storefront renovated by owner Jon Jelinek. They wanted to remain close to their old market customers, but also wanted to sell seven days a week at the hours of their choosing.
"They put up the for-lease sign at 10 a.m., we had an appointment to look at it at 12, and by 1 we had it leased," Mr. Rieckhoff recalled.
The design and operations of the store captured the essence of nostalgia retailing, with a perpetually sunny staff, an old-time candy store atmosphere and a slogan, "Let Yourself Be a Kid Again." Gourmet sodas were added to the product mix.
"The type of business they do is a huge draw for the district," said Jennifer Prud­en, executive director at the Czech Village/New Bohemia Main Street District. In ad­dition to attracting visitors for a cool treat during the warmer seasons, she said the shop brings in many holiday shoppers seeking popcorn or fudge as gifts.
"They're good supporters of neighbor­hood activities and events," Ms. Pruden added, which has helped the popcorn company build a stronger clientele and business relationships.
One of the lessons of the store, Mr. Rieckhoff said, is that flavored popcorn "is almost the perfect gift."
There's a flavor for almost everyone's tastes, from bourbon-flavored to lemon cookie, and a price for almost every wal­let, ranging from a few dollars for a small bag of warm buttered popcorn to more than $15.50 a bag for exotic mixtures such as Birthday Cake or Monster Cookie.
Carter is a regular figure behind the counter.
"Mainly, I'm the inside man," he said. "I work in the shop two times a week and man­age the schedule. I also help out with order­ing and purchasing, especially the sodas."
Carter said the popcorn business has been a chance to strengthen his interper­sonal and leadership skills with Bill's exam­ple. Although his parents aren't under the expectation he will run the business when he graduates from college, he's keeping the possibility open for now. His sister is now a student at Stanford University, studying business and international relations.
The success of Great American Pop­corn demonstrates as much as anything Mr. Rieckhoff's willingness to pivot and tune in to customer needs. His last busi­ness venture, Varsity Motor Coach, set out to sell customized motor coaches for high-roller tailgating at football games, NASCAR races and other events. It was on the verge of failure, without a single sale, when he received a request to cater a tailgating event at the Rose Bowl, fully stocked and ready to party. It was a service he planned to offer.
While he lost money on the first trip, the motor coach catering business took off and he eventually sold the business to a company growing in the same segment.
Part of the Rieckhoffs' success in pop­corn has been built on a good relation­ship with the Great American Popcorn Co., which later worked out an agreement that allowed the family to use its recipes and name for their store.
When Mr. Rieckhoff decided to scale up the venture, he said he wanted to buy Great American Popcorn Co., but found it was not for sale for what he could offer. A name change was determined to be the only way to build up the brand equity he hoped to achieve in the popcorn business. He picked Almost Famous because of the nearly endless promotional possibilities.
"We're almost famous, he's almost fa­mous, you're almost famous – it works!" he said.
Will the family achieve popcorn indus­try fame? They'll certainly have fun trying, Mr. Rieckhoff said.