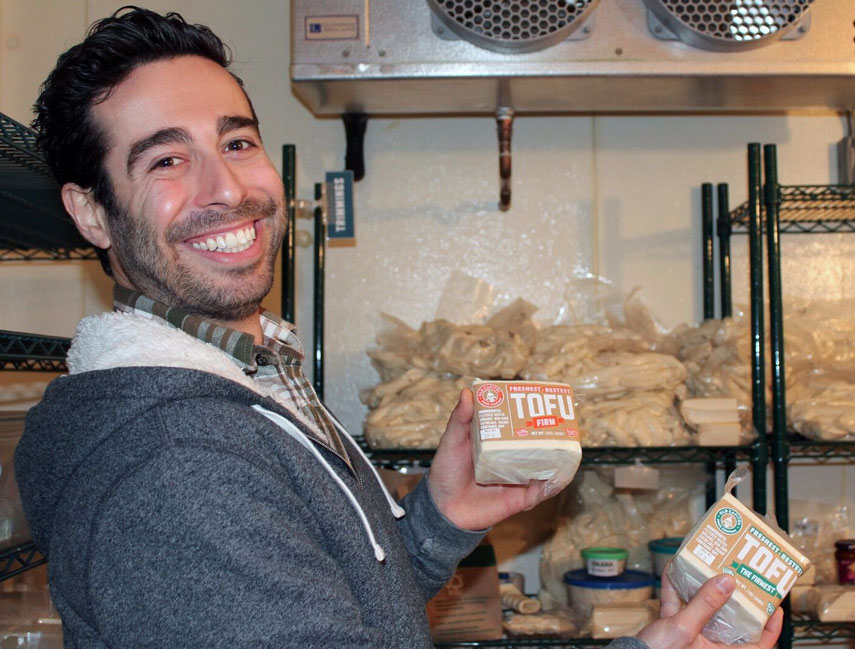 Old Capitol Food Company has big plans for future growth, including new product lines and a move to a larger facility, says co-founder Jake Gratzon. PHOTO KATHARINE CARLON
By Katharine Carlon
katharine@corridorbusiness.com
As the nation's second-highest soybean producing state, Iowa farmers grew about 10.1 million acres of the crop in 2017, according to the USDA. Yet despite swimming in a veritable sea of soy, many Iowans have largely proved resistant to its culinary charms.
"We're proud to grow it, but not proud to eat it," said Jake Gratzon, who co-founded Old Capitol Food Company with partner Matthew Mesaros nearly three years ago in hopes of turning one of the state's most abundant resources into silken, firm and extra firm gold, while also changing minds and diets in the process.
Mr. Gratzon, who was raised eating fresh tofu made in his hometown of Fairfield, said the company's product is unlike the tofu most consumers have tried before – smoother, sweeter and 100 percent fresh-made from just three ingredients: USDA organic soybeans, Japanese nigari (magnesium chloride) and water run through a reverse osmosis filtration system.
"Tofu doesn't need a salesman, it needs an advocate," Mr. Gratzon said, adding that not only does the soy-based product improve health and reduce greenhouse gases, it can be a valuable addition to even the most devout meateater's diet.
Mr. Gratzon and his team have been strong advocates so far. Since making their first batch of fresh tofu in their built-from-scratch production and distribution headquarters on the far east side of Iowa City in July 2015, the company has grown to the point where it now puts out about 2,250 pounds a week.
Institutional clients including the University of Iowa, Iowa State, Grinnell College and, most recently, Cornell College in Mt. Vernon, represent about half their business. Restaurants like Nodo, Big Grove Brewery, Z'Mariks Noodle Cafe and Dumpling Darling make up another 25 percent. And thanks to a shelf presence in grocery stores throughout Eastern Iowa, including New Pioneer Food Co-op and Hy-Vees across Iowa City and Cedar Rapids, retail sales now account for the remaining 25 percent – a number Mr. Gratzon expects to climb with an impending expansion into the Des Moines market.
"We find that people who try our product stick around," he said. "Every store we enter into sells a little bit more month over month, year over year. It's very encouraging that people are buying our product and continuing to buy it, and that the industry we're in seems to be experiencing some solid growth as well."
Things are going so well, Old Capitol Food Co. is eying a move to a larger facility next year where it can up production and add new lines like flavored tofu and baked goods made with okara, a byproduct of the tofu-making process. But all of that is subject to ensuring the company can maintain its quality standards – something Mr. Gratzon says it will never sacrifice.
"If there's a principle we use to define growth, it's that we really want to make sure every time we add a new store, add a new customer or add a new client, there is zero percent chance anything we've done already is going to be affected," he said. "We're not going to be adding the straw that breaks the camel's back. We want to make sure we're constantly genetically modifying that camel to make sure it can handle more straw."
Slow and steady is a lesson the founders of Old Capitol Food Co. learned early on when they realized their idea for launching a line of flavored tofus was premature. After winning third place and a $3,500 award in the UI Business Model Competition, another $3,000 in seed money through the John Pappajohn Entrepreneurial Center's Venture School, and experimenting in rented kitchen space, Mr. Gratzon and Mr. Mesaros concluded they'd put the cart before the horse.
"We realized if we're going to enter into this industry at all, we'd better make really good tofu first and understand it … really know what our product is," Mr. Gratzon explained. "How does soy protein become tofu? What is the nature of the bean? How does it react to various things? We were kidding ourselves that we were going to make good flavored tofu without understanding that."
Though flavored tofu "is still on the menu," especially when the company expands, the realization that there was a lot of hard work between a great idea and a finished product taught the founders that growth needed to be methodical and consistent.
"If you ask me what made me start this business, it's really, really simple – one word: naiveté," he said. "That's what you need. You need to go into something knowing you know nothing and be willing to learn everything. We want to make sure whatever we're doing, we do it consistently – clean, quality – all those good words."
Old Capitol Food Co. is not the first tofu company to make its start in Iowa. WestSoy and Wildwood Tofu, now national brands, also got their starts here.
"Most of the tofu companies started in Iowa, but then they realize, 'well, we've got access to the beans here, but we're not selling anything,'" Mr. Gratzon said, adding that's not the model Old Capitol Food Co. plans to emulate.
"As far as I can tell, we're the first company in Iowa that started and will continue with the idea of we serve this area fresh," he said. "If we are going to go to other areas, I'd want to build a new facility there. When it comes time, say, to go to Madison, Wisconsin, we would build a new facility there. We won't sacrifice standards or relationships."