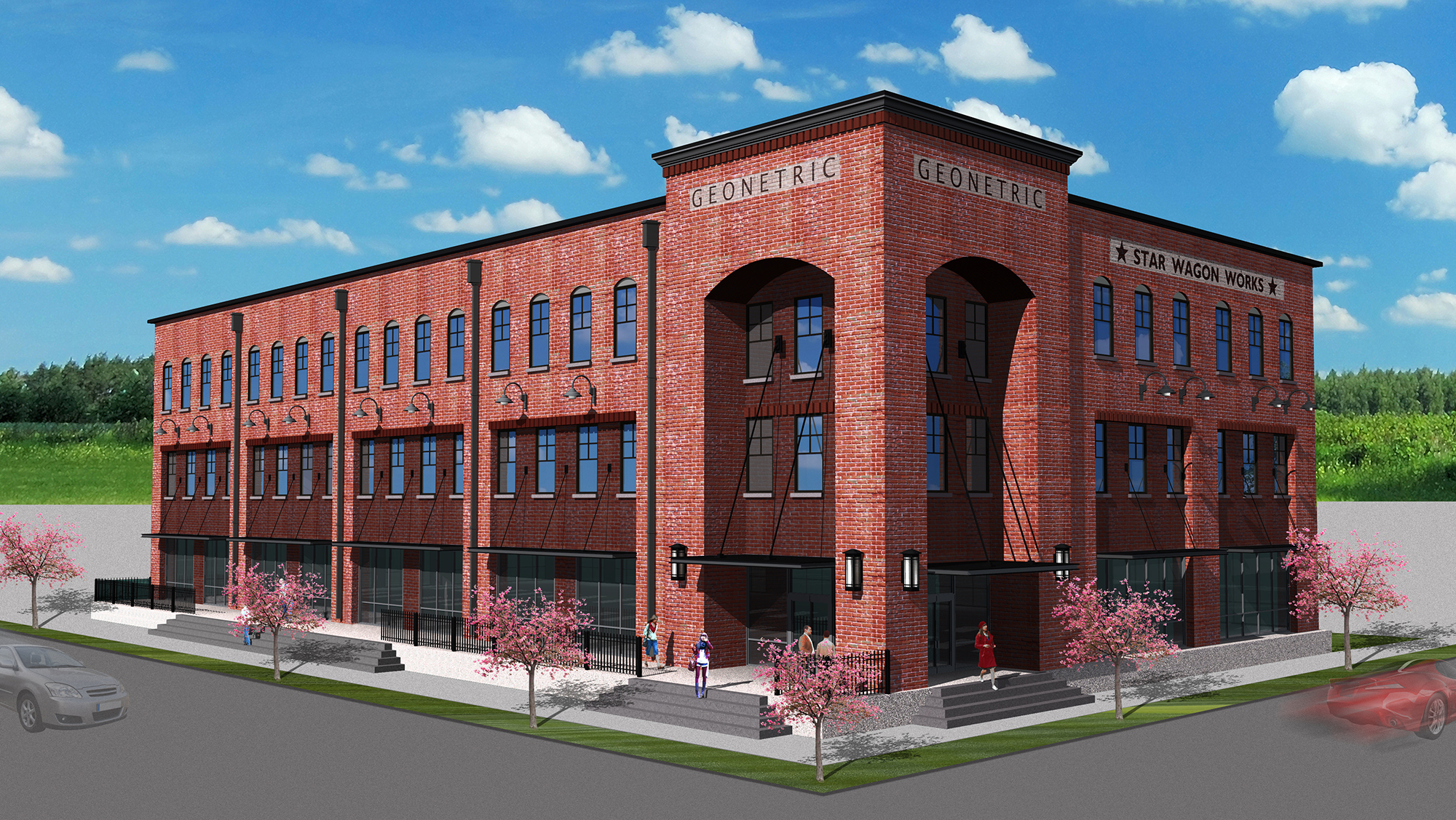 By Gigi Wood
CEDAR RAPIDS – Geonetric and ImOn Communications leaders on Sept. 9 announced a new business accelerator to help launch startup companies in the Cedar Rapids area.
Eric Engelmann and Ben Dillon, co-owners of software company Geonetric, outlined plans for a 90-day program aimed at pre- and early-revenue startups. The program will be housed in Geonetric's new building in the New Bohemia District when it is complete in summer of 2014. ImOn Communications will provide a 10 gigabit fiber optic connection to the teams.
About 10 teams will be selected for the program based on an application process. Accepted teams will receive seed funding, access to a mentor network and entrepreneurial boot camp training.
At the end of the 90-day program, startups will make presentations illustrating progress and market viability to customers and investors.
The program is being billed as the state's first startup accelerator. Accelerators can be found in cities such as Boulder, Colo.; Nashville and Kansas City, where there is a heavy emphasis on building a startup community.
"The Corridor needs it. Iowa needs it, frankly," Mr. Engelmann said in a pre-announcement interview last week. "Accelerators are designed to pick off the best possible opportunities and prime them for rapid growth. I feel like if we don't have a viable version of that here, all of the best startups will wind up leaving, or at least a lot of them will. We just don't have that luxury. We need that here."
In July, Geonetric announced plans to partner with Vault Coworking, which provides shared office space and resources to entrepreneurs and business professionals. Geonetric plans to provide space in its new 45,000-square-foot building for Vault. Meanwhile, Vault co-founders Amanda Styron and Andy Stoll will be part of a team that will lead and organize the accelerator. Other team members will include Mr. Engelmann and Mr. Dillon, Lydia Brown, co-founder of Skywalk Group, Barry Boyer, retired president of Van Meter, and Bruce Lehrman, founder and CEO of Involta. Additional people will likely be added to the team, Mr. Engelmann said.
"One of the things those people have in common is they're all people who care deeply about the community, so it's somewhat giving back in a way, to say this community needs this," he said. "And these are all people who are at a point in their lives who have been very successful and how can we double down on the Corridor and Eastern Iowa community."
The team will hash out the various details of the accelerator program.
"The idea is to explore potential options for accelerators," Mr. Engelmann said. "There are a number of different models. They all generally follow the outline we have here but some of the details will be determined over the next few months."
The team will be pulling together the accelerator's mentor network. The goal is to create a network of 100 mentors.
"Not all of them will be from here; some of them will," Mr. Engelmann said. "But that access to people who might be in Boulder or New York or whatever is a big part of that. There is a lot of expertise in the country that we need to take advantage of here, too. But a lot of it will be local talent. There are a lot of really great mentors here already; we just need to organize them …
The mentoring network, I think, will be a particularly big key to that. Our intention is to build a mentoring network in Iowa that's never been built before."
While the Corridor has many resources available for entrepreneurs, from the University of Iowa's Small Business Development Center, Bedell Entrepreneurship Learning Laboratory, Technology Innovation Center and BioVentures Center in the Iowa City area to services in Cedar Rapids such as the Entrepreneurial Development Center (EDC), Small Business Development Center at Kirkwood Community College and programming provided by the Cedar Rapids Metro Economic Alliance and Iowa City Area Development Group, it's not meeting the needs of early-stage startups, Mr. Engelmann said.
"I feel like it's (the accelerator) filling a need because most of the resources are either aimed at later stage (companies) or what I refer to as indefinite incubation," he said. "In other words, you can put your office here for five years or two years or one year and either we will mentor you or provide you with discounted space. And all of those are good and we need those, too. What this provides is an extremely dense, very short period of intense mentoring to get early, early stage ideas ready to be built on. That's missing right now."
There will be 10 teams of about four people each and the accelerator will likely attract entrepreneurs in the technology sector, although anyone is welcome to apply.
"The ideal target will be organizations in the early stages of formation, probably not have any investors yet, have formed at least the beginnings of a team and have a valid idea that can be tested in some way in the marketplace," Mr. Engelmann said. "They may not be able to test it yet, but they might have some idea of how to test it. So the accelerator is going to probably be working with ideas that likely haven't been evaluated yet and therefore couldn't attract funding. Our goal is to get them either to market validation and/or many steps closer to market validation so then it could be funded."
Details of the seed funding are still being worked out. Mr. Engelmann said the group plans to connect with existing funding opportunities, hopefully spur additional funding opportunities and look outside the state for investors.
"Basically, this will be attached to some kind of seed fund," he said. "It will probably invest that initial, most of them do about $20,000 per team, upon acceptance. And usually there is some kind of convertible debt option (essentially a bond with a stock option hidden inside) as well that's available to that fund. Exactly what form that takes, where it comes from, is to be determined. But there will also be the option for follow-on funding at the demo day. The idea is to pull the investors who are appropriate investors for these types of projects together in point in time to follow on."
Mr. Engelmann likened the accelerator to a magnet.
"It's trying to pull together people who have ideas but they're not quite sure how to get them ready to be packaged and structured in a way that they know it's a good idea to basically, invest their lives in, or to give up equity to an investor partner," Mr. Engelmann said. "Those are both momentous decisions that depend on being confident that's a good idea. The accelerator will take people who don't have that confidence yet and hopefully build that as part of that 90 days."
There is a strong interest in Cedar Rapids for such an accelerator, he said.
"There are a whole bunch of people (at that point of entrepreneurship)," he said. "And most of the resources are kind of aimed at either structuring the business or building the business. This is really designed to give a lot of intense focus on that narrow window between when you are conceptualizing the idea and trying to validate it."
One goal of the accelerator is to create a buzz and energy by grouping many creative and entrepreneurial people into shared space at the accelerator and Vault, so that a number of people can learn at the same time, Mr. Engelmann said.
"Part of the problem with current (entrepreneurial/startup) resources is they are designed for largely one-on-one consultations," he said. "Where this is taking a whole group all at once and saying these 40 people are learning all at the same time and there happens to be 100 people upstairs at Vault who are able and willing to help on certain projects and there is a (business) model in Geonetric that you can watch or ask questions about, all in one place."
The accelerator is modeled somewhat off of Tony Hsieh's incubator work in Las Vegas. The CEO of Zappos.com has led the development of an incubator campus in downtown Las Vegas to accelerate innovation, improve creativity and solve community problems.
"It needs to be done and I'm passionate about it," Mr. Engelmann said. "I've been through it (starting a business). I look at the complexity and challenges of starting a business and it's one of those where you're like, if I knew then what I know now, we could have done things much, much faster. There were years in there where we were trying to figure things out. The tools, methods and mindset exist now that really didn't exist then. I'm thinking specifically of the Lean Startup Method, where it's more or less applying the scientific method or agile or lean thinking to business models. And I think the future of economy of this region is contingent upon people doing amazing things."
To Mr. Engelmann, success for the accelerator means more companies from Iowa will be named to the Inc. 5000 list, people outside of the state will consider Iowa a great place to launch a company and local cynicism will be displace — people here will believe it's a good place to start a business.
Geonetric is a 14-year-old company that employs about 70 people. It has been named to Inc. magazine's 5000 list for seven consecutive years and the Corridor Business Journal's Fastest Growing Companies list for four years.
Lean Startup principles
Entrepreneurs are everywhere: You don't have to work in a garage to be in a startup.
Entrepreneurship is management: A startup is an institution, not just a product, so it requires management, a new kind of management specifically geared to its context.
Validated learning: Startups exist not to make stuff, make money, or serve customers. They exist to learn how to build a sustainable business. This learning can be validated scientifically, by running experiments that allow testing of each element of the vision.
Innovation accounting: To improve entrepreneurial outcomes, and to hold entrepreneurs accountable, there needs to be a focus on the boring stuff: how to measure progress, how to setup milestones, how to prioritize work.
Build-Measure-Learn: The fundamental activity of a startup is to turn ideas into products, measure how customers respond, and then learn whether to pivot or persevere.
Source: LeanStartup.com