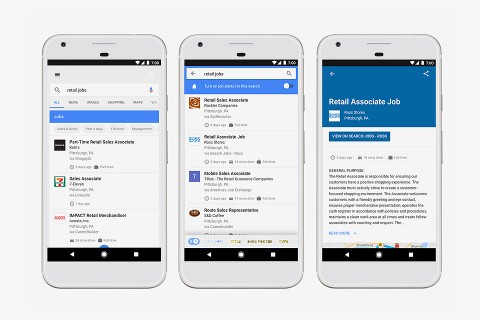 Google's new job search feature is designed to make the job search process easier by eliminating listing duplication and providing easier access to applications. CREDIT Google
By Steve Gravelle
news@corridorbusiness.com
Online job searches became a little easier last week after Google launched a new feature that lets users find listings on virtually all major employment websites and employer home pages.
The upgrade eliminates duplication and allows users to tailor ongoing searches to their specific needs, according to a Cedar Rapids native who supervised its design.
"The one time I remember really thinking about Google as a product was my own job search experience," said Nick Zakrasek. Fresh out of Brown University in Rhode Island, Mr. Zakrasek found himself wanting more than simply links to other job-search sites that happened to have listings with identical search terms.
"Those were good job search sites, but I really wanted Google to organize all the job-search sites across the web," he said. "There's a lot of duplicate information there."
About 10 years later, Mr. Zakrasek was able to do something about his frustrations as lead product manager at Google in Mountain View, California. While there, he worked on what the company calls the "knowledge graph" – essentially Google's way of organizing information about the world. It's what powers the search engine to provide cast information and critics' reviews to a user who Googles local movie times, for example.
Mr. Zakrasek thought that same function could be applied to job-search queries, despite the added complexity of such searches. He started seeking out others at Google interested in pursuing the idea, which initially proved to be a challenge because the goal seemed difficult and nobody else was pursuing it.
With support from some key decision-makers, Mr. Zakrasek started working full-time on the project about a year ago. Designing the new feature meant removing employers' duplicate listings posted to multiple sites and creating algorithms to categorize job postings.
Now, when a user finds an interesting opening, Google directs them to the site to file an application. When a job appears on more than one site, Google links to the one with the most complete listing. Users can also filter results by location, salary and other factors such as part-time and full-time positions.
A link to Google Maps can even show a job seeker how long their morning commute will be, and links to trending news posts about an employer appear on the results page – a convenience for users looking to conduct research before an interview.
Kate Pine, business marketing specialist at IowaWorks' Cedar Rapids office, said listings on the state's Iowa Job Bank will show up on the new Google page. "Now their [employers'] job listings are going to show up for anybody who's doing a Google search," Ms. Pine said.
She noted that Google also helps employers compose their listings using terms that ensure they'll feature prominently on the results page.
"That's one of the biggest challenges that we're hearing – having the qualified applicants apply and not pulling them from an existing position," she said. "How do we get new employees with the information we need and how do we let them know about our positions? This is another good powerhouse tool."
The new feature underwent about eight weeks of testing before its June 21 rollout.
"What people like about it is just the ease of use," Mr. Zakrasek said. "Using the process through the filter chips, people find it very intuitive. You've done the work of setting up this query, now Google can do the hard work of pulling together all that information."
Mr. Zakrasek, 33, arrived in Cedar Rapids after his father took a job with Alliant Energy. He grew up on the southeast side and graduated from Washington High School in 2002.
"Definitely, my time at Washington was very formative," Mr. Zakrasek recalled. "There were some very progressive efforts by administrators to allow students to stretch and meet their potential."
Those included programs that allowed students to study at their own pace. In high school, Mr. Zakrasek said he spent "about half my time at Coe [College] taking math and science classes at the college level."
After graduating from Brown, Mr. Zakrasek worked for seven years at Rockwell Collins in Cedar Rapids and Coralville. He left to pursue his MBA at Stanford University, then joined Google. His parents, John and Beth Zakrasek, still live in Cedar Rapids.
"My roots in Iowa have been just incredibly valuable for me," he said. "Coming out here to Silicon Valley, I think a lot of people don't realize how dynamic the economy is out there in Cedar Rapids and Iowa City."