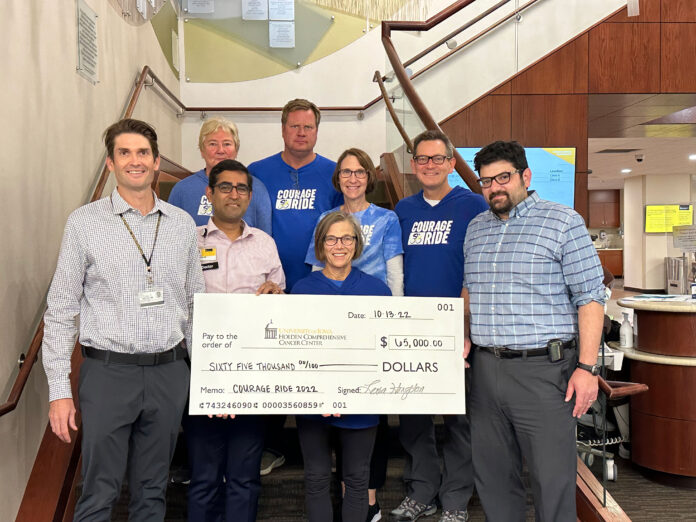 Courage Ride, a local biking event that raises funds for sarcoma cancer research, presented a check for $65,000 to the University of Iowa's Sarcoma Research Program on Oct. 13.
Dr. Ben Miller, orthopedic surgeon, Dr. Varun Monga, medical oncologist, and Dr. Munir Tanas, associate professor of pathology accepted the check on behalf of the center's Sarcoma Cancer Research Program.
Over the past 18 years, Courage Ride has raised nearly $800,000 for sarcoma cancer research—having a major impact on cancer patients and families who benefit from the research, according to a news release sent by Courage Ride.
Courage Ride is an annual event that was founded in 2005 by Jackie and Tom Bailey of Riverside, Iowa to honor the courage of their son, Seth, who passed away at age 25 after battling sarcoma for eight years.
All proceeds from Courage Ride go to the Holden Comprehensive Cancer Center Sarcoma Research Program at the University of Iowa. Courage Ride donations make up 85% of all sarcoma seed grant funding at the university. Since 2005, those dollars have seeded numerous sarcoma research grants, including several that have developed into larger, more extensive sarcoma research studies.
"The sarcoma tissue repository is a key element in our comprehensive approach to cancer research here in Iowa, as well as for a network of nationwide academic institutions studying sarcomas," said Dr. Miller.
"We're grateful to have the support of Courage Ride over the past eighteen years, ensuring paths to further our research efforts. Clinical trials are the backbone of advancing sarcoma treatments and require significant amount of resources which would not have been possible without Courage Ride funds."
This year's Courage Ride was held Aug.13, with nearly 400 riders from 11 different states taking part in the event. Six different route choices as well as a virtual ride option offered something for everyone of all ages and riding abilities. All routes started and finished at Big Grove Brewery and Taproom in Iowa City, where a silent auction was also held.
According to the release, sarcoma is a rare cancer comprising less than 1% of all adult cancers and 21% of childhood cancers. There are over 150 subtypes of sarcoma that are categorized as either soft tissue or bone. Though very aggressive and difficult to treat, many survive. More research is needed to find better treatment options and eventually a cure.
The significance of Courage Ride is underscored by the fact that funding for cancer research has been shrinking over the past 10 years, according to the American Association for Cancer Research (AACR). And yet cancer remains one of the nation's costliest diseases. Sarcoma receives 1 to 2 percent of all cancer research funding.
The 2023 Courage Ride will be held, Saturday, August 12th. Online registration will be available in spring 2023. Visit www.CourageRide.org for information or to make a donation.