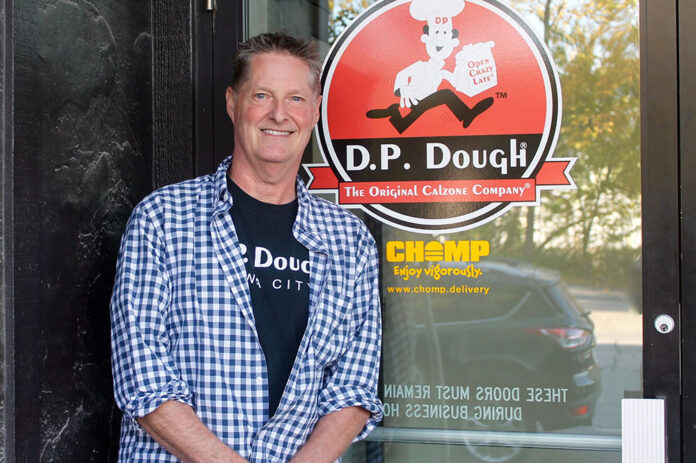 Jon Sewell, owner of Iowa City's D.P. Dough and chairman of CHOMP Food Delivery Services, stands outside his restaurant in a file photo. "It's been nearly four weeks since mitigation measures were put in place, and so far neither the state or federal government have managed to put more than a small fraction of the money into those businesses to keep them alive," he told the CBJ. PHOTO KATHARINE CARLON
By Katharine Carlon
katharine@corridorbusiness.com
More than 400 Corridor enterprises received about $4.6 million – or 19% – of a $24 million statewide emergency relief fund to help businesses hardest hit by the COVID-19 pandemic, but some small business owners are questioning exactly how the Iowa Economic Development Authority (IEDA) chose recipients in doling out grants of up to $25,000.
The Iowa Small Business Relief Program, announced by Gov. Kim Reynolds in March to help those at risk of financial collapse as they awaited federal aid, has thrown a desperately needed lifeline to about 1,270 bars, restaurants, salons and other struggling businesses statewide.
However, the program received nearly 14,000 applications requesting a total of $148 million, meaning only about 7% of applicants qualified for assistance. That's left thousands to wonder why they were not selected, why some businesses with several locations received multiple $25,000 grants, and what criteria the state utilized in determining who would and would not qualify for the funding.
IEDA spokeswoman Kanan Kappelman said that due to limited resources, it was impossible to provide assistance to everyone, adding, "We know that businesses across the state are devastated and continue to endure the impact of the current crisis."
According to Ms. Kappelman, applicants for the stopgap program were triaged for eligibility and economic need, including "an assessment of each applicant's projected revenue loss for the period of March 15 to April 15 as supported by the applicant's financial documentation." Priority was given to businesses projecting revenue losses of 75% or more and those first ordered to close due to the statewide public health emergency – meaning bars and restaurants.
The state endeavored "to meet the needs of as many businesses as possible for immediate relief," she said.
In interviews with the CBJ both on and off the record, however, business owners pointed out cases of establishments with multiple locations receiving several grants. Iowa City's three Cactus Mexican restaurants, for instance, each received $25,000 grants. Brown's Shoe Fit, with locations in Mahaska, Henry, Clinton and Polk counties, received four grants totaling $87,000. And several owners suggested there seemed to be no rhyme or reason as to whether a business was open or closed in determining grant eligibility, or whether a business had fewer than 25 employees, as required by program guidelines.
"I appreciate the state had a herculean task in trying to figure out how to provide help to the service sector," said Jon Sewell, owner of Iowa City's D.P. Dough and chairman of CHOMP Food Delivery Services. "But failing to provide assistance for over 95% of that sector is, in my opinion, a failure of what was a well-intentioned and necessary program."
Mr. Sewell, who said he spent about an hour looking over the IEDA's list of awardees, noticed a large majority were for the maximum amount of $25K, instead of distributing smaller amounts to a larger number of businesses. More than 60 or so were to owners who received multiple grants, he said, with the majority of those receiving $50,000-$75,000.
"I also know of many restaurants who are closed and applied for grants and received nothing while many others who are still open received grants, and nearly all were for the full $25K," he said.
One closed-down Iowa City restaurateur with more than 25 employees told the CBJ he did not even bother applying for the emergency grant, as he believed he was ineligible under program rules. Josh Silver, owner of Iowa City's Nodo, did apply, though his application was not successful.
"It was slightly upsetting, and that's partly because I don't know what went into their decision-making process," Mr. Silver said. "Maybe they thought the business was doing OK doing about 50%, and that maybe we could hold our own for now. … But obviously, some things fell through the cracks when a rival business that does the same exact thing at three locations in downtown Iowa City gets a total of $75,000."
State Rep. Dave Jacoby, who represents House District 4 in Coralville, said he has been fielding numerous calls from irked business owners, and believes IEDA made some mistakes in its well-intentioned push to get money out the door as quickly as possible. Though he hastened to say he was a fan of IEDA Director Debi Durham and the agency's speed in distributing emergency funds, he believes the process would have been better served by establishing an oversight committee of at least five people with deep business knowledge and making their meetings public via Zoom or another virtual platform.
"I like Debi and I think she does a great job, but in the overeagerness to help businesses, I don't think there was enough criteria-setting and the amount of need was underestimated," Mr. Jacoby said. "When Collins [Aerospace] starts [furloughing] people, you know there's trouble."
State Sen. Joe Bolkcom, who represents most of Iowa City in the 43rd District, said he was also hearing complaints and sharing them with IEDA.
"I think Debi Durham efficiently got money out the door and it will be people's judgement about who got the money," he said. "I think IEDA is doing their best … You can argue either way whether an owner with three businesses should be getting three loans, but if you don't get any money for your business and someone else gets three for theirs, I understand having questions."
Ms. Kappelman did not rule out future rounds of the emergency program, which issued 98 grants to Linn County, 95 to Johnson County, 10 to Benton and Jones counties, nine to Washington County, seven to Cedar County, and four to Iowa County over four rounds of awards.
"If additional funding becomes available via the federal government, which we are hopeful will be announced very soon, additional awards will be made from the current pool of applicants," she said.
For Mr. Sewell and other bar and restaurant owners, help can't come fast enough.
"It's been nearly four weeks since mitigation measures were put in place, and so far neither the state or federal government have managed to put more than a small fraction of the money into those businesses to keep them alive," he said. "Something needs to happen soon, or the economic damage done to the service sector will be massive and irreversible." CBJ
UPDATE: This story was updated on April 16, 2020 to clarify a quote from State Rep. Dave Jacoby.