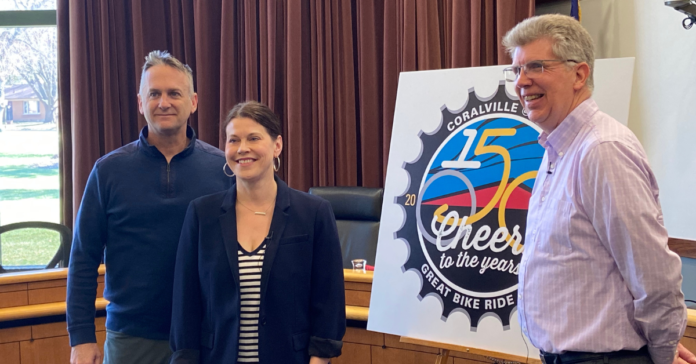 The Coralville RAGBRAI Committee is currently seeking vendors for the July 28 overnight event to help serve over 30,000 riders and support personnel that will visit the city.
Applications for food and non-food vendors are open. Food trucks, food stands, artists, and non-profit organizations are encouraged to apply.
Information can be found at www.coralvilleragbrai.com.
The deadline to apply is May 22 for food vendors and June 9 for non-food vendors, or until all booth spots are filled.
For the first time since 2015, and the sixth time in its history, Coralville is hosting an overnight stop for RAGBRAI.
Riders will come from Tama-Toledo on Friday, July 28 before the final trek in Davenport July 29. S.T. Morrison Park will act as the camping and entertainment hub for the overnight stop, featuring a concert headlined by Bush.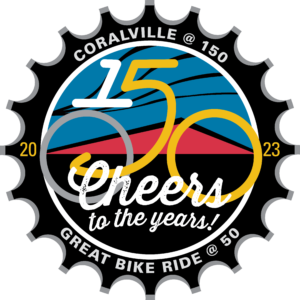 "Cheers to the years" was announced April 7 as the official motto for the overnight stop.
The race is timely for Coralville, coinciding with the 150th anniversary of the city and RAGBRAI's 50th anniversary. The event's logo combines the 150 and 50 from the anniversaries into a bicycle.
"There's incredible enthusiasm around saying you were able to ride RAGBRAI in the 50th year," Josuha Schamberger, president of Think Iowa City, told the CBJ. "Quite honestly, if Coralville could host every year they would probably take it.  We're excited for it to come back to Johnson County for what will be a ninth time."
Big Grove Brewery, based in Solon, is jumping on the RAGBRAI bandwagon as well.
Big Grove, the official brewery of RAGBRAI and the maker of Iowa's top-selling hazy IPA Easy Eddy, is commemorating the 50th anniversary of the ride by releasing specialty packs and golden cans of Easy Eddy throughout the state.
According to a news release, the gold cans can be exchanged for a golden jersey.