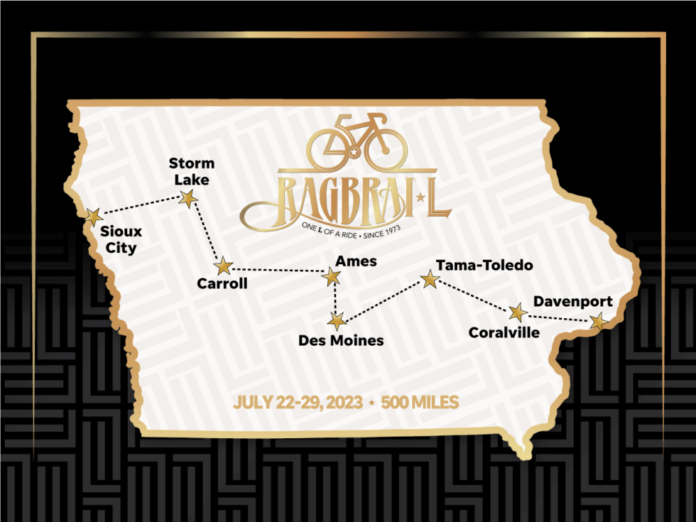 For the first time since 2015, and the sixth time in its history, the city of Coralville will host an overnight stop for RAGBRAI.
Riders will come from Tama-Toledo on Friday, July 29 before the final trek in Davenport.
RAGBRAI's registration numbers have already surpassed last year's registration numbers, Josuha Schamberger, president of Think Iowa City, told the CBJ.
"There's incredible enthusiasm around saying you were able to ride RAGBRAI in the 50th year," he said. "Quite honestly, if Coralville could host every year they would probably take it.  We're excited for it to come back to Johnson County for what will be a ninth time."
While RAGBRAI is celebrating its 50th anniversary in 2023 and is loosely replicating the original route from 1973, Coralville is also celebrating its sequicentennial of 150 years.
"The synergy of this being the 50th anniversary of RAGBRAI and the 150th anniversary of Coralville is a perfect fit," said Coralville Mayor Meghann Foster in a press release. "We'll be ready to welcome riders to the 'hub of hospitality' in Coralville."
Committees consisting of 40-50 people are currently being formed to coordinate housing, camping, entertainment, public safety and communications.
"We've got a lot of plans and excitement for how things will come together and what that day and night will look like when riders around the world start to roll in to Johnson County," Mr. Schamberger said, although he was not ready those plans yet.
Exact route details will be announced at a later date. S.T. Morrison Park will act as the camping and entertainment hub.