To fill the void left by the sudden resignation of Coralville City Council member Jill Dodds in April, the council moved to name Keith Jones as immediate successor until November 2023.
A former banker for Hills Bank and Trust Company, Mr. Jones has worked and volunteered for nearly half a century in Coralville. He served on the Coralville Public Library Board of Trustees for more than 30 years, is the current president of the Coralville Community Fund and the Coralville Community Food Pantry, 
Coralville City Council began the June 14 meeting swearing in Mr. Jones to the position.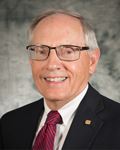 Council members concluded Mr. Jones was the best option out of seven interviews from a June 9 special meeting due to his volunteer experience in the community and assurances he would not run for reelection since he was not elected by the public at the ballot box.
He said his priorities during his tenure would be to find ways to bring marginalized communities together, aggressively repay debt and expand efforts to rehabilitate homes.
"If you take a look at his application, you'll see his breadth of service," said Coralville mayor Meghann Foster during the June 9 meeting.
Law enforcement arrested Ms. Dodd's husband, Jeffrey Dodds, for alleged sexual abuse of a child between June 1 and Nov. 19 of last year, as reported by KCRG on April 19.