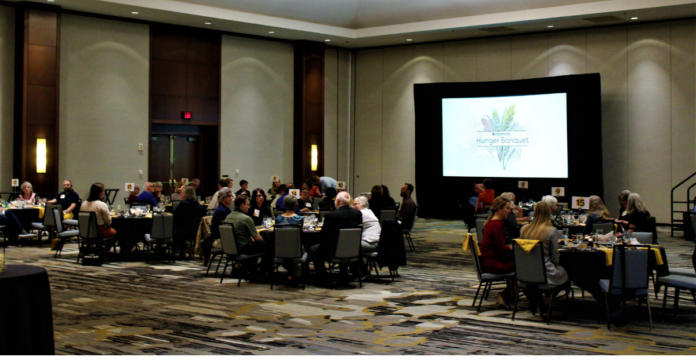 CommUnity's sixth annual Hunger Banquet fundraiser attempted to shed light on food insecurity in Johnson County – a term used to described insufficient access to quality nutritious food.
Attendees, mostly comprised of community partners and volunteers, were randomly selected to receive different meals depending on a hypothetical household income for a family of three. If their envelope said they make $44,000 to $87,000, they were given a burger and fries dinner or a chicken dinner at the higher end of the spectrum. Families of three who earn $35,000 to $43,000 were given a ramen dinner.
But to represent the families in Johnson County struggling the most — earning up to $34,000 — some attendees did not receive a meal at all. These families are typically eligible for Supplemental Nutrition Assistance Program (SNAP) benefits but funds often run out before the end of the month.
According to CommUnity Development Director Julia Winter, food insecurity is projected to increase when new data from Feeding America, a nationwide network of food banks, is released in a couple months.
That problem is exacerbated, she said, by the state of Iowa's elimination of additional SNAP benefits April 1. The benefits return to pre-pandemic levels and lowers monthly household benefits.
"We want from $16 a month for the very minimum benefit up to $200 per month," she said. "Now we're down to $20 and with 8.5% inflation, that really doesn't go very far."
The CommUnity food bank hopes the fundraiser educates people on the struggles some families face, as well as call attention to the role the food bank provides in helping Iowa City households.
The food bank experienced 3,409 visits in March, an increase of 634 visits compared to February, according to CEO Sarah Nelson in her speech to attendees.
"I'm sure all of us in this room, regardless of income level, have felt the pain of how high food costs are, so you can only imagine if you're already insecure in that area," Ms. Nelson said.