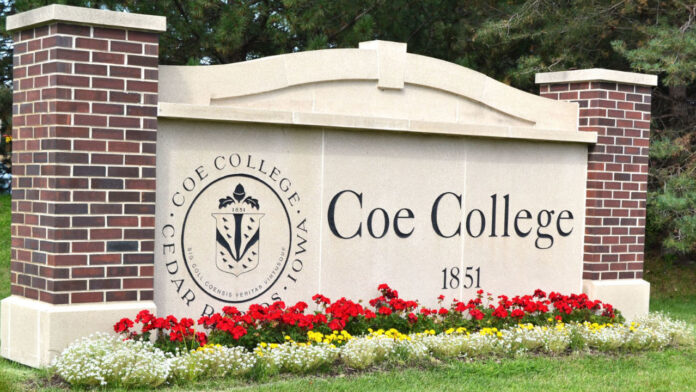 As part of its commitment to helping students stay in Iowa and providing a seamless transition for students affected by the closure of Iowa Wesleyan University, Coe College is providing an additional scholarship and a fully funded way to visit campus.
Coe sent a bus to Mount Pleasant Friday to facilitate campus tours and information sessions for students who are in need of a new college home.
Additionally, Coe has announced a $2,500 per year dedicated scholarship for IWU transfer students on top of the up to $34,000 per year scholarships already available.
"We feel deeply for the students, faculty and staff in the Iowa Wesleyan community," said Julie Staker '93, Coe's vice president for enrollment, marketing and institutional effectiveness, in a release. "We will gladly help students who wish to transfer by providing financial assistance. Beyond that, we are mindful of their time as they begin an unexpected college search — we want to create an opportunity to visit our campus without the worry of planning transportation or scheduling an agenda."
The Iowa Capital Dispatch reported last month that after 181 years of operation, Iowa Wesleyan University plans to close at the end of this academic year.
"The challenging transition the Iowa Wesleyan community is experiencing is our focus," Ms. Staker added. "If we can help ease their burden in any way, we will do so."
Keeping students in Iowa is important to Coe's mission, and the college continues to show strong post-graduate retention in the area. Of the reporting members of the Class of 2022, 156 remained in Iowa after graduation — 30 more Iowans than the class enrolled in 2018. Of the 156 graduates who remained in Iowa, 113 chose to stay in the Creative Corridor, which is an increase of 55 Corridor residents compared to enrollment.
Coe officials say they maintain strong connections with businesses, organizations and the 4,000-plus alumni in the area.
"The combination of urban location and small campus creates chances to apply what you're learning immediately in a professional setting," Ms. Staker said. "It's a deeper way of learning."
Cornell College announced it also plans to provide financial support to Iowa Wesleyan students.
For students who had planned to enroll at Iowa Wesleyan for fall 2023, Cornell will honor their current financial aid awards from Iowa Wesleyan, and Iowa residents will automatically qualify for the $31,000 under Cornell's Iowa Promise Scholarship.
For current Iowa Wesleyan students who need to complete their bachelor's degrees, Cornell will honor their current financial aid package, and students may also qualify for an additional $1,000 transfer scholarship.