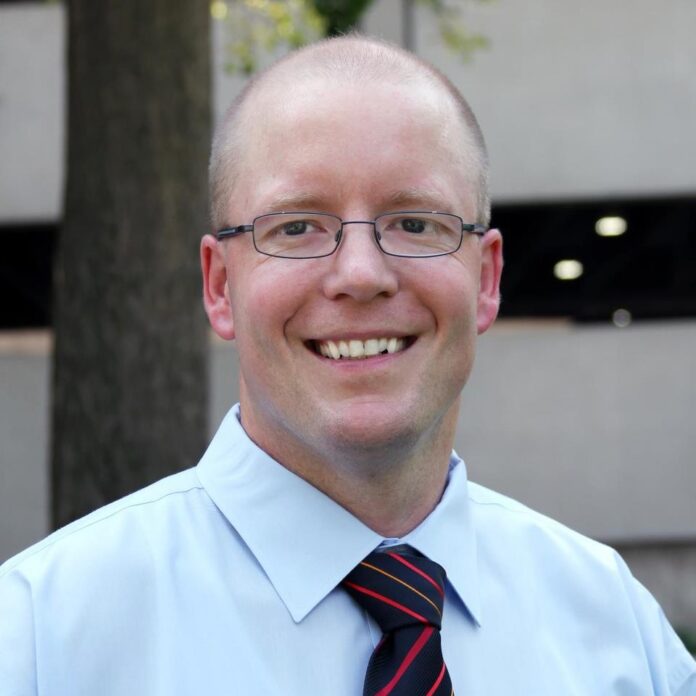 Vice President of Communications and Innovation
United Way of East Central Iowa
Age: 34
For Christoph Trappe, the many facets of his career all come down to one thing: telling stories.
The former newspaper reporter became vice president of communications and innovation at the United Way of East Central Iowa in September 2011.
"We are technically marketers," he said of his current role. "But, how do you tell stories to get people engaged, in a very non-threatening way."
Mr. Trappe's passion for storytelling began when he was living and playing football in Germany. One of the other men was a master storyteller—at least, in the locker room—and Mr. Trappe learned it was because he was a journalist. Mr. Trappe enrolled at UI to earn a degree in journalism and play football, imagining a career as a sportswriter.
He ended up on the police beat at the Gazette, where he saw firsthand some of the issues that he now helps to combat at the United Way, including poverty, food insecurity, and volatile living situations.
"I couldn't even believe how people lived," he said. Mr. Trappe said when visiting those
in poverty, the police would ask when the person's life became that way, but the answer was that it always had been.
"If you live in that environment, how can you function to your best ability?" he said.
After seven years covering crime and police activity, Mr. Trappe moved to a video production job in the financial sector, before creating his own news site,  easterniowanews.com, and returning to SourceMedia Group as supervisor of digital/community news and a project manager for digital/new products.
The United Way of East Central Iowa focuses on health, education and financial stability issues in six counties. Last year, more than $10 million was donated, and the organization hopes to repeat that amount in 2012.
However, Mr. Trappe said it was important that people in the community hear from the United Way year round, not just during fundraising season.
"We know that the more we can connect with people because it's interesting, the more they're going to engage with us," he said.
That might mean hearing firsthand from someone who has benefited from United Way programs, or getting local CEO's to don uniforms and head out to the ball field. For a video promoting the annual board of directors meeting, Mr. Trappe brought a creative spin with a baseball theme. He said the result was a capacity crowd of about 100 community members attending the board meeting.
"Whenever we can create something that's kind of different, but gets the point across, that's kind of exciting," he said.
He said since he joined the organization, the United Way has done more research on community issues and how to solve them. For example, new tactics at the Downtown Farmers Market, such as handing out flyers and connecting with the vendors, helped them gather more fresh food donations in a single day than they did the entire previous summer.
Mr. Trappe said the United Way doesn't have the staff to run these programs, but they can try new things and share what works with their partners.
"We won't run the program, but we'll try to figure out what's the best way to do it," he said.
Becoming involved with the United Way, and community at large, can be done by volunteering and advocating, not just donating monetarily. Participating in nonprofit boards and networking opportunities has helped him meet people he would never have encountered in his daily routine, he said.
Mr. Trappe has volunteered with Cedar Rapids RAGBRAI, Downtown Cedar Rapids Farmers' Market, ImpactCR, Cedar Rapids Metro Economic Alliance, Salvation Army, Horizons Meals on Wheels, United Way of Iowa Advisory Board, Big Brothers Big Sisters  and Metro North Rotary. He was also honored as a 2011 Freedom Festival Hero.
The personal reward he gets from volunteering makes it seem effortless," he said.
"I like helping people, and that's great, but I really love spending that time with my daughter," Mr. Trappe said, noting the few hours they spend delivering Meals on Wheels together are his favorites of the week.
-Sarah Binder