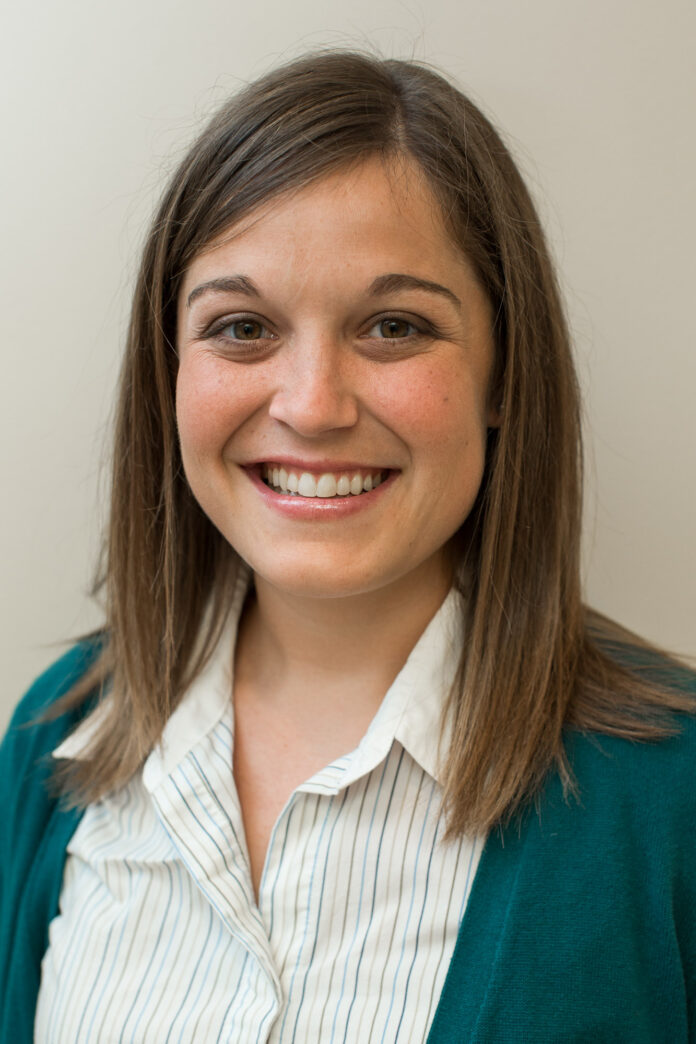 Director of Civic Engagement
Cornell College
Age: 28
She makes the Corridor a better place.
Kara Trebil has achieved numerous accomplishments as the director of civic engagement for Cornell College.
"Kara is exactly the type of leader that is needed in the Corridor," Clint Twedt-Ball, co-executive director of the Matthew 25 Ministry Hub, stated in his nomination of Ms. Trebil.  "She works each day to make the Corridor a better place to live and work."
Since starting at Cornell College, she has significantly grown the Civic Engagement Office's operation and scope, Collin Paschall, of AmeriCorps VISTA, stated. The office now sponsors an alternative spring break trip, where students engage in community service for a week. It started with one trip in 2008 with 12 students and now involves seven trips with about 100 students.
"When students come to college, they're open minded, they're looking for new experiences, they're craving an opportunity to see something new or be challenged," Ms. Trebil said. "So providing opportunities for them to be engaged in the community service does that. It gets them outside of their comfort zone and makes them look at the world differently."
Thanks to Ms. Trebil's help, Cornell's partnership with AmeriCorps has grown from zero positions on campus to seven. She coordinates the students who coordinate the campus' Relay for Life events; Cornell's Relay for Life was ranked No. 3 in the nation this year for fundraising per capita by the American Cancer Society. During the 2011-2012 academic year, Cornell students logged 11,424 hours of volunteer service, thanks to Ms. Trebil's leadership.
Cornell also partners with the local elementary school for a lunch buddies program. This year, 80-90 college students will be paired with 80-90 third graders for one-on-one  mentoring. That's about twice as many people participating compared to the previous year.
"In four short years, Kara has taken the (Civic Engagement Office) from a loosely-defined concept to one of the most active, successful and engaging programs on the hilltop," R.J. Holmes, Cornell's director of its Career Engagement Center, stated. "Kara Trebil has made civic engagement truly come to life at Cornell College."
She attributes her success to the connections she has made throughout the nonprofit community.
"It's all about the relationships that you build and I feel like I've really had the opportunity to build some strong connections with community partners," she said. "I'm proud of the environment we've created within the Civic Engagement Office. I think we've really helped students find their place here and feel at home in this office, and feel like they have a home in this community, but also find a way to use their passions and their talents to do something meaningful during their time in college."
She is involved in several campus committees, is a member of the Waypoint's MORE (Men Organizing for Relationship Equality) Advisory Committee, Iowa Campus Compact Program Advisory Council and Greater Cedar Rapids Community Foundation Grant Review Committee. She is a former member of the Cedar Rapids Martin Luther King Jr. Days of Service Committee, volunteered for the Local Foods Connection and was a Block by Block flood relief volunteer.
She received her bachelor's degree in communication arts and public relations from Wartburg College and master of education degree in postsecondary education and student affairs from the University of Northern Iowa.
Ms. Trebil grew up in Manly and lives in Mount Vernon.
-Gigi Wood