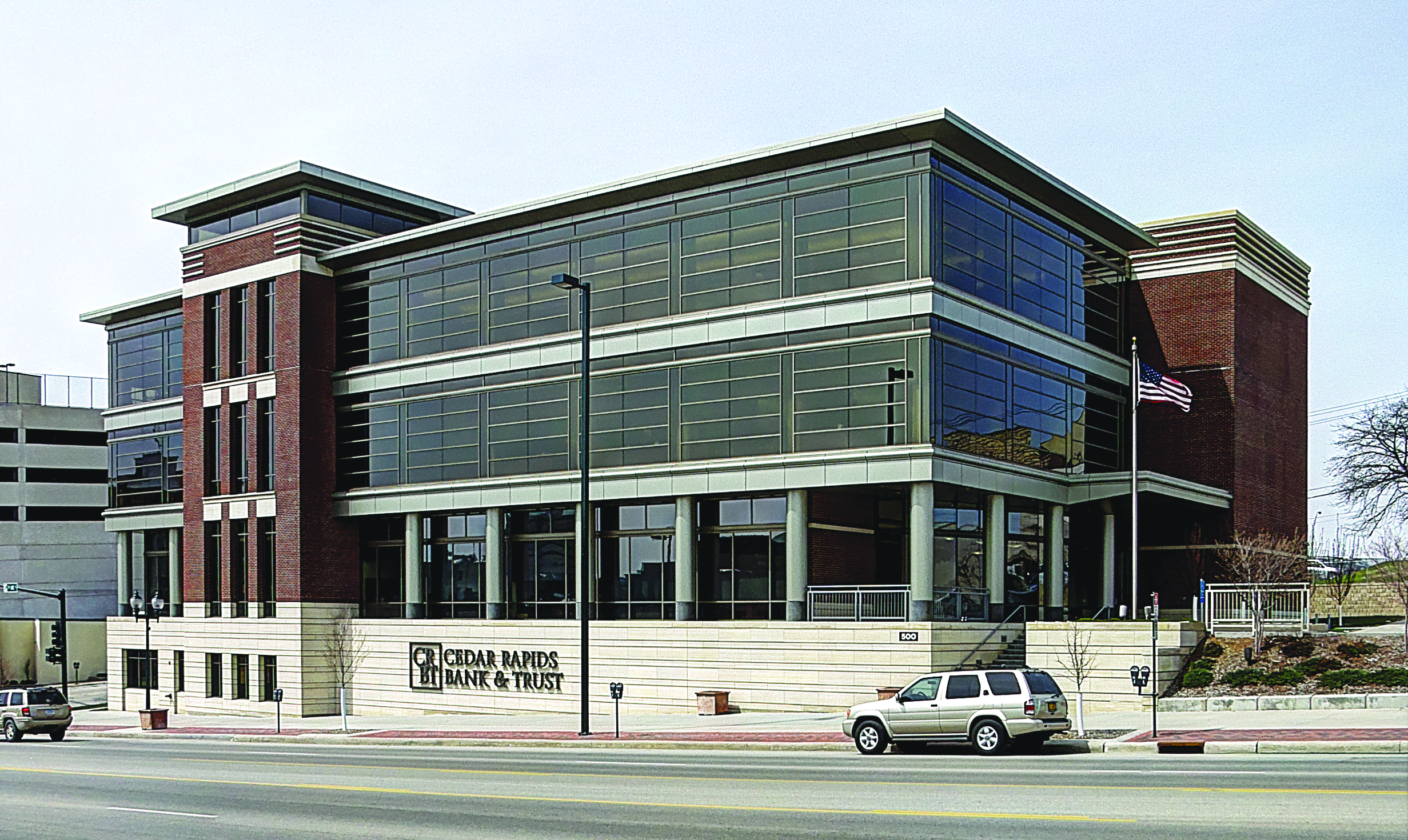 Cedar Rapids Bank & Trust's headquarters at 500 First Ave. NE in Cedar Rapids shown in an undated photo. PHOTO POINT BUILDERS
By Adam Moore
adam@corridorbusiness.com
Guaranty Bank & Trust, one of the Corridor's oldest banking brands, is joining one of its newest as part of a $44.2 million deal announced June 9.
QCR Holdings, the Moline-based parent company of Cedar Rapids Bank & Trust (CRBT), has agreed to purchase all of Guaranty Bankshares' stock and assets, and will merge Guaranty Bank into CRBT's operations once the transaction closes later this year.
No decisions have yet been made on the banks' offices or staffing, leaders said. Guaranty has five offices, including its headquarters at Third Street and Third Avenue; CRBT counts two offices in Cedar Rapids. Its headquarters is located at 500 First Ave. NE, three blocks away from Guaranty's main office.
The sale brings an end to the 83-year-old Guaranty brand, but leaders framed the deal as an opportunity to build scale and expand their footprint with a like-minded partner.
"Cedar Rapids Bank & Trust has a local board, their leadership is very local. They make the decisions here as far as what loans to make and what community activities to be involved in," said Chris Lindell, president and CEO of Guaranty Bank. "Being a local, community bank and being involved – we want that to continue on."
Larry Helling, president and CEO of CRBT, recalled that he met the bank's then-owner, Harold Becker, and his son, Robert, around 25 years ago in Omaha at a bar mitzvah for Harold's grandson. The leaders maintained that relationship over the years, opening the door to talks after Harold's death last May and Robert's move to chairman of the board.
"That's the way a lot of business deals come together – you build a relationship," Mr. Helling said. "I knew [the Becker family] on a different level, and because of that, it was a natural fit for us."
The acquisition will make CRBT the largest community bank chartered in Linn County, with the banks reporting combined assets of almost $1.2 billion as of March 31. It will also make CRBT the second-largest in deposit share in the county, behind U.S. Bank, with the banks reporting $946 million in deposits that same month.
That increased size will help CRBT compete in an industry where "scale matters," Mr. Helling said, allowing it to offer more services and cope with the nation's current period of "long, low, protracted" interest rates. It will also give the bank more resources to deal with the complex regulatory environment and develop more technologies for customers, who are demanding them from banks of all sizes.
"As a community bank, at our size, it's really hard. Today, we're fine, but in 10 years from now?" Mr. Lindell said. "This gets it to the right scale, where it needs to be."
CRBT's acquisition will also allow it to better serve "the entire marketplace" through an expanded branch network, Mr. Helling said. The deal will double the size of CRST's retail business, while also bringing a book of "meaningful commercial business" to CRBT's folio.
The acquisition is the latest for QCR Holdings, which owns Quad Cities Bank & Trust, and last May purchased Community State Bank, based in Ankeny. That bank was bought from Van Dienst Investment Co. for $80 million.
Guaranty Bank & Trust was organized and founded in 1934 by local businessman Van Vechten Shaffer. Robert Becker's grandfather, Orrie Becker, was a founding shareholder, and Harold Becker purchased control of the bank from Mr. Shaffer in 1969.