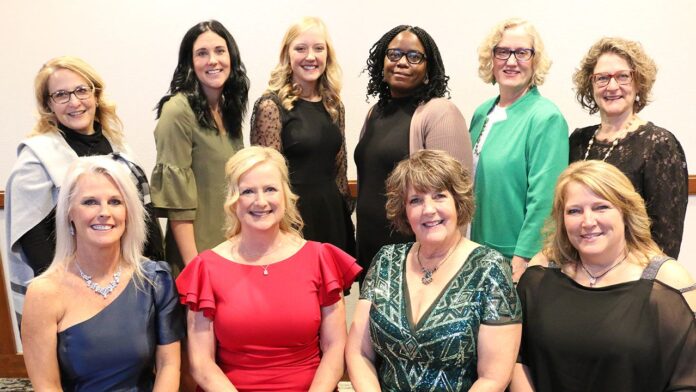 The 17th annual Corridor Business Journal's Women of Influence are a group of inspiring women.  Each of them expressed surprise when told she was nominated and chosen for this exclusive honor.
From overcoming challenges to charting new ground, these women all had unique experiences to share with our writers and again at a banquet in their honor. 
The CBJ hosted the 2021 Women of Influence banquet on Nov. 3, at the Hyatt Regency Coralville, with 175 people attending. The CBJ has recognized more than 160 inspirational women since the inaugural event in 2005.
This year's class — selected by last year's honorees — is being celebrated at a pivotal time for women in the workplace. The ongoing COVID-19 pandemic disproportionately impacted women over the past 22 months, according to Cedar Rapids-based Women Lead Change.  However, each of these women was able to meet all challenges head-on.
A common denominator for the 2021 Women of Influence class is the opportunity to give back.  "I want to be in a community that's thriving. I want to be in a community that's healthy, that has amazing schools and amazing businesses. To be in that community, I have to do my part," said Women of Influence honoree Heather Meador, clinical branch supervisor with Linn County Public Health.
Many spoke of volunteering and serving on numerous boards. "I think it's important to continue to try and work to leave a place just a little better than when I came there," said honoree Ruthina Malone, who serves on the Iowa City School District board of directors and is an administrator at the University of Iowa College of Liberal Arts & Sciences.
"If we all pitch in, we're gonna make a difference, and I really feel like everyone has an opportunity," said honoree Jody Donaldson, director of advancement at Kirkwood Community College.
The group also offered some encouraging words for upcoming leaders. "If I can share just one piece of advice to any future influencing woman, it is don't be afraid to speak up," said Tatum Buse, CFO at Collins Aerospace and 2021 Woman of Influence honoree.
In addition to recognizing the 10 Women of Influence, the CBJ also recognized one Emerging Woman of Influence. This award identifies one up-and-coming female leader who has not only achieved career success and recognition within her peer group but is poised to take on a larger community-wide role.  Ellie Moore with the Community Foundation of Johnson County is this year's Emerging Woman of Influence.  Ms. Moore spoke of having a great support system at home, in the office and in the community.  From parents, spouses and mentors, this was a sentiment echoed by all the honorees.
Each of these Women of Influence has unique journeys and passions. Please enjoy getting to know these remarkable women better in the coming pages.
The Women of Influence awards were presented by Mount Mercy University. In addition, ACT, Delta Dental of Iowa, Dwell Home Furnishings & Interior Design and Collins Aerospace all sponsored the 2021 CBJ Women of Influence awards banquet.  
This year's honorees are:
Michelle Beisker
Tatum Buse
Jody Donaldson
Tonya Hotchkin
Elizabeth Jacobi
Ruthina Malone
Ellie Moore
Heather Meador
Andrea Rhoades
Dawn Schott
Barbara Thomas