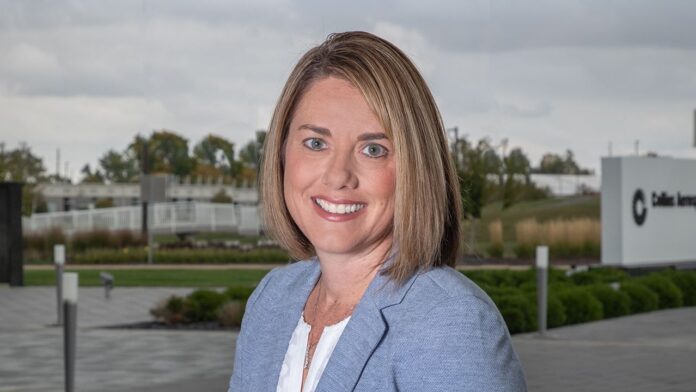 Tatum Buse
Vice President and Chief Financial Officer
Collins Aerospace
When Tatum Buse first became a mother five years into her 25-year career at Collins Aerospace, it was an eye-opening experience. 
"When I first started out in my career, no one had really ever talked to me about how the dynamic of becoming a mom and starting a family would influence your career and the decisions you make along the way," she said. "You're just sort of asked, 'what do you want to be when you grow up,' and then you go be it. I just maybe naively never really thought about the choices or sacrifices that would come along with trying to do both." 
By the time her second child was born three years later, she had been promoted to a mid-level leadership role at what was then Rockwell Collins and started hearing comments from mentors — most of whom were men — about how it wouldn't be too much longer before she would have to make some tough choices. 
"I was told, 'if you are going to continue working and your husband is going to continue working, you probably won't be able to have big jobs. You will be able to have a job but not one that has a lot of responsibility. Or you're going to have to ask your husband to give up his career,'" she recalled.
"I heard this over and over — you just won't be able to do it. Quite honestly, that just wasn't acceptable to me," she said. "I knew myself, and I knew if my husband stayed home, that I would be resentful of that. I would feel guilty and worry that it would damage our relationship."
To address women's issues in the workplace, Ms. Buse and several other co-workers formed the Rockwell Collins Women's Forum, which resulted in changes such as flex time and lactation rooms. 
"I decided I need to surround myself with people who were like me or had similar situations so we could start to advocate for ourselves and change the narrative a little bit," she said. "When you form a group like this, we all of a sudden had a bigger voice than what we would have had individually. It didn't take long for this group to catch fire, and before long, we were the biggest employee resource group in the company." 
A couple of years later, Iowa Women Lead Change (IWLC) was a budding organization of volunteers and companies that took turns sponsoring the IWLC conference. When Rockwell Collins was a sponsor, Ms. Buse was on the committee that decided to fund then-Rockwell employee Diane Ramsey's salary to devote her time to make IWLC a non-profit organization. Still going strong as Women Lead Change, the organization hosts several annual conferences across the state and provides programs and resources for working women. 
As Ms. Buse's three children grew up, she and her husband, Jon, developed a work-life integration strategy to raise their children while having successful careers.  
"I hate the term work-life balance," she said. "When you're a finance person, balance indicates some kind of magic formula that if you put all of the ingredients in, somehow you will magically have this balance in your life. That's just not been my experience."
She and Jon, vice president of student services at Kirkwood Community College, set priorities and boundaries for their family and careers. 
"For me, one of the keys is you have to marry well — you have to choose a partner who is in it with you," she said. "We are Team Buse. What's important on a team is that tasks get done."
Like many, when their children were younger, they would trade off days to take care of sick little ones. But they have since learned that it's not always feasible to share duties equally. 
"In a work-life integration, rather than a balance, it doesn't mean it's always even," she said. "It means that over the course of our life, we are navigating what needs to happen to take care of our responsibilities each and every day, but it doesn't mean that it's always 50/50."
Time management doesn't always have to be equal between work and family, either. 
"When my kids were little, I wish I had a little more courage to express what I needed to be successful," she said. "I remember times I didn't feel like I could leave a meeting because I was afraid that it would look bad or that I wasn't committed, and as a result, my child was the very last person at day care. It was not a good situation to put a child in, but also not good for me because the whole time I was sitting there, I wasn't very engaged in the meeting."
Over the past 25 years, women have made great strides in the workplace, but more needs to be done, she said. 
While the COVID-19 pandemic has proven that women can have flexible working arrangements, it also has brought to light the progress that still needs to be made in evening out duties away from the office. 
"Women are still primarily the people in the household that get things done. Taking care of kids at home and aging parents still primarily falls on women," Ms. Buse said. "Women get to the point of, 'I can't do both.' All of us need to take responsibility."