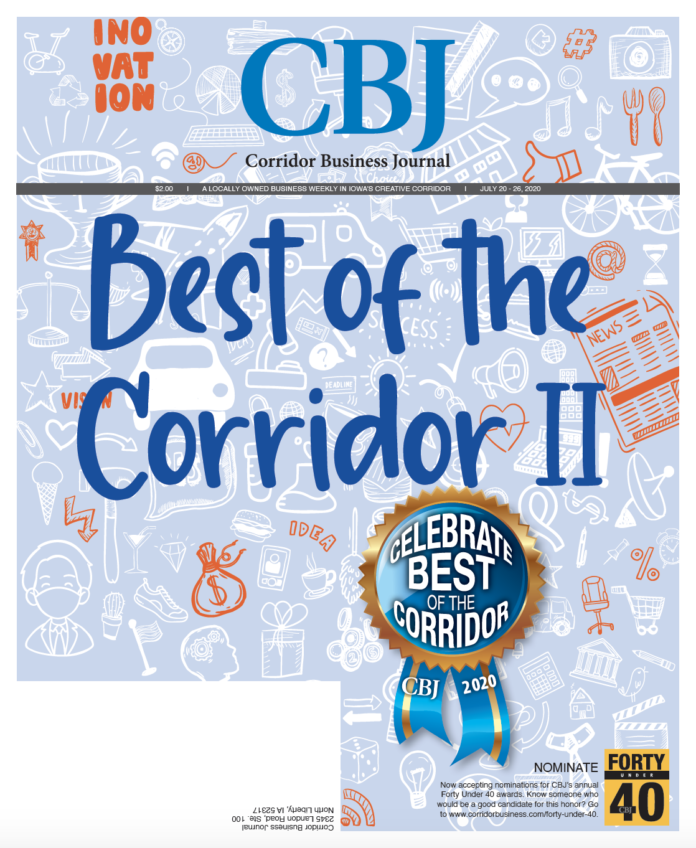 With the COVID-19 pandemic shuttering businesses through much of the spring, we here at the CBJ wondered what would become of our annual Best of the Corridor competition as we approached the start of balloting in May. Would CBJ readers feel too disconnected to vote? Would the whole process feel inconsequential or even inappropriate, considering the massive economic and social upheaval taking place?
A few weeks and some 4,500 votes later, the message from our readers seemed clear: It's the perfect time to celebrate the companies and organizations leading our region and offering some hope during this crazy, uncertain summer.
We're now proud to unveil our 15th annual list of the best the Corridor has to offer. The list has grown to 50 categories, ranging from the best professional firms to the best specialty retailers, split into two special editions you won't want to miss. This year's list includes the usual mix of established names and newcomers, with seven different companies racking up multiple awards this year.
This year also reprises our Best of the Corridor Hall of Fame. That special honor was created in 2016 to recognize companies appearing on the list 10 times or more for their exceptional capabilities and dedication to customer service. Hall of Fame honorees receive a special gold ribbon and yearly recognition, which you can see on in our Best of the Corridor I edition.
Thanks to everyone who cast their vote in this year's Best of the Corridor survey. We hope you take time to celebrate and support all of the businesses on this year's list – they are counting on you.
– Adam Moore
Hall of Fame Members
Best Accounting Firm: RSM US LLP
Best Architectural Firm: OPN Architects
Best Bank: Hills Bank 
Best Commercial Cleaning/Janitorial Co.: Midwest Janitorial Services
Best Engineering Firm: Shive-Hattery
Best Golf Course: Brown Deer Golf Club
Best Office Furniture Dealer: Tallgrass Business Resources
Best Sign Company: Nesper Sign
Best Trucking Company: CRST International
Best Website/App Developer: Informatics
Part I – available FREE as part of the CBJ's digital edition
Best Accounting Firm: BerganKDV
Best Auto Dealer: McGrath Automotive
Best Auto Fleet Dealer: McGrath Automotive
Best Auto Service Dealer: Junge Automotive
Best Brewery: Big Grove
Best Business Insurance: TrueNorth Companies
Best Business Leader: Jeff Disterhoft, GreenState Credit Union
Best Commercial Cleaning/Janitorial Co.: Clean Sweep of Iowa City
Best Commercial RE Lender: GreenState Credit Union
Best Credit Union: GreenState Credit Union
Best Developer: Ahmann Companies
Best Engineering Firm: Axiom Consultants
Best Golf Course: Pleasant Valley
Best Hospital: UnityPoint Health – St. Luke's
Best Landscaping/Nursery: Culver's Landscape and Nursery
Best Law Firm: Shuttleworth & Ingersoll
Best MBA Program: UI Tippie College of Business
Best Office Furnishings & Design: Phelan's Interiors
Best Place to Buy Wine/Spirits: Hy-Vee Wine & Spirits
Best Residential Interior Design: Phelan's Interiors
Best Residential RE Lender: GreenState Credit Union
Best Senior Living Community: Meth-Wick Community
Best Sign Company: CR Signs
Best Trucking Company: Heartland Express
Best Wealth Management: United Iowa Financial
Part II – available FREE as part of the CBJ's digital edition
Best Architectural Firm: Neumann Monson Architects
Bank Bank: Cedar Rapids Bank & Trust
Best Banquet/Event Facility: The Hotel at Kirkwood Center
Best Business Consulting: RSM US LLP
Best Commercial Realty Company: Skogman Commercial
Best Cultural Attraction: Brucemore
Best Cybersecurity Company: RSM US LLP
Best Fine Arts Venue: Hancher Auditorium
Best Home Builder: Skogman Homes
Best Home Health Care Agency: UnityPoint Health at Home
Best IT Support Company: Mediacom
Best Jewelry Store: Siebke Hoyt
Best Local Internet Service Provider: Mediacom
Best New Restaurant: Bari Italian
Best Office Equipment & Supplies: Staples
Best Optometrist/Eye Clinic: Iowa Eye Center
Best Photographer/Videographer: Jonathan David Sabin Infinity Photographic
Best PR/Marketing/Creative Agency: deNovo Marketing
Best Printer: Cedar Graphics
Best Residential Realty Company: Skogman Realty
Best Shop for Corporate Gifts: Marketing Innovations
Best Specialty Marketing Products: Marketing Innovations
Best Staffing/Temp Agency: Aerotek
Best Walk/Run Event: Especially for You Race Against Breast Cancer
Best Website/App Developer: Vortex Business Solution