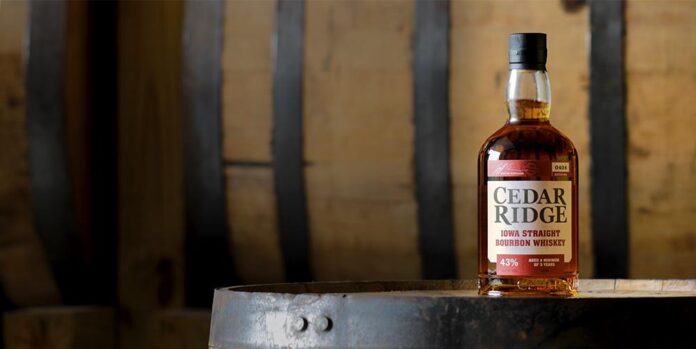 Cedar Ridge Iowa Straight Bourbon is the state's top-selling 750 ml. bourbon, according to the Iowa Alcoholic Beverages Division.
The division, which released its 12-month sales revenue by category Nov. 3, put the Swisher winery and distillery in the number one spot, ahead of mass-produced competitors Maker's Mark and Jim Beam, making it the first craft distiller in the country to produce the top-selling bourbon in any state.
"When we started Cedar Ridge, we had no idea we would ever become number one in the state in the huge category of bourbon," CEO and founder Jeff Quint said in a release. "That said, we're proud and elated to get there. It's important to us that we be relevant and successful on our home field, first and foremost. Iowans should be exporting bourbon, not importing it!"
Head Distiller Murphy Quint added, "Iowans have been in our corner ever since we first opened our doors back in 2005. Without their support, we wouldn't even be in business, let alone the number one-selling bourbon in the state."
Cedar Ridge makes its product with Iowa corn grown on the family farm.
"Iowa produces more corn than any state in the country, and most distilled spirits are made from corn," Jeff Quint said. "Yet, before Cedar Ridge, we Iowans were importing 100% of the $350 million in distilled spirits we consume each year. We were selling $4 worth of corn to other states and then buying back $40 worth of spirits made from our own corn."
Cedar Ridge has racked up accolades for its bourbon in recent years, including winning the 2018 "Best of Category" straight bourbon award from the Los Angeles International Spirits Competition.
Murphy Quint said he hopes Cedar Ridge's success will inspire others and put Iowa on the map as one of the great whiskey-producing states.
"That's a personal goal of mine," he said. "If you ask most whiskey consumers where their whiskey comes from, most of them will say Kentucky, Tennessee or Scotland. I'd be honored if people started to list Iowa in that conversation."