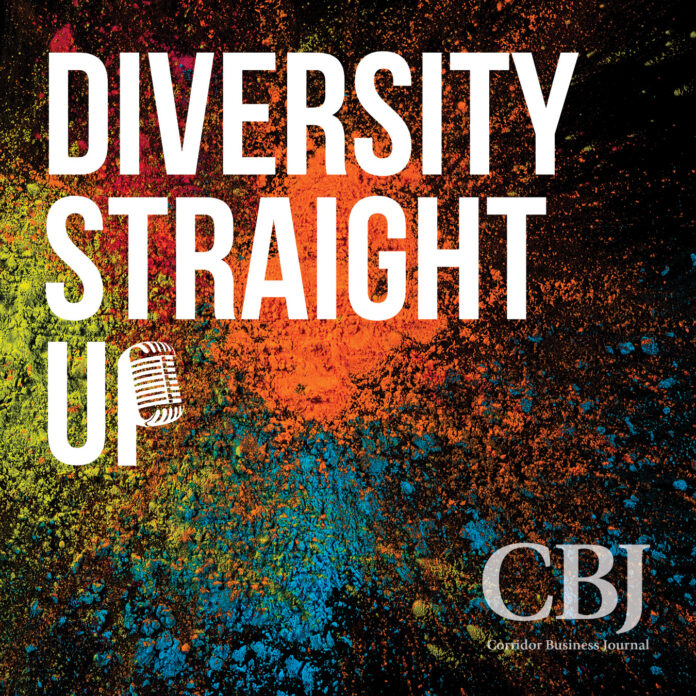 In the Season 2 debut of the CBJ podcast, "Diversity Straight Up," hosts Sarika Bhakta and Anthony Arrington talk with Michele Sullivan, former Caterpillar executive, TED presenter and now author, about growing up different, starting tough conversations, and her new book, "Looking Up."
"I look up to most people physically, but also figuratively," Ms. Sullivan says. "I look up to everyone – it taught me the best relational pasture is that we all have value."
Listen below or subscribe to the show at SoundCloud, iTunes, Spotify, Google Podcasts and Stitcher, or catch the new video podcast at the CBJ's YouTube channel. Season 2 of Diversity Straight Up is brought to you by GreenState Credit Union and sponsored by Alliant Energy. Additional support is provided by the city of Cedar Rapids.
About Michele Sullivan:
Michele L. Sullivan, the HarperCollins Leadership published author of her debut book, "Looking Up," is an author, motivational speaker and strategic business advisor. Born with a rare type of dwarfism, she worked her way up to hold global leadership positions at Caterpillar Inc., a Fortune 100 company, over her 30 year career. Retiring as Caterpillar's director of corporate social innovation and president of the Caterpillar Foundation, the company's philanthropic arm, at the end of 2018, Michele set out to share her stories and experiences with the world. Her experience includes giving a TED talk at TEDWomen 2016, and being named one of the 50 most powerful women in philanthropy. She has served as a U.S. delegate to the United Nations Commission on the Status of Women, and is a member of the ONE board of directors. www.michelelsullivan.com
About the hosts:
Sarika Bhakta is president of Nikeya Diversity Consulting and a Certified Diversity Executive with more than 20 years of experience in leadership, management, talent attraction/retention and resource acquisition/development. Born in Gujarat, India and raised in the Midwest, Sarika empowers leaders to identify their authentic self to be successful change agents in today's global economy.
Anthony Arrington is co-founder and managing partner with Top RANK Professional & Executive Search and Consulting, a search firm focused on helping companies acquire professional and executive-level talent, with a special emphasis on diverse and inclusive leadership. He has more than 20 years of experience in management, strategic planning, leadership and staff development in both the for-profit and nonprofit sectors.