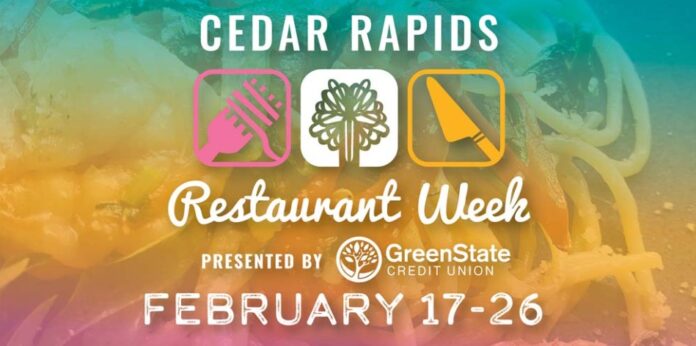 The Cedar Rapids Metro Economic Alliance is bringing back popular, exclusive features during its 2023 Cedar Rapids Restaurant Week.
The food lovers celebration is bringing back specialty menus as it kicks off Feb. 17. The exclusive menus for all 21 restaurants can be found on the Cedar Rapids Metro Economic Alliance website. 
The 11th annual Restaurant Week spans over 10 days and will conclude on Feb. 26. With a wide variety of restaurants participating, foodies will have more days and opportunities to taste all that the participating restaurants have to offer. 
This year's Cedar Rapids Restaurant Week puts a spotlight on local restaurants in the area. All selected restaurants completed an application process and were chosen based on specific criteria. The participating restaurants offer many diverse dining options at different price levels. Each restaurant will offer at least one specialty menu item for the event.
Cedar Rapids residents can pick up a Restaurant Week punch card at any participating restaurants. Order a specialty menu item, or spend $20 on food, and participants will receive a special stamp on the card. Collect at least five stamps and take the card, or mail it, to the Economic Alliance at 501 First St. SE to be entered in a drawing for a chance to win a Restaurant Week gift basket.
Exclusive Restaurant Week shirts are also available for sale at the Economic Alliance. When participants purchase a shirt, they can also donate additional funds to the Catherine McAuley Center food bank. Shirts are $30 and can be purchased at the Economic Alliance.
Diners are encouraged to share their experience by posting images and videos of Restaurant Week dishes on social media using #CRRestaurantWeek and tagging the Cedar Rapids Metro Economic Alliance.